Stagecoach Bluebird launch City and Shire night bus network for the festive season
Night buses will make a welcome return to Aberdeen and Aberdeenshire to help people enjoy the city's restaurants, bars and venues over the festive season.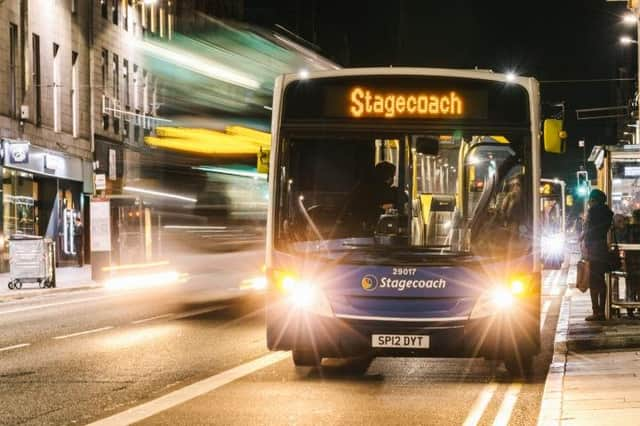 The expanded Stagecoach Bluebird night network will run on Fridays and Saturdays – starting from Friday, October 20 – thanks to funding from Aberdeen Inspired and Aberdeen City Council.
The night buses will support the recovery of Aberdeen's night-time economy, encouraging more people to enjoy the city's restaurants, bars and other venues by offering a safe way home for revellers and hospitality workers.
The routes will serve many locations throughout the city, as well as major north-east towns such as Stonehaven, Portlethen, Banchory, Westhill and Ellon.
Customers can travel to any stop along the route.
And a Deeside service operating to Banchory has been introduced following customer requests after last year's trial period.
Innes Walker, city centre manager at Aberdeen Inspired, said: "We brought the issue of night buses back to the table and we're pleased to work with Stagecoach to bring these vital services back for the forthcoming festive season.
"We are delighted there will be a variety of routes to take passengers back to their homes in the city and Aberdeenshire after a night out.
"This will allow them to enjoy all the city centre has to offer – from bars and restaurants to live music, theatre shows and the Christmas Village, without worrying about how they will get home.
"The new service will start on Friday, October 20 and will run to January 14, with the dates chosen to cover Aberdeen Cocktail Week, the festive season and new year, into early 2024.
"We hope the buses will prove even more popular and successful than last year and could lead to a long-term, sustainable night-time bus service year-round."
"The ultimate aim is to increase footfall in the city centre to boost the evening and night-time economy and we hope to build on the successful trial by encouraging people to make use of this fantastic service as they enjoy autumn nights and the Christmas celebrations in Aberdeen's city centre."
Daniel Laird, Commercial Director at Stagecoach North Scotland, said: "We are looking forward to the reintroduction of our popular night buses, which were a great success last year.
"It's a great opportunity to help those on a night out as well as hospitality workers get home safely, thanks to the support of Aberdeen Inspired and Aberdeen City Council.
"The timetables reflect Aberdeen's popular routes to allow access for majority of pubgoers and hospitality staff, which will reduce pressure on taxi ranks."
He added: "We are happy to contribute to the recovery of Aberdeen's bustling nightlife."
All night routes will depart from Union Square Bus Station in the heart of the city centre. Special fares will apply to the night services, with contactless payments and cash accepted on buses.