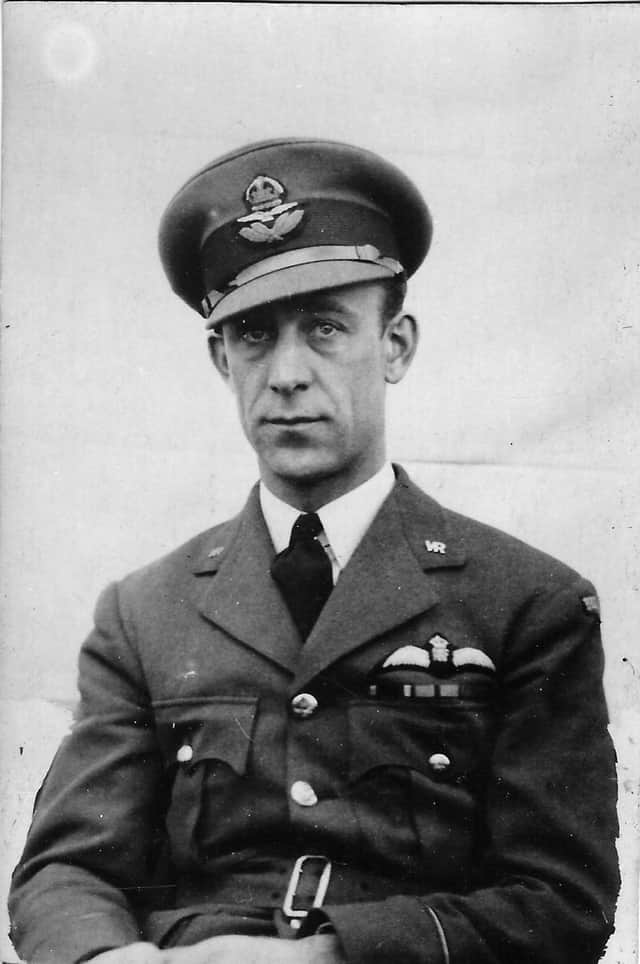 Henri Delabastita, 37, was on a training flight from RAF Balado Bridge in Kinross-shire on 29 January 1943, when he crashed near North Third reservoir.
Members of his family travelled from Belgium to mark the 80th anniversary and to help unveil a plaque, which will form part of a permanent memorial at the site.
The commemoration was attended by dignitaries from Stirling and Belgium including a representative from the Belgian Air Force, as well as those who helped to bring Delabastita's story to light over more than two decades and helped create the memorial.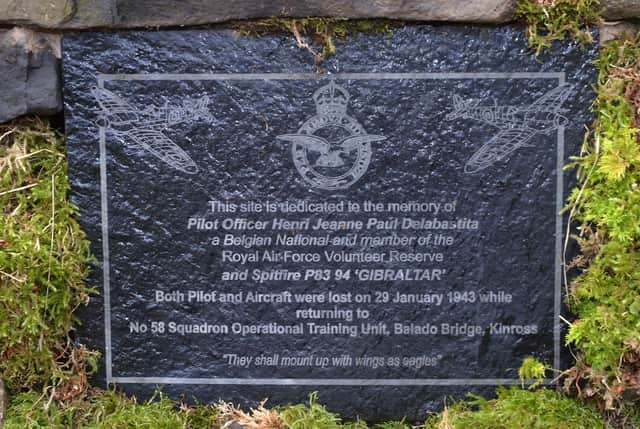 A minute's silence was observed and a wreath laid at the site of the fatal crash while a piper played a lament.
Delabastita's family - four great nephews - were also presented with a mounted cross crafted from a part of the Spitfire's fuselage recovered when it was excavated over 20 years ago.
Stirling Provost Douglas Dodds said it was an "historic event", adding: "We are here to honour the memory of Henri Delabastita, and the sacrifice he made."
Delabastita was originally a pilot in the Belgian air force. He was on a reconnaissance mission in 1940 when his aircraft was shot down by German artillery and he was captured.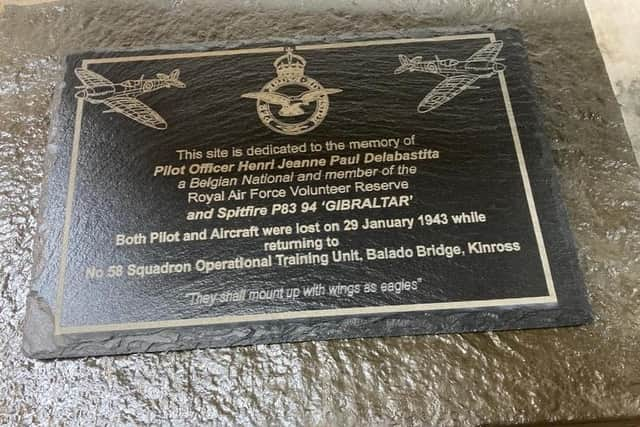 He was held at Colditz but somehow escaped and later managed to make his way to Britain, where he joined the RAF Volunteer Reserve based at No. 58 Squadron Operational Training Unit in Grangemouth, Stirlingshire.
He was flying from a satellite airfield at Balado Bridge in a Spitfire named Gibraltar when he crashed into the bog a few miles from Stirling. The Spitfire had been paid for by the people of Gibraltar who raised over £5000 for a fighter to help the war effort.
Delabastita was training at 20,000 feet when it is thought his oxygen feed froze and would have led to him becoming unconscious before the aircraft crashed.
His remains were recovered three days later and buried locally, before being returned to his family in Brussels after the war. The aircraft was left submerged in the bog and lay virtually undisturbed for the next 57 years until 2000.Retired police officer Ian McNeish spent years researching the crash and later worked with Belgian authorities to organise the return of some of the pilot's personal effects. Parts of the aircraft, together with Delabastita's flight mask, are already displayed in Brussels.
Mr McNeish said: "We are here to honour a hero. He crashed 80 years ago to this day and made the ultimate sacrifice."
Dirk Delabastita, Henri's great nephew, said: "Henri had legendary status within our family but apart from the oral history, a few administrative documents and a dozen or so photographs little is left of him. Being here helps us as a family to imagine our great uncle as the real person he was. We are extremely grateful to everyone who made this lasting monument possible.The memorial plaque has been fixed to a drystane wall that has been restored by volunteers a few feet from the crash site.