Six-year North East Local Flood Risk Management Plan published
The North East Local Flood Risk Management Plan which addresses potentially vulnerable areas in Aberdeenshire, Aberdeen City, and Moray Council areas as well as the Cairngorms National Park area for the next six years has been published.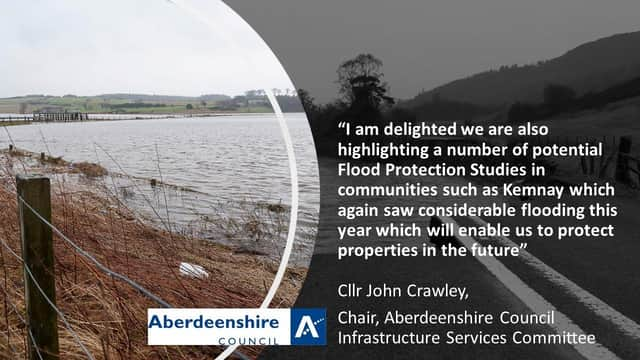 The Plan is part of a strategic approach at a national level to tackle the issue with the available resources.
Covering the period from 2022-28, it. has been prepared over several years and the planned actions are based on SEPA's National Flood Risk Assessment and working with key stakeholders Aberdeenshire Council, Aberdeen City, and Moray Councils, along with Scottish Water, SEPA, and the Cairngorms National Park.
Through this risk-based and plan-led approach, flood management will improve for individuals, communities, and businesses at risk across the north-east.
Under the Flood Risk Management (Scotland) Act 2009, Aberdeenshire Council is required to publish the Local Flood Risk Management Plan for the North East Local Plan District and also support Angus Council in the publication of the Plan for the Tay Estuary and Montrose Basin Local Plan District.
These plans, based on six-year cycles, must demonstrate how the actions identified in SEPA's strategic documents will be delivered. SEPA published its strategic Flood Risk Management Plan for Scotland including the North East District, which was approved by the Environment Minister in December 2021.
Under the Council's Local Plan, four locations in Aberdeenshire have been prioritised for potential Flood Scheme works and progression with these schemes will be dependent on securing further national funding: Ballater, Inverurie, Stonehaven – coastal, Stonehaven - Farrochie Burn.
A further five locations in Aberdeenshire have been identified for Flood Protection Studies where a strategic appraisal has indicated that an action, or group of actions, is likely to address the flooding at: Aboyne, Fettercairn, Kemnay, Kintore, Tarland.
Chair of Aberdeenshire Council's Infrastructure Services Committee, Cllr John Crawley, said: "As we have again seen in recent weeks, areas of Aberdeenshire are prone to significant flooding and our Flood Risk Management Plan focuses on those locations which are at greatest risk. I am delighted we are also highlighting several potential Flood Protection Studies in communities such as Kemnay which again saw considerable flooding this year which will enable us to protect properties in the future."
Under the Local Plan, Aberdeen City Council will be continuing to develop the Surface Water Management Plans in consultation with SEPA and Scottish Water and will be continuing with the next stages of current flood studies including Merchant Quarter, Desmond Drive and Preliminary study to undertake a strategic overview of the coastal protection
Aberdeen City Council Co-Leader Cllr Ian Yuill said: "I am pleased that Aberdeen City Council has worked with other North East councils to prepare the Flood Risk Management Plans. These plans are focused on adapting our city to make it more resilient to the new challenges from extreme rainfall caused by climate change."