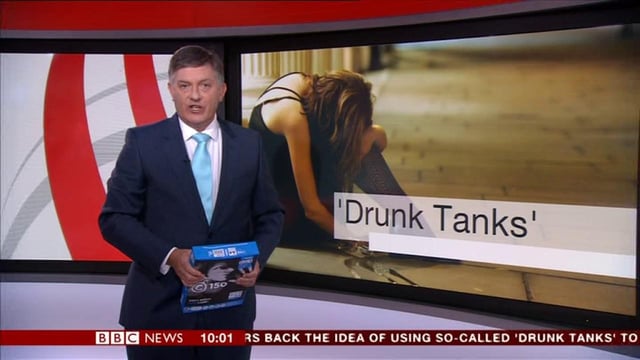 Viewers saw Simon McCoy holding a packet of A4 paper instead of a tablet while presenting an news story on BBC One. Image: BBC
The 59-year-old, who became a viral sensation in 2013 when he went on air holding a refill pack of A4 paper instead of a tablet, confirmed the news on social media after a colleague wished him luck in his final week.
Posting on Twitter, BBC floor manager Niall Jackson wrote: 'If you think he's a handful on-screen, imagine what he's like off it? Only got to floor manage 4 years of his 17+ @BBCNews so was nice to do his final week.
'Made the dreariest of heavy news days instantly more manageable. May the road rise up to meet you...'
McCoy replied, saying: 'Thank you Niall, I shall miss you.'
He then confirmed to one follower that Thursday would be his final day at BBC News.
London-born McCoy first joined the BBC in 2004, and took over the morning slot on BBC News the following year alongside Kate Silverton.
He went on to become the main presenter on the BBC News at One.
During his long stint at the Beeb, McCoy's wry humour and unique take on certain news stories have made headlines of their own.
While reporting on Prince William and Kate Middleton revealing the due date of their third child, he raised a few eyebrows with his distinct lack of enthusiasm.
He said at the time: "Now, baring in mind that they announced that she was pregnant back in September and it was thought that she was around two or three months pregnant, I'm not sure how much news this really is."
Most famously, footage of McCoy went viral when he accidentally picked up a refill pack of A4 printer paper instead of his iPad while live on air.
Unable to swap items, he presented a report on drunk tanks with a completely straight face.
Then there was the time McCoy had the nation in stitches with his witty response to a clip of Boris Johnson talking about making and painting buses in his spare time.
"I wonder what he writes on the side of it," he quipped, in a dig at the Prime Minister.
In 2017, he couldn't hide his lack of interest as he delivered a deadpan news report about the World Dog Surfing Championships.
Looking utterly unimpressed, he said: "Now, you're watching BBC News, just bear in mind it is August.
"This does not look like a walk in the park, dog owners and their pets in California have hit the waves in the second annual World Dog Surfing Championships.
Last year, McCoy appeared to be asleep when the camera cut away for him to read the local news during a bulletin.
McCoy will join new TV network GB News following his departure from the BBC, it has been announced.
John McAndrew, director of news and programmes, said: "Simon's journalistic integrity, warmth and personality is a perfect fit for what we're doing at GB News.
"He's a brilliant journalist with an exceptional ability to relate to people in an upbeat way so we're keen to get him out from behind a desk and talking to people from all parts of the United Kingdom."
A message from the Editor:
Thank you for reading this article. We're more reliant on your support than ever as the shift in consumer habits brought about by coronavirus impacts our advertisers.
If you haven't already, please consider supporting our trusted, fact-checked journalism by taking out a digital subscription.