Sheku Bayoh: Struggle against restraints may have played role in Bayoh's death, inquiry hears
The pathologist who examined Sheku Bayoh after he died said his struggle while being restrained has to be considered a "major" part of what led to his death.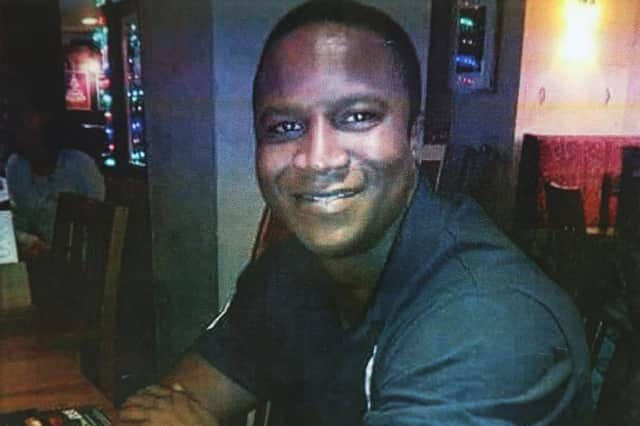 Giving evidence at the public inquiry into Mr Bayoh's death for a second day, Dr Kerryanne Shearer was asked about the role of struggle and its importance in Mr Bayoh's death.
The inquiry also heard she had confirmed Mr Bayoh's death as a "sudden death in a man intoxicated by MDMA and alpha-PVP whilst being restrained".
The trainee gas engineer died after he was restrained by around six police officers who were called to Hayfield Road in Kirkcaldy, Fife, on May 3 2015 after reports of him acting erratically.
The inquiry is investigating the circumstances of the 31-year-old's death and whether race was a factor.
Senior counsel to the inquiry, Angela Grahame KC, asked Dr Shearer what role struggle may have played in the cause of Mr Bayoh's death.
"During these types of struggles, with how the deceased may have behaved and moved, they would have been using a great degree of muscle strength," Dr Shearer said.
"Whilst doing that at such intensity you can get a breakdown of proteins in the muscle which produces acids and you can get something called an acidosis.
"You get acids circulating in the bloodstream and those acids can cause irritation of the heart and can irritate the conduction system (of the heart) and can lead to cardiac arrhythmias and cardiac arrests.
"I don't see anything at the post-mortem to confirm this but it's taken into consideration with the circumstances described.
"I think the struggle is a major part of it as well.
"It's something that has to be considered as being important in the whole scenario."
In her statement to the inquiry, Dr Shearer wrote it could not be "completely excluded" that restraint had a role to play in Mr Bayoh's death.
The statement said: "It is recognised that restraint in itself can be a cause of contributing factor in some deaths and given the circumstances, in that this man was restrained at the time of his respiratory arrest and post-mortem examination showed petechial haemorrhages that may represent a degree of asphyxia, it cannot be completely excluded that restraint also had a role to play in death here."
The inquiry also heard how Dr Shearer found Mr Bayoh's first left rib was fractured whilst she was conducting her internal exam.
Dr Shearer said it "could have been sustained" while he was being restrained as it was "very rare" to sustain such an injury while being resuscitated.
A condition called "excited delirium" had been discussed as a possibility throughout the inquiry, but Dr Shearer dismissed this as a significant cause of death because it is a psychiatric condition, rather than one that can be diagnosed through a post-mortem examination.
Dr Shearer said, "(Excited delirium) is a psychiatric syndrome that needs to be diagnosed by a psychiatrist.
"It is not a diagnosis I can prove pathologically.
"I would never diagnose it as a pathologist."
The inquiry, before Lord Bracadale, continues.