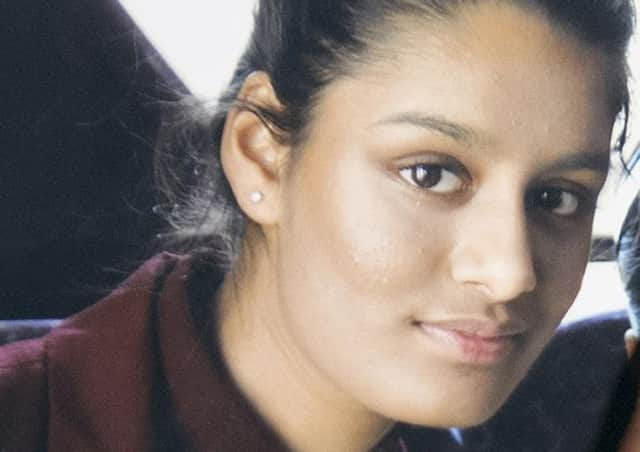 Shamima Begum. Picture: PA/PA Wire
Ms Begum, now 20, was one of three east London schoolgirls who travelled to Syria to join so-called Islamic State (IS) in February 2015, and lived under IS rule for more than three years.
She was found, nine months pregnant, in a Syrian refugee camp in February last year, prompting then home secretary Sajid Javid to revoke her British citizenship later that month.
She says that her British citizenship – which was removed on national security grounds – should be restored because she cannot have a "fair and effective appeal" from the al-Roj camp in northern Syria.
CCTV issued by the Metropolitan Police of (left to right) 15-year-old Amira Abase, Kadiza Sultana, 16, and Shamima Begum, 15, at Gatwick airport in February 2015. Picture: Metropolitan Police/PA Wire
But the Home Office argues that the reason Ms Begum could not "fully engage" with her appeal "was a result of her decision to leave the UK, travel to Syria against Foreign and Commonwealth Office advice and align with (IS)".
Ms Begum's challenge to the decision to revoke her British citizenship and to refuse her entry to the UK to pursue her appeal was dismissed by the High Court and the Special Immigration Appeals Commission (SIAC) in February.
Ms Begum is now mounting an appeal, and lawyers told the Court of Appeal yesterday that Ms Begum "was a child when she left the UK and had been influenced to do so".
Human rights group Liberty has intervened in her case, arguing that "the severe consequences of deprivation of citizenship, which may be fatal, and the increasing use of this draconian power by the Home Secretary ... mean that it is of the utmost importance for the courts to ensure procedural fairness for individuals in respect of whom the power is exercised".
Richard Hermer QC, for Liberty, said there has been "a significant increase in the use of deprivation powers" in recent years, with 104 people stripped of their British citizenship on the grounds that it was "conducive to the public good" in 2017 alone.
Mr Hermer added that only 22 people had had their British citizenship removed for that reason between 2014 and 2016.
He submitted: "A further complexity exists when SIAC is required to determine deprivation appeals involving individuals who were groomed whilst in the UK and recruited to join ISIS."
Sir James Eadie QC, representing the Home Office, said in written submissions: "The fact that it might not be possible to mirror the level of access to legal advice that would be available if someone were at liberty in the UK does not mean proceedings are unfair".
The two-day hearing is being live-streamed, and it is expected that the Court of Appeal will reserve its judgment to a later date.