One of them nonchalantly plays Candy Crush. Nobody cries or makes a sound, but some have a veil of sweat on their forehead, a few look grey and others are flushed.
It's to be expected, I suppose, at the annual and only Scottish Tattoo Convention, which celebrated its tenth birthday after a three-year hiatus due to lockdown. The massive weekender is run by Jim Aitken of Main Street Tattoo in Wishaw, and takes place at Edinburgh's 02 Academy. I visited on day one.
I'm not sure what I was expecting, as a newbie, but the last time I saw so many half naked and pale bodies was in Princes Street Gardens when we had brief "taps off" weather last summer.
The peely-wally aura is thrown into stark relief since the unofficial dress code is black. The only one who's exempt seems to be Guinness World Records' most-pierced woman Elaine Davidson, who is in attendance wearing a pretty pink kimono.
There are discarded T-shirts and rolled-up trouser legs, as punters partially disrobe, so that tattoo artists can set to work on their chests, thighs or buttocks. Upper arms seem surprisingly passe. The punters lie or sit on treatment beds, which makes this vast space feel like a temporary hospital.
The Exchange hall and The Baron Suite, where bands usually play, are filled with the sound of buzzing. After a difficult few years, when tattoo artists had to close their studios, it seems that business is thriving.
There are more than 200 vendors here. That mainly consists of artists, though I discovered the existence of Tattoo Accountants – "you do the art, we do the numbers". There are also products, like Yer Maw's Tattoo Butter ('a bosie for yer ink'), and equipment on sale. I'm such an ignoramus that, at first, I thought the colourful needles, in their shiny and bright bullets, were vapes.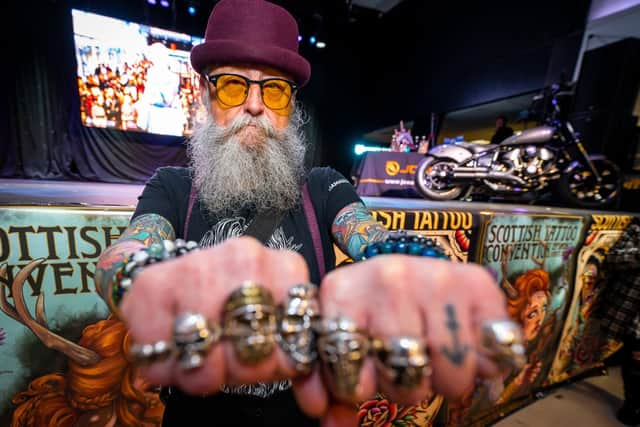 The studios have their own stalls, where there are free stickers laid out, prints of their work for sale, and designs on tracing paper, so you can have something done "off the peg", as oppose to a new creation drawn up. There's already been so much demand that many of them, including Hattie J Cox, who does beautiful nature-inspired designs, have already put up "sorry, I'm fully booked" signs.
Those who wanted an appointment with a top Scottish studio, like Empire Ink, Hardlines, Nest of Thorns, or Bright and Bold Tattoo, or artists from as far afield as Miami, Athens, Philadelphia or Milan, got in early. They had to, as these tattooists showcase their work on Instagram and have massive fan followings.
I wander around to see what everyone is having. As well as decorative 'blackwork' designs, which resemble geometric lace or mesh, there are minimal hipster creations and photo realism, like the excellent work of Marcin Ptak of Edinburgh's Absolute Body Art.
However, there's obviously still a market for a traditional tattoo. I spot a classic rose going onto a thigh, a butterfly on another, traditional Japanese-style creations, and a man getting something ambitious on his whole chest.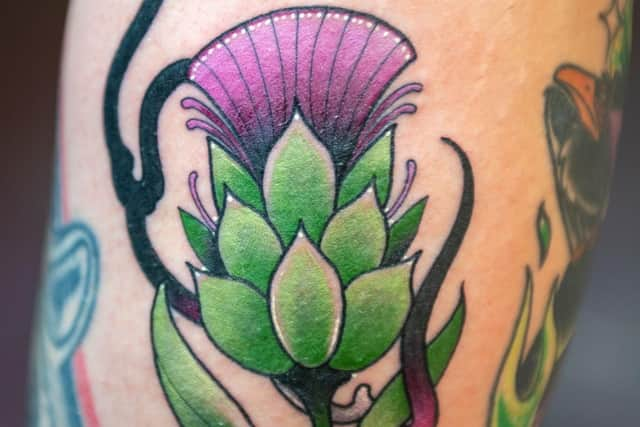 "I don't drink, don't smoke, don't follow football, tattoos are my wee hobby," he says to his companion.
"What is it?" I ask. Wrong question. "A tiger, what do YOU think?" he says, as I realise the half-finished design is very obviously a massive cobra.
Note to self: don't ask that forbidden question again.
I pass by a woman lying face down while she gets a portrait of her pet dog inked onto her calf by Glasgow-based artist Skye Hobbs, who is concentrating hard. It's her first time tattooing at the show, though she's visited many times before.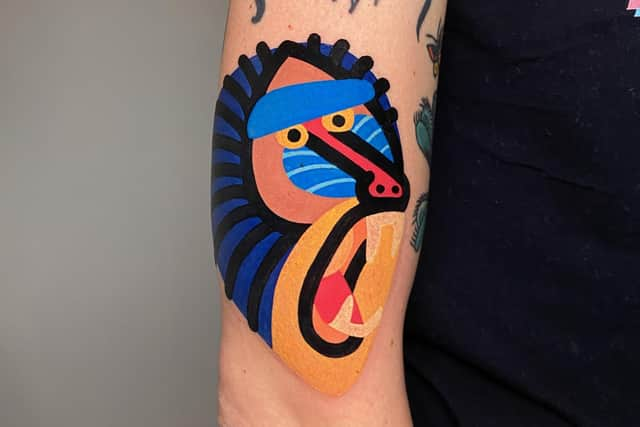 Near her zone, a 30-something in a plaid shirt bites his lip, as a shadowy portrait of Eddie, the Iron Maiden mascot, goes onto his leg.
There's a young guy getting a dramatic-looking bleeding heart tattooed on between his pecs. He looks like he's going to faint. I don't imagine it's very pleasant, having a needle thrumming on your sternum.
The stereotypical customer is in attendance. You know, a burly man, with a beard and skull tattoos, who likes motorcycles. In fact, they're holding a raffle, so you can win a fancy-looking bike. That makes me imagine this place as a Hell's Angels' church fair, though I don't think the parish would countenance today's entertainment, which has included contortionists, fire breathing and Gothic burlesque.
However, not everyone is from that traditional demographic. For one thing, half of the artists and customers appear to be (mostly young) women.
I bump into a pal, who now has a robin on her calf, all wrapped in clingfilm. She tells me it was £350. My first reaction is surprise, but ultimately, if we're talking cost-per-wear, this is a total bargain.
At one stall, I watch someone getting a photo-realistic portrait of a sci-fi character on his thigh, above another of Jesus on his calf. In the artist's portfolio, on the table, there's a pic of someone's Chucky from Child's Play design. There's no accounting for taste.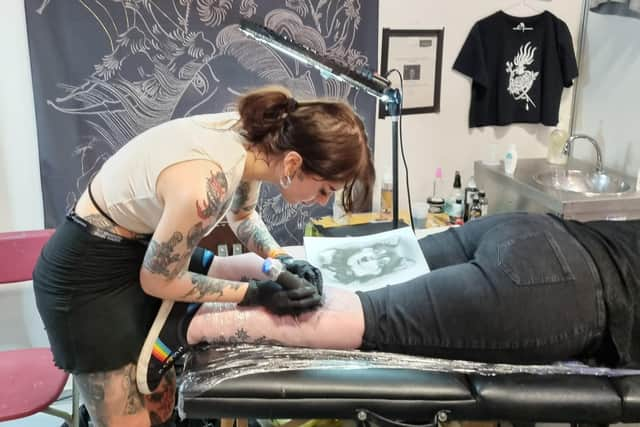 Opposite that stand is Karolina Sylwia of Bright and Bold Tattoos, Glasgow.
She specialises in quirky drawings, and her Instagram feed features a cutesy Teen Wolf and a cartoon gherkin. She wears a chambray frock, and her client rucks up their long floral dress to get her thigh inked. Other artists offer tattoos of PEZ dispensers or Disney characters. I see someone with a Pokemon dragon and another goes for Ariel the mermaid. The colours are as bright as Skittles.
Anyway, I feel like a Muggle, as the only person here who has zero ink. I am tempted, especially by the work of Lauren Stephens, but I fear I'm too fickle. Maybe next year.