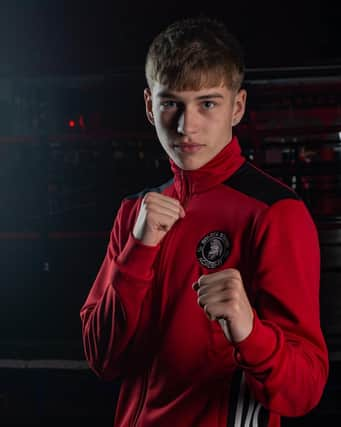 A talented teenage boxer and footballer from The Bog area of Falkirk, Scott Martin's untimely death left family and friends shocked and grief stricken.
However, tributes began flooding in following the tragedy and funds raised in the former St Mungo's High School pupil's name allowed his family to set up the Scott Martin Foundation so his name and his fighting spirit will never be forgotten, while helping raise awareness about youth mental health issues and youth suicide.
Sadly, the striking photograph of the quietly confident 16-year-old in his Grangemouth Sparta Boxing Club days used as the main image for the foundation was copied by someone and used as a profile picture on the dating site Tinder last weekend – four months after his death.
Mum Samantha Redding, 41, said: "Someone sent it to my sister and then someone told my eldest son they had seen Scott's picture on the site. I was totally shocked at first and then I was disgusted someone would actually do this.
"I can't understand why someone would choose to use this photo – everyone from this area would know who it was and also know he was dead and how he had died."
Two separate accounts appeared on Tinder under the false ID of "Thomas, 18, professional boxer".
Samantha e-mailed Tinder and told them what had happened, but the company only got back to her after the situation got some media attention.
"They told me they have taken it down now," she said. "I told them they should take a look at their verification system to prevent anything like this happening again."
Samantha said she did not want her son's name and image associated with anything bad which may have resulted from a fake account on a dating site.
"What if someone got hurt from this – you never know who is posting these things. They may have been tricked by the picture of Scott – I don't want him to be remembered for something like that.
"We've worked hard over the last four months to have his name remembered for the right reasons."
The Scott Martin Foundation is going from strength to strength.
Working in association with Scott's favourite place, Sparta Gym, it is training coaches on mental health issues which will help them recognise warning signs in kids. The gym now has a safe room named Scott's Room, which can be used for the counselling sessions.
The foundation also seeks to support any youngster who may need assistance with fees or equipment."
Samantha said: "It's going really well and we are now able to concentrate on training courses with gyms like Sparta opening up again. The support we've had has been incredible from companies and from people who have reached out.
"I've had people contact me just to say what we are doing is a great thing and we're doing Scott proud."
Samantha and the family were able to see first hand how much Scott was loved and respected when they held a celebration of the young man's life in Falkirk's Victoria Park in February.