Scottish Manchester United fan's £300 strike-hit trip to get to FA Cup Final
A Manchester United fan from Scotland who spent £300 to reach the FA Cup final has described the train strikes as a "nightmare".
Marty Harris, 46, from Edinburgh, got up at 4:00am on Saturday to take a flight to Birmingham, drove to Watford, then took a carshare and tube to Wembley with his young son.
Mr Harris told the PA news agency: "I'm here now so, that's the main thing. It's been torture, absolute torture - especially when they're on 55 grand a year. I think people watching will be tired because they've got up so early to be here."
He added: "It's been a nightmare. I don't know how I'm getting back to Heathrow tonight with the trains off."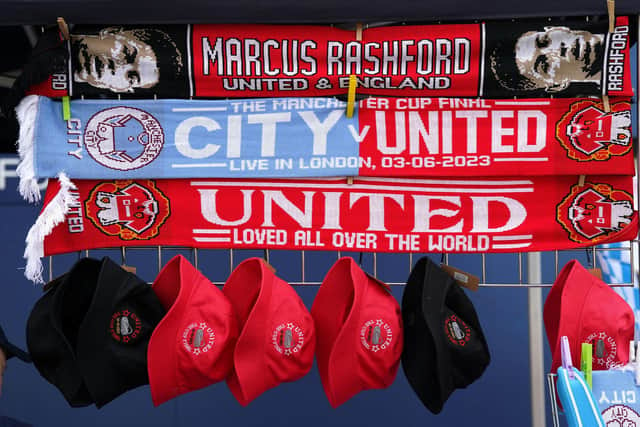 Around 12,000 members of the drivers' union Aslef and the Rail, Maritime and Train (RMT) union are on strike over pay and working conditions, affecting 15 train companies. Platforms at Euston Station in London were closed with just a few London Overground trains running, while Avanti and Northwestern services were cancelled. The major transport hub connects London to cities including Birmingham, Liverpool, Manchester, Edinburgh and Glasgow.
Aslef general secretary Mick Whelan has said strikes could continue for years until a resolution is found.
He told Sky News: "We do not want to be on strike, but we are in this if it takes us four years, five years, whatever it is, to get a resolution to this, we will do what it takes to get to that resolution. We have gone four years without a pay rise, as have many other sectors and many other workers. To stop now after four years, what will happen, we'll not get a pay rise next year, the year after, the year after that."
The mass walkout by Union members comes on a busy day for the capital, with the FA Cup final taking place at Wembley, as well as a Test match at Lord's and the Epsom Derby.
Around 40% of trains are affected by the strikes, according to the Rail Delivery Group (RDG). Trains that do run are due to start later and finish much earlier than usual, between 7.30am and 6.30pm.