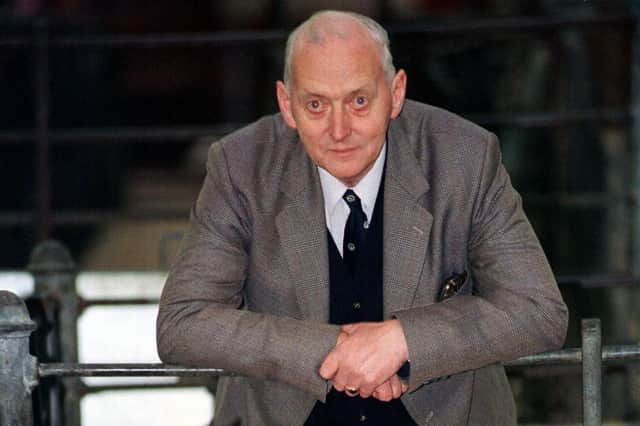 Willie Blair was a stalwart of the Scottish livestock industry, being both a leading auctioneer and then leading the industry as it faced unprecedented challenges from major issues such as mad cow disease and the foot and mouth epidemic.
He was scrupulously fair in all his dealings and this gave him widespread respect across the auctioneering sector.
To the younger generation coming into the business Willie was very much a father figure, although that did not protect him from being teased by some of the up-and-coming young rascals.
In fact he sometimes played up to his alleged frugality, such as when, on returning from an Auctioneer conference, he bemoaned the fact he had spent £0.80. Yes it was the money for the Forth road bridge tolls.
If that and a reluctance to buy a round of drinks became the stuff of legend for Willie it also cemented the importance of being careful in the auctioneering business, where trading margins are slim.
He was born and brought up on a farm in the Pentlands where his father was a shepherd so there was a certain inevitability that his career would involve livestock.
Leaving school at the earliest opportunity, much of his National Service was spent at the Supreme Headquarters of the Allied Powers in Europe, where his typing skills were valued.
After two years it was back to civvy street and, in Willie's case, this brought him into the livestock industry with William Bosomworth & Sons, who ran cattle and sheep sales from their base in Gorgie in Edinburgh. He worked here for 38 years, finishing up as joint Managing Director.
There, as an apprentice auctioneer. he learned the importance of accuracy with names and also financial details, both attributes that he carried with him throughout his life and, indeed, passed on to the next generation of auctioneers when he moved up the ladder within the company.
Apart from the weekly sales of fatstock, Bosomworth's were renowned in both the cattle and sheep pedigree worlds.
One of Willie's high-profile stints on the rostrum would come when the company hosted the annual Edinburgh Suffolk ram sale, the premier event for the then most popular terminal sire in the sheep world and, of course, the annual Kelso ram sales.
He also helped at the famous Hereford bull sales which provided many of the high points in the UK beef industry prior to the importation of Continental breeds in the 1970s.
Willie joined John Swan & Sons as a Director in 1990 where he conducted the dispersal sale of Suffolk sheep from the Barrons of Findowrie.
Describing that sale he used to say "four figure bids flew round the ring like a snowstorm." Willie was not prone to exaggeration as, at the end of the sale more than 200 sheep averaged nearly £1,000 a head, with several reaching five-figure sums.
Willie was appointed President of the Institute of Auctioneers and Appraisers of Scotland (IAAS ) and held office in 1994 to 1996.
In 1998 he was appointed Executive secretary of the institute following his retirement from John Swan and Sons.
Willie was a very efficient and effective secretary and was in post during the 2001 foot and mouth outbreak, attending almost daily meetings with the Scottish Government.
His industry experience and forthright expression earned him and the IAAS a great deal of respect.
Willie was also heavily involved in the European association of livestock markets and travelled extensively throughout Europe representing Scotland's interests.
He was Chairman of the European Association Livestock Markets (EALM) in the 1990s and hosted a highly successful European conference in Edinburgh in 2000.
Willie was awarded the MBE in 2004 for his services to auctioneering.
But perhaps the most significant event in Willie's life came after a chance meeting when he attended the famous Kelso tup sales.
There he met schoolteacher Sheena Pow, whom he subsequently married.
Their 60-year plus marriage produced children Margaret, Elaine and Callum and more recently, six grandchildren and a great grandchild, all of whom Willie doted on.
Apart from having a busy working life, Willie was a long serving elder in his local church at Juniper Green just outside Edinburgh.
With his family growing up, Willie also took an interest in various sports, notably hockey, where younger daughter, Elaine played for Scotland.
He also became a qualified athletic official and officiated at the 1986 Commonwealth Games held at Meadowbank.
A well-attended service of remembrance for the life of Willie Blair was held on 23 February 2023 at Juniper Green Parish Church, Edinburgh.
If you would like to submit an obituary (800-1000 words preferred, with jpeg image), or have a suggestion for a subject, contact [email protected]