Scotsman Obituaries: Tony Bennett, singer who brought the Great American Songbook to life over eight decades
Tony Bennett, singer. Born: 3 August 1926 in Long Island City, New York. Died: 21 July 2023 in Manhattan, New York, aged 96
Whatever the elixir of life is, Tony Bennett appears to have drunk amply from the well. The last of the great 20th-century crooners, he was singing at the piano until a few days before his death, aged 96, and painted every day for as long as he was able, embodying the good life of which he sang so elegantly. He left his heart in San Francisco but was New York to his core, living in the same Manhattan apartment for decades.
Bennett was famously hailed by Frank Sinatra as "the best singer in the business… the singer who gets across what the composer has in mind, and probably a little more."
He sang with a twinkle and his all-weather voice was truly easy listening but rich with it. Film director Martin Scorcese paid tribute to his appeal, saying "his music quietly wove itself into the fabric of our lives. His voice felt as familiar and as close as the voices of our loved ones."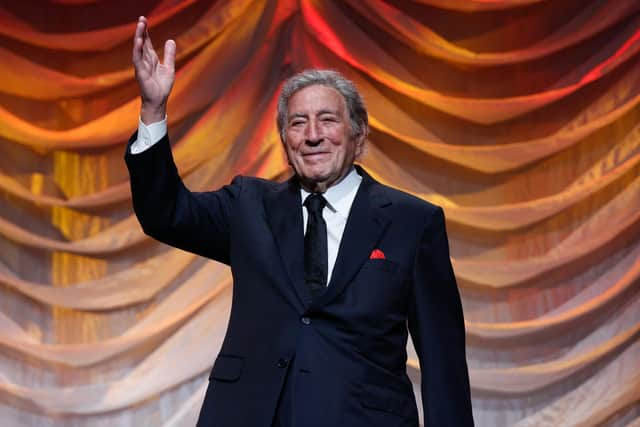 ​Bennett recorded more than 70 albums in a career which spanned eight decades, charting in every one of them, and selling ten million copies in the last ten years alone. He won 20 Grammy Awards, including the Lifetime Achievement Award, sang for 11 US presidents and was hailed by the White House on his passing as "an American classic".
Although considered a mainstream entertainer, Bennett was staunchly liberal in his politics, campaigning tirelessly for racial equality, marching with Martin Luther King from Selma to Montgomery in 1965 and boycotting performances in South Africa during the apartheid years.
With his third wife Susan, he established the Frank Sinatra School of the Arts in Astoria, campaigning for the arts to be at the heart of the school curriculum.
​His life was not without its trials – he described fighting in the Battle of the Bulge during the Second World War as "a front row seat in hell" and nearly died of a drugs overdose in the Seventies, but he always retained his voice, his class, his immaculate style and his love and respect for the Great American Songbook.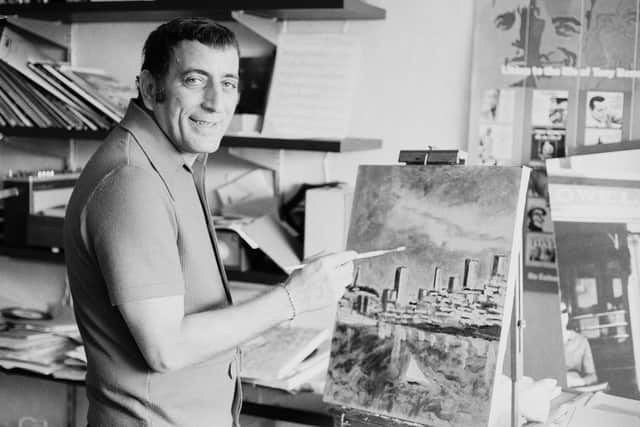 Bennett claimed that "music has no category; it's either good or it isn't. And I sing good songs, great songs, written by the best songwriters."
His catalogue is full of Cole Porter, the Gershwins and Duke Ellington, and he was keen to take younger artists on that journey.
He was quick to hail Christina Aguilera's formidable pipes when she was still being marketed as a pop rival to Britney Spears, took paternal care of Amy Winehouse and enjoyed a playful partnership with Lady Gaga which yielded two albums, Cheek to Cheek and Love For Sale.
With the latter, he set a Guinness World Record as the oldest person to release an album of new music and played his final shows, called One Last Time, at Radio City Music Hall in August 2021. Not even Alzheimer's disease, with which he was diagnosed in 2016, could stop him. "Life is a gift – even with Alzheimer's," he tweeted.
Anthony Dominick Benedetto was born in Long Island City and raised in Astoria in the New York Borough of Queens. His father Giovanni, a lover of old Italian folk songs, died when he was ten and Tony was brought up with his older brother John and sister Mary by their mother Anna.
He fed his love of singing and painting by enrolling in the High School of Industrial Arts in Manhattan but dropped out, taking odd jobs in his teens.
Inspired by the crooner tones of Bing Crosby, he worked as a singing waiter until he was drafted in 1944 – an experience which cemented his lifelong pacifist views.
​Bennett performed with military bands while serving in Europe and then in New York clubs when he was demobbed.
In 1949, he made his first professional recording, of George and Ira Gershwin's Fascinating Rhythm, using the stage name Joe Bari. Bob Hope admired his voice but not his moniker and encouraged him to use a derivative of his birth name.
The newly christened Tony Bennett hit a rich seam working with producer Mitch Miller, cutting Because of You, Cold, Cold Heart and Rags to Riches for Columbia Records, and performing with pianist Ralph Sharon.
The release of his signature tune, I Left My Heart In San Francisco, capped the first flush of success. Bennett was determined to ride out the existential threat of rock'n'roll but eventually succumbed to a commercial covers album, Tony Sings the Great Hits of Today!, including works by The Beatles, Stevie Wonder and Jimmy Webb.
He later claimed that recording the album made him physically sick but he washed the bad taste out of his mouth by re-recording George Harrison's Something for the follow-up album of the same name.
Throughout the Seventies, he worked the Vegas circuit and to less fanfare with the illustrious likes of Bill Evans and Buddy Rich, but the collapse of his second marriage, IRS debts and a near miss overdose in a bathtub in 1979 forced him to take stock.
​With his son Danny installed as his manager, he made a successful comeback in the Eighties and enjoyed some of his greatest commercial successes in later life, including a 1994 MTV Unplugged album and two Duets albums, featuring the likes of Paul McCartney, Aretha Franklin and Amy Winehouse, each with accompanying documentary to mark his 80th and 85th birthdays.
The Empire State Building was lit up for his 90th birthday in 2016 and the following year Bennett was awarded the Library of Congress's Gershwin Prize for Popular Song, making him the first interpretative singer to receive an accolade generally associated with composers.
Bennett may have been nothing without the songs, but the songs needed Bennett.
Tony Bennett is survived by his wife Susan and four children, Danny, Dae, Joanna and Antonia.
Comments
 0 comments
Want to join the conversation? Please or to comment on this article.