Stuart Murray was a hugely talented Scottish golfer who enjoyed considerable success as an amateur playing out of the Elderslie club before going on to make his mark as a professional. By the time he turned pro in late 1963 he had established himself as one of Britain's leading amateurs, having played in the Walker Cup earlier that year when he defeated reigning American and former British amateur champion Deane Beman, later a leading professional.
Stuart had also represented Great Britain and Ireland with distinction in matches against Europe in 1958 in France and in 1962 in Sweden, in the latter winning both his foursomes and singles matches. Had he remained an amateur he would also have represented Britain and Ireland in the Commonwealth Championships in Australia in 1963.
In Scotland he amassed numerous honours, winning the Scottish Amateur Championship in 1962 and representing Scotland in the Home Internationals five years running,in addition to success in prestigious tournaments including the Tennant Cup and the Edward Trophy and qualifying for The Open in 1955, aged 21.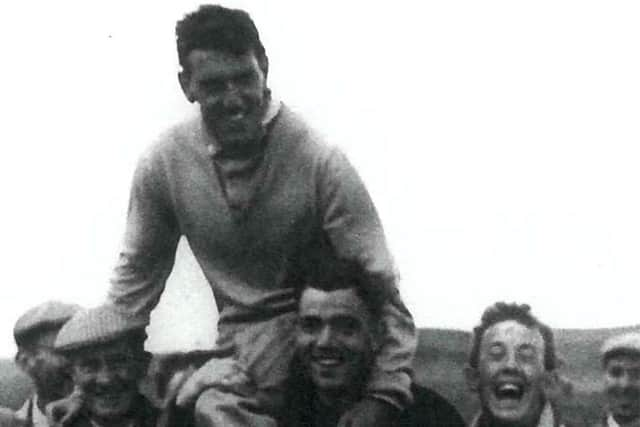 In the professional game he had to combine club duties with tournament play but won several regional competitions, qualified three times for The Open and secured top three finishes in The Indian Open, the Pringles of Scotland tournament and the Northern Open, among others.
His amateur career was strictly part time as he also had to work, while as a professional the combination of club duties with a then limited tournament circuit restricted prospects, causing him in an interview to remark ruefully that "he had been born too early, as amateurs now received financial support and professional golf was more lucrative". That said, he was not materialistically driven and thoroughly enjoyed his career, apart from one lingering regret. Within four months of joining the paid ranks he was invited by the legendary Bobby Jones to play in the 1964 US Masters at Augusta but was unable to accept, essentially for economic reasons.
Stuart William Thomas Murray was the middle brother of three, with Robert the eldest and Tommy the youngest. He was brought up in Paisley where he attended the John Neilson Institution. Father William, a storeman in the nearby Babcock and Wilcox factory, introduced Stuart and Robert to golf after their mother died young. To encourage the boys in worthwhile activities he took them to Elderslie Golf Club where their ability was soon apparent – Stuart won the club championship aged 18, by which time he had played county golf.
He was essentially a self-taught player who, through studying golf books, sought to emulate Sam Snead's swing and follow in the footsteps of hero Bobby Jones. Without the advantage of a silver spoon in his mouth to aid development, he made do with minimal basic equipment as a youngster. An expert short game player, he was also a long driver and attracted wider attention, qualifying for the 1955 Open in St Andrews, on the same mark as Peter Alliss.
Affectionately nicknamed "The Sheriff" for a distinctive "cowboy-like" rolling gait as a result of a broken leg playing football during National Service, Stuart was extremely popular with fellow Elderslie members who followed him at tournaments. In 1958 he won the West of Scotland Championship before making his British debut against Europe in Paris, where he won his singles on the 36th green, thanks to a 2 iron fired to 2 feet from the pin.
His Scotland debut in Home Internationals followed in 1959 with Stuart acquiring 16 caps between then and 1963, including one against Scandinavia. Brother Robert reached the final of the Scottish Championship in 1959, while two years later both reached the semi-finals, with Stuart going on to the final where he lost to Jimmy Walker.
In 1962 Stuart won the title after a hard-fought final at Muirfield against the great Ronnie Shade, who would win it for the next five years. A coachload of Elderslie members attended Muirfield where they relished Stuart's success, chairing him shoulder high off the course led by their piper. In the Walker Cup at Turnberry a year later Stuart, after foursomes success with Michael Bonallack, beat Deane Beman in the singles, a noteworthy victory as the American went on to a successful professional career, including runner-up in the 1969 US Open.
Given the risk to his amateur status as an employee of golf club manufacturers, and the challenge of being a professional, Stuart, aged 30, joined Northamptonshire Golf Club as a pro. He spent a happy ten years there before joining Hendon Golf Club, retiring in 2000.
In the 1960s he won the Midlands Professional title several times, defeating various Ryder Cup players in the process. In addition to the top three finishes mentioned, other high placings included the Carrolls Open in Ireland and the Schweppes tournament, as well as reaching the final day of The Open in 1964. He was also a highly valued teacher.
In 1957 at Paisley Abbey he married Phyllis Burgess, whom he had met during National Service in Dorset and with whom he shared almost 60 years of happy marriage, during which they had sons Alastair and Iain. In retirement they enjoyed living in Rothesay where Stuart was a popular member of the local community. A modest gentleman with a great sense of humour, he was excellent company. His interests included St Mirren FC, the poetry of Robert Burns and Robert Service, as well as the history of ancient Greece and Rome.
As a golfer he remained competitive until mobility problems made playing difficult. He is survived by his sons, brother Tommy and grandchildren Oliver, Nicholas and Laura.
If you would like to submit an obituary (800-1000 words preferred, with jpeg image), or have a suggestion for a subject, contact [email protected]