Scotsman Obituaries: Ron Hill, runner who shocked Edinburgh Commonwealth Games
Ron Hill, runner and businessman. Born: 25 September 1938 in Accrington, Lancashire. Died: 23 May 2021, aged 82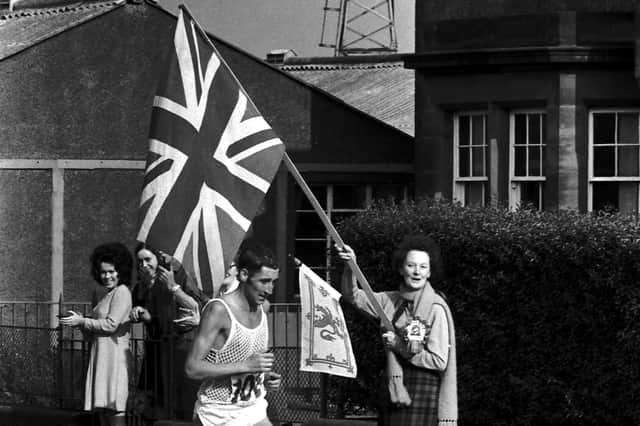 A train driver's son from Lancashire, Ron Hill grew up on the DC Thomson comic book stories of Alf Tupper, "The Tough of the Track", a working-class runner who would compete in all weathers, fall face first in the mud, get up and overcome all sorts of obstacles and dirty tricks to leave everyone else trailing in his wake.
Hill once turned up at a race in Salford only to discover he had forgotten his running shoes. What would Alf Tupper have done? It was obvious. Hill ran barefoot – seven and a half miles on Tarmac. Not only did he win the race, he set a new record in the process.
Hill had an impact on how runners ran and an even bigger impact on what runners wore, beginning with his signature string vest and ending up with an internationally known clothing brand, which was adopted by many non-runners too.
Fast forward from Salford to Edinburgh, 25 July 1970, the final day of the Commonwealth Games. The host nation were having a great games with golds in the 5,000 and 10,000 metres and high hopes of another in the marathon, where Jim Alder was defending the title he had won in Kingston, Jamaica, four years earlier.
The crowd inside Meadowbank waited in high anticipation for their local hero's appearance through the tunnel. But Ron Hill had other ideas. And the disappointment of Alder's second place that day was eased by the fact that fans were sharing a historic moment as Hill became the first Briton and only the second man anywhere in the world to run a marathon in under two hours and ten minutes. It may even have been a world record. Historically, it was very difficult to accurately measure a course of 26.2 miles on public streets and some authorities reckoned the previous record was set on a course that was too short.
That same year Hill became the first Briton to win the Boston Marathon, breaking the course record by three minutes. The winner now gets $150,000. Back in 1970 it was a laurel wreath, which Hill could not bring into the country because of restrictions on plant imports.
In the course of his career the train driver's son from Lancashire ran in 115 marathons – winning 21 of them, he broke the great Emil Zatopek's world records for 15 miles and 25 kilometres, he would run in 100 different countries and he ran at least a mile every day for 52 years, even though some of those "runs" were on crutches while recovering from surgery on his foot.
Hill had a degree in textiles, so he was well placed to rethink running gear, setting up his own company in 1970 and bringing out a range of shorts and tops in new lightweight synthetic materials.
They proved enormously popular, although their brevity, garish colours and designs certainly did not appeal to everyone.
The range included shorts patterned with the Union Jack and leggings. Previously (and even subsequently) some male cross-country runners would wear women's tights under their shorts on cold days.
He pioneered hi-vis tops, for running in the evening and early morning, reflective stripes and "Tracksters". He sold the company in 1991, but Ronhill, the brand, and the classic Trackster design, with "foot stirrups", are still going strong. Tracksters are also very popular with hillwalkers.
Born in Accrington, near Blackburn, in 1938, Hill began running as a boy. He attended the local grammar school and joined Clayton-le-Moors Harriers.
At Manchester University he combined studies in textile chemistry with a challenging programme of running over various distances on track, roads, hills and countryside.
He won his first marathon in Liverpool in 1961, beating a local legend, John Tarrant, known as "The Ghost Runner" because he was officially banned after boxing professionally and would strip off his coat at the last minute and join races unofficially.
From 1962 to 1973, in national championships, Hill always won at least one gold, silver or bronze. It was the amateur era and he also worked as a chemist at Courtaulds dyeing research laboratory just outside Manchester.
He was captain of England's cross-country team in the 1960s, by which time he was breaking world records over various distances.
In 1968 he twice set new world records for ten miles and in 1969 he became European marathon champion, running in the footsteps of the world's very first 26.2 runner Pheidippides, from Marathon to Athens. So he was hardly an unknown when he beat Scotland's Alder in Edinburgh the following summer.
Hill had run in the Olympics in 1964, in the 10k and marathon, and in 1968 at altitude in Mexico City, where he was a creditable seventh in the 10k. By 1972 in Munich he was favourite for the Olympic marathon. He ran in distinctive silver vest and shorts of his own design. It was one of the biggest disappointments of his career when he finished sixth and failed to win the gold so many had expected to crown his career.
While developing his own business, he also set himself new goals – running 100 marathons, running in 100 countries and running every single day. Taking a leaf out of Alf Tupper's book, he did not allow a car crash and a broken sternum to stop him.
And after a later operation he needed a crutch to hobble round a mile in 27 minutes, prompting some to query his record of "running" every day for 52 years and 39 days from December 1964 to January 2017.
His final marathon was the 100th Boston marathon in 1996. He kept meticulous records of all his runs and by 2007 he had run right around the world six times.
Ron Hill is survived by his wife May and two sons.
If you would like to submit an obituary, or have a suggestion for a subject, contact [email protected]
A message from the Editor
Thank you for reading this article. We're more reliant on your support than ever as the shift in consumer habits brought about by coronavirus impacts our advertisers. If you haven't already, please consider supporting our trusted, fact-checked journalism by taking out a digital subscription. Until the end of June it's just £1 for the first two months of subscription – less than 2p a day when you use the code ONEPOUNDTRIAL at checkout.