Scotsman Obituaries: Roddy Campbell, Gaelic-speaking Scottish GP
Dr Roderick John Campbell, Born: 28 October 1935 in Strome, South Uist. Died: 25 May 2023, aged 87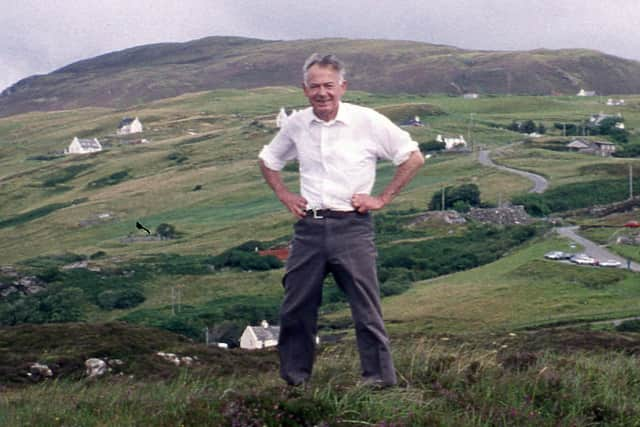 The chances of a native Gaelic-speaking boy from a remote croft in South Uist going to school on the mainland were slim just after the Second World War. To make it to university to study medicine was near impossible. But that is exactly what a young Roderick John Campbell found himself doing, as he stood on the bustling streets of Edinburgh in 1954.
Roddy (Ruairidh) was the youngest of the seven children of Edward and Mary Ann (nee MacIsaac) brought up in a croft in Strome, South Uist. Living was basic then, but he never felt he lacked anything or was ever hungry. There was no running water or electricity in the croft, which had a simple byre containing a few cows, ducks and chickens. The diet in winter consisted mainly of salt herring and potatoes. Roddy would go on short fishing trips with Edward, with stern warnings not to whistle on the boat and risk "bad luck" as, like many fishermen, he could not swim.
During his early school years in Daliburgh, the peaceful islands did not escape the war on the mainland. Roddy's two eldest brothers, Duguld and John were merchant seamen and made many perilous voyages through the Atlantic to keep the supply chains open to the British mainland. John also spent time as a gunner in the London Blitz. Miraculously, both boys survived the war, but not without lasting effects on their physical and mental health.
In 1940 tragedy struck when Roddy's sister Katie Ann developed deep bone infection and sepsis, having fallen and cut her shin on the grate at the croft door. By the time she could be transferred to Glasgow in the depths of winter, it was too late. She died in February at just 12 years of age. Roddy, who was four, was affected deeply.
By the time the war had ended, Roddy was fluent in English and avidly read the wartime comics of the day. He did well in school, despite getting the belt for speaking Gaelic in the school playground. He was allowed to resit the Eleven-plus exam on the insistence of his mother, and was given a place in secondary school in Fort William. He was a bright pupil and an accomplished sportsman in athletics and shinty.
His father died of a stroke when Roddy was at school on the mainland, aged 16, and his mum moved out of the croft to a council house in Lochboisdale with electricity and running water. Aged 17 years, having won the school sports cup, a shadow was seen on his routine screening T.B. chest X-ray. The family knew that there was no cure for tuberculosis and that he would probably die, just like his beautiful young cousin from the nearby village of Pollochar. He was transferred to the sanatorium in Stornoway, and then, at the insistence of the local priest, to the convent-run infirmary in Kingussie on the mainland.
Enforced bed rest was the treatment, with the nuns placing tarpaulin sheets over the beds so that the patients could sleep out in the fresh air to fight the infection. He was accompanied by a cousin in the bed beside him, so the lengthy stay was more tolerable than it otherwise might have been. The advent of a new antibiotic (Streptomycin) cured Roddy, and that summer he went home to win the MacBrayne athletics cup in the South Uist Highland games.​
His strong Higher exam results were aided by his bed-bound studies, surrounded by nuns. With a successful application for grants and sponsorship he had the opportunity to attend the University of Edinburgh Medical School in 1954, aged 18. He spent the next six years embracing the joys of study, shinty and piping. Roddy joined the cadets in University, mostly due to their bar being open the latest, and also the University's Highland society where he met his wife Vivien; they married six years after he graduated in 1960. Roddy developed an interest in surgery and passed his surgical fellowship exams quickly, subsequently working as a general and orthopaedic registrar in Bridge of Earn, Dundee, Kirkcaldy and Dublin.
He then worked as a surgical registrar at the Royal Brompton Hospital, London, under the preeminent cardiothoracic surgeon Lord Brock. As a new father to his first son, Neil, he set his sights on new frontiers and moved to Canada in 1967. He had not passed his Canadian board exams yet, but was allowed to work in the Rockies in a small village called Nacusp. Roddy and one other doctor were snowbound for three months of the year, so he would also have to turn his hand to occasional dental extractions and veterinary work until the thaw came. He loved being useful and the variety of his work meant his treasured books were always open on the table.
In 1968 he passed his Canadian exams and was able to move to a new GP post in Victoria, Vancouver Island, where his second son, Donald, was born in 1970. The next seven years were spent working in Victoria with his partner Dr Wallace, another Scottish emigrant. Family commitments signalled a return to Scotland, where he took over the single-handed Culloden GP practice outside Inverness in 1978. This he built up over the years to have five partners until he retired in 1999, after nearly 40 years as a doctor.
Roddy was heavily involved in Gaelic broadcasting on TV, BBC Radio, and wrote articles for The Scotsman and other journals. He was a much-loved, respected highland GP, who understood that the word "doctor" arises from the Latin "docere" – to teach. He was a fantastic trainer and loved entertaining his trainees, who came from all parts of the world. He delighted in helping children and was a beloved grandfather to his four grandchildren.​
His retirement was spent reading, hillwalking with friends, building a huge dyke by the garden stream and learning Spanish. He was a quietly committed Catholic and did many shifts in the homeless shelter, taking in a homeless man as a lodger. Tragedy struck when Roddy lost all his belongings in a house fire in 2017, which he accepted with his usual equanimity. The house was rebuilt and he spent his last years there reading and telling stories to friends, family, brother in-law Derick and his wonderful neighbour Seonaidh.
If you would like to submit an obituary (800-1000 words preferred, with jpeg image), or have a suggestion for a subject, contact [email protected]