Robbie Coltrane was a big star – he filled a room with his 6ft 1in frame, his 20 stones, and just as importantly, with his laughter and personality, whether as the giant Hagrid in the Harry Potter films, the friendly adversary Valentin Zukovsky in the James Bond movies, the criminal psychologist Fitz in the TV series Cracker or simply as bon vivant Robbie Coltrane.
He was a big man with a huge appetite for life. He was the life and soul of the party, seemingly popular witheveryone, whether fellow film stars or someone he just happened to have met in a lift and amused with a comment about how little space was left for anyone else.
Harry Potter co-star Emma Watson said: "Robbie was like the most fun uncle I've ever had, but most of all he was deeply caring, and compassionate towards me as a child and an adult."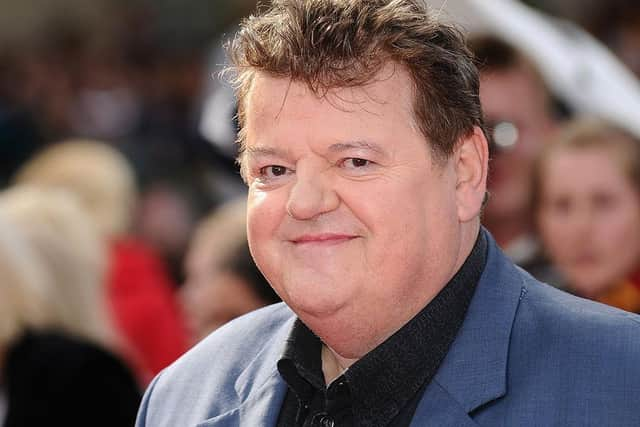 But he was a complex character. His friend and fellow actor, the late John Sessions, spoke of "a deep, driving melancholy". Coltrane did not suffer fools gladly, he spoke his mind and a short temper could lead to fights. "I take no nonsense," he said in one interview.
Coltrane was a larger-than-life man made for larger-than-life roles that included The Pope in the comedy film The Pope Must Die, Shakespeare's Falstaff and lexicographer Dr Samuel Johnson, a role he played in both Blackadder the Third and the BBC drama Boswell and Johnson's Tour of the Western Isles, with Sessions as Boswell.
Before that he had made an impact as Danny McGlone, singer with Scottish rock group The Majestics, in John Byrne's landmark TV series Tutti Frutti in 1987, though he had accumulated more than 30 screen credits by then, going back almost a decade. One of his first jobs in the business was as a driver for the Edinburgh Film Festival, ferrying visiting film folk to and from the airport.
He was born Anthony Robert McMillan in Rutherglen. His father was a doctor and his mother a teacher. He attended Glenalmond, the private school in Perthshire, which he later compared to prison. He bristled at the harsh discipline, but played rugby for the 1st XV, captained the debating team and won prizes for art, which led him to enrol at Glasgow School of Art. "I wanted to paint like the painters who really moved me, who made me want to weep about humanity – Titian, Rembrandt," he said. "But I looked at my diploma show and felt a terrible disappointment when I realised all the things that were in my head were not on the canvas... That was a heartbreaking day."
He joined the Labour Party and became involved in various left-wing and radical causes, including CND and Greenpeace, and acquired the nickname Red Robbie. He was also interested in engineering and mechanics.
But it was acting that offered a new professional outlet for Coltrane's energies and artistic ambitions. He appeared in the original production of The Slab Boys, John Byrne's play about young carpet factory workers. It premiered at the Traverse Theatre in Edinburgh in 1978. And he had tiny roles in a string of films, including Bertrand Tavernier's futuristic drama Death Watch, which shot in Glasgow, Flash Gordon and Lindsay Anderson's Britannia Hospital.
In the 1980s Coltrane found a niche as part of a new generation of comic actors that included Rik Mayall, Adrian Edmonson and French & Saunders. He became a regular face on the television sketch shows A Kick Up the Eighties and Laugh??? I Nearly Paid My Licence Fee, both of which he also contributed to as a writer.
He played a shopkeeper and a gypsy in The Comic Strip Presents... Five Go Mad in Dorset, a fondly remembered send-up of Enid Blyton's Famous Five, significant as one of the opening night shows on Channel 4 in 1982. He was a regular in the Comic Strip team and also made guest appearances on The Young Ones.
In Tutti Frutti he played a man who agrees to replace his brother as lead singer on an ill-fated Silver Jubilee tour after the latter is killed in a road accident. It proved enormously popular and won six Bafta awards, including best drama series and best actress for Emma Thompson. By 1989 he was a sufficiently big star to get his own LWT comedy special.
A few years later Cracker and the role of the baleful criminal psychologist Fitz, Dr Eddie Fitzgerald, marked a change in direction. He brought an element of comedy to the character, but essentially it was drama. Gub Neal, the show's producer, spoke of Coltrane's sense of fun at an initial meeting with writer Jimmy McGovern, who said he saw the character as a thin man – Coltrane simply roared with laughter, a slightly manic response that landed him the job. Neal also spoke of a darker side: "Robbie was an amazingly intriguing character. He was deeply intelligent and deeply troubled. And he was courageous enough to bring it all to the screen."
Cracker ran for three series in the mid-1990s, followed by a couple of one-offs, and it earned Coltrane BAFTA awards three years running. It also opened the door to a wider range of dramatic roles, including Valentin Zukovsky, a charismatic Russian agent who ends up helping James Bond in GoldenEye and The World is Not Enough.
With his imposing bulk and that distinctive mix of mirth and menace, Coltrane was author JK Rowling's personal choice for the role of Rubeus Hagrid, the half-giant half-human gamekeeper at Hogwarts School of Witchcraft and Wizardry. He played the role in all eight of the Harry Potter films between 2001 and 2011.
He was made an OBE in the 2006 New Year Honours List. In recent times Coltrane had suffered from osteoarthritis, he was in constant pain and used a wheelchair.
He married sculptor Rhona Gemmell in the 1990s. She was 20 years younger than him, just 18 when they met a decade earlier. They split up, got back together and then split up again. He is survived by their two children Spencer and Alice.
If you would like to submit an obituary (800-1000 words preferred, with jpeg image), or have a suggestion for a subject, contact [email protected]