Scotsman Obituaries: Ray Stevenson, Irish-born big screen tough guy
Ray Stevenson, actor. Born: 25 May 1964 in Lisburn, Northern Ireland. Died: 21 May 2023 on Ischia, Italy, aged 58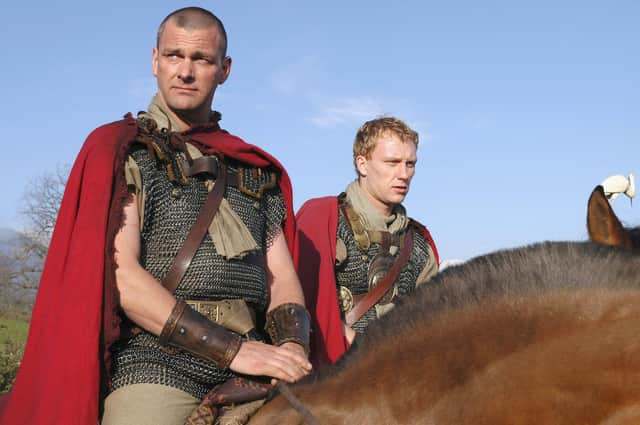 Ray Stevenson was in his mid-forties before beginning his Hollywood career on the back of a recurring role in the historical drama series Rome and a star turn in the underrated horror movie Outpost, which was shot in Scotland – a country for which the Irish-born actor had a particular passion.
Despite the late start Stevenson went on to rack up an impressive and diverse list of credits over the next 15 years, playing Blackbeard on television, Marvel Comics vigilante The Punisher on film and one of The Three Musketeers, also on the big screen. He had recurring roles in the Thor and Divergent movies and a major part in the Star Wars spin-off TV series that is due to debut on Disney+ later this summer.
Never really a romantic lead, Stevenson was a big man, standing 6ft 3in, and could play tough, obviously. He cited Lee Marvin and Gene Hackman as role models in one interview: "It was never the young, hot leading man; it was men who I could identify with." But, like Lee Marvin, Stevenson was also adept at comedy when required.
He was born George Raymond Stevenson in Lisburn in County Antrim in Northern Ireland in 1964, where his father was stationed as a pilot in the Royal Air Force. His father was English, his mother Irish.
"The Troubles had begun and my father said, 'I've got three young boys and even if they don't pick a side, a side will be picked for them'," Stevenson said in an interview with the BBC in 2005 as his career began to take off. "He just lifted us out of there and took us to the North-East [of England], which is where I grew up."
He recalled spending Saturday mornings at the Odeon in Newcastle with his brothers while his parents went shopping. "We'd watch all the black and white movies, an A-movie, a B-movie, Champion The Wonder Horse," he said.
He dreamed of becoming an actor, but reckoned it was no more than a fantasy and never told anyone. Instead he did a design course at Newcastle College of Arts and Technology and worked as an interior designer in London.
"But the dream was still there... I got drunk with an Australian actor and it all came out. He said, 'Well, you've got to find out, go to a bona fide school, evening classes.' So I did that for about a year and got myself a place at Bristol Old Vic Theatre School."
Stevenson was 29 by the time he graduated and was soon landing major roles in television, playing Clym Yeobright, the title character, in a 1994 adaptation of Thomas Hardy's The Return of the Native, alongside Catherine Zeta Jones, Clive Owen and Joan Plowright.
He had a recurring role as one of the husbands in the hit crime drama series Band of Gold. Ruth Gemmell played his ill-fated wife on screen and they married in real life in 1997. They divorced in 2005.
In the early years of his screen career Stevenson worked mainly in television, before playing the loyal knight Dagonet in the 2004 film King Arthur, with Owen in the role of the democratically minded monarch. The following year he managed to inject just the right amount of humour into the part of the roguish legionary Titus Pullo in the HBO-BBC co-production Rome, with Kevin McKidd.
In 2008 he played Frank Castle, the eponymous Punisher, in Punisher: War Zone and he was a mercenary fighting Nazi zombies in Outpost, with Dumfries and Galloway doubling for Eastern Europe. "I do have particular passion for Scotland, a bit of fishing, bit of walking," he said.
Twenty-two episodes of Rome raised his profile in the US. Variety magazine's reviewer Brian Lowery said: "Stevenson certainly stands out as a brawling, whoring and none-too-bright warrior – a force of nature who, despite his excesses, somehow keeps landing on his feet".
Rome helped secure Stevenson Screen Actors Guild membership, opening the door to a string of high-profile roles.
He appeared in the post-apocalyptic adventure Book of Eli with Denzel Washington; he played Porthos in Paul WS Anderson's 2011 take on The Three Musketeers; he was the Asgardian warrior Volstagg in Thor and its sequels; Marcus, one of the faction leaders, in the Divergent series; Blackbeard in Black Sails; and Ohthere in the series Vikings.
And Stevenson will be soon be seen wielding a lightsaber as renegade Jedi warrior Baylan Skoll in the Star Wars spin-off series Ahsoka.
Stevenson suddenly fell ill and was taken to hospital while shooting a new film in Italy. He died shortly afterwards. He is survived by his partner Elisabetta Caraccia, an Italian anthropologist he met while working on Rome, and their three children Sebastiano, Leonardo and Lodovico.
If you would like to submit an obituary (800-1000 words preferred, with jpeg image), or have a suggestion for a subject, contact [email protected]