Scotsman Obituaries: Ranjit Kaur, activist, magistrate and Scottish trade unionist
Ranjit Kaur, campaigner. Born: 6 February 1960 in Leamington Spa, England. Died: 25 November 2022, Edinburgh, aged 62​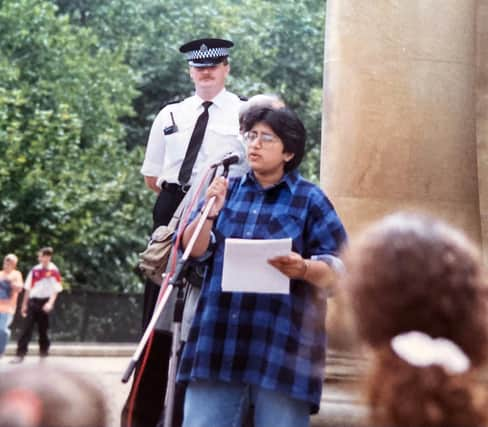 Ranjit Kaur was an exceptionally dedicated and talented campaigner for the rights of women, people of colour and other minorities. She cut her political teeth at a young age in one of the largest civil service union branches, Registers of Scotland.
Born to recently arrived immigrant parents – her father was a bus driver and her mother a seamstress – she spent her first 11 years in the English Midlands. She did well academically and won a place at a top grammar school.
In 1971, however, alarmed by the growing anti-immigrant sentiments unleashed following Enoch Powell's "Rivers of Blood" speech, her father took the family back to India for five years.
Ranjit subsequently arrived back in the UK aged 16 with her family and they settled in Edinburgh. She completed her schooling at Broughton High School.
Family finances precluded her from attending university where she hoped to study journalism, and instead she joined the Civil Service as a teenage recruit.
From there she worked her way up to become a Higher Executive Officer at the Registers. Elected as Branch Chair, she became expert at representation in personal cases. Ranjit was respected at all levels of the organisation and many union members owe her a debt of gratitude for representing them with the skills and knowledge equivalent to those of a senior barrister.
Not content to restrict herself to the normal trade union bread and butter issues of pay and conditions of service, she pushed equality issues up the branch agenda, including HIV and AIDS, anti-apartheid, race and sex discrimination.
Nor was Ranjit content to confine herself to Scottish trade union activism – she also played a significant part in the National Union, particularly is matters regarding ethnic minorities.
At a time when it was still virtually impossible for any black activist to be elected to trade union executive bodies without aligning themselves with a political faction, she resolutely remained independent.
Instead, she was elected Chair of what was then known as the National Ethnic Minorities Advisory Committee, where she campaigned for a system of reserved seats for under-represented groups – both women and black members.
Ranjit's work in furthering equality issues in the Union was recognised in 1993 when she was awarded Honorary Life Membership of the National Union of Civil and Public Servants (later to became the Public and Commercial Services Union). She was the first black woman in the Union's history to be honoured in this way.
I met Ranjit in 1992, and we began our relationship. Ranjit moved south the same year, and we bought a flat in London which was our home until we moved to Edinburgh during the 2021 lockdown.
Diagnosed with cancer in 2001, she was treated for several recurrences and complications over the next 20 years. During this time she never lost her strong identification with all things Scottish and wanted to return to Edinburgh for the final stage of her life.
Having left the Scottish Civil Service, she took up the role of full-time regional Women's officer with the trade union Unison. Here she built up the organising and campaigning capacity of several marginalised groups.
During this time Ranjit graduated with a degree in law from Birkbeck College in London, after four years of part-time study while working full-time.
Ranjit was the first Director of Rights of Women (ROW) 2000-2007, where she established a specialist criminal law advice service which later won the Lilith Award for Best Voluntary Sector Violence Against Women project.
She also led on the publication of ROW's first edition of From Report to Court: a handbook for adult survivors of sexual violence. She was determined to ensure that this handbook reached every woman reporting sexual violence who needed it.
She personally oversaw the daunting task of posting copies to every single police station in England and Wales. At the time of her death the seventh edition of this vital resource was due to be published.
When Ranjit's health challenges became too great, she left full-time work but carried on for a time as a magistrate at Westminster, and worked as an equality consultant. She continued mentoring many women across the women's sector.
She is remembered by many for her powerful advocacy as a public speaker, including her delivery of a stirring speech at the first rally of Million Women Rise in Trafalgar Square, London.
Her final project was of a more personal nature. She was determined to tell the stories of her mother's and grandmothers' generations, and in particular the experiences of immigrant women. The Dancing Maharani and Other Stories was published in 2019 and its 12 humorous tales tackle themes such as cultural alienation, xenophobia, female empowerment and family dynamics.
True to form, she donated the proceeds of the book to causes close to her heart, including the "tampon tax" campaign and the charity at Kings College Hospital where she was treated for nearly 20 years.
Ranjit touched the lives of many, with her generosity, sharp intellect, persuasive powers and fierce defence of social justice and equity. Her legacy includes enduring structures that will continue to carry on that work. But more than this, the most commonly recurring theme in all the messages I received when she died was how much fun she was. Perhaps that was her greatest legacy – "She always made us laugh".
She is survived by myself, her siblings Mohanjit, Parmjit and Abnash, and her nieces and nephews.
If you would like to submit an obituary (800-1000 words preferred, with jpeg image), or have a suggestion for a subject, contact [email protected]