Scotsman Obituaries: Professor Donald Macleod, Free Church of Scotland theologian and writer
Professor Donald Macleod MA DD, Principal-Emeritus of the Free Church of Scotland College. Born: 24 November 1940 in Ness, Isle of Lewis. Died: 21 May 2023, aged 82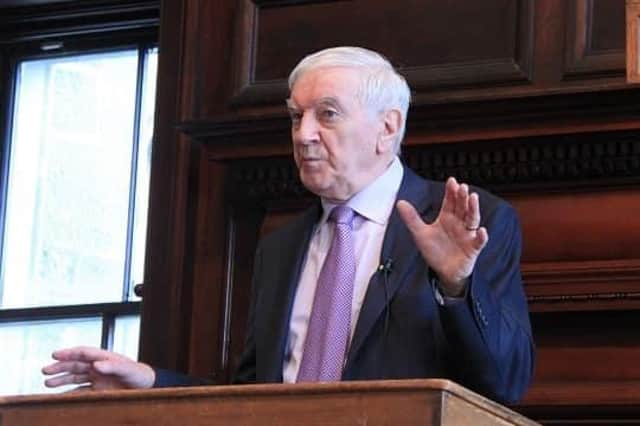 Professor Donald Macleod, Principal-Emeritus of the Free Church of Scotland College and recognised beyond his own denomination as a theologian of the first rank, has died at the age of 82.
A long-time resident of Edinburgh, he never allowed the links that bound him to his native Isle of Lewis, its language and culture, to weaken.
His skill as a writer and willingness to address social issues as well as spiritual ones sometimes made Donald a controversial figure in the Free Church but also ensured his status as a widely read and respected commentator with a rare ability to apply the principles of his religion to great issues of the day; global, national and Hebridean.
At a memorial service in St Columba's Free Church, Edinburgh, Rev. Alex Macdonald said: "He had a towering intellect, precision of thought and language and a theological acumen second to none. But like his Master, 'the common people heard him gladly'."
Donald was born in the crofting village of Habost, Ness, at a time when real poverty was endemic in the islands within a climate of deep Christian faith.
Rev. Mr Macdonald said: "No one can understand Donald Macleod without grasping the defining importance of this period. It left him permanent habits of all-consuming study and a startling capacity for concentration and industry.
"It left him with a tenderness for those to whom he preached – lending a profoundly pastoral note to all his pulpit labours".
After graduating from the University of Glasgow and the Free Church College, he was ordained as a minister, serving first in Kilmallie Free Church, Lochaber, for six years and then Partick Highland Free Church, Glasgow, for a further eight years.
His exceptional academic ability led initially to his appointment as Professor of Systematic Theology at the Free Church College on the Mound in 1978.
While the higher pulpit of religion shaped his life, faith and beliefs he never saw a contradiction in descending from it to communicate through the lower ones of journalism and politics, usually with a small, but occasionally a large, "P".
For that wider audience, he was at his best as a writer when he brought the erudition of his learning to bear upon the practicalities of life, absurdities of government and failings of society.
Applying the discipline of intellect to the headlines of the day can lead to unexpected conclusions.
This ensured that Donald's writing was never predictable. He analysed from first principles and did not shirk from where they led.
If that did not always coincide with received orthodoxies, then so be it. If it attracted envy – and worse – as well as admiration, then that was validation of the case for original thought.
He told a funny story about being phoned by a BBC Scotland researcher who wanted him to take part in a debate on some social issue of the day. Fine, he said, but of course he would be taking the liberal side of the argument. "Oh no", she replied in horror. "We've got Richard Holloway for that".
The assumption that Donald would perform to Free Church caricature always ran the risk of being misplaced.
The temporal world of journalism first became aware of him in his role as editor of the Free Church Monthly Record, a position he held from 1977 to 1990. If that journal had hitherto been read at all in the newsrooms of Scotland, it would only have been in search of pickings that pandered to Free Church stereotypes.
Then they started noticing the editorials and found a man who could not only write like an angel but held no inhibition about expressing views which were unexpectedly trenchant, often counter-intuitive.
The social turmoil of the Thatcher years cried out for positions to be taken and Donald responded without intellectual flinching while surely knowing that he was challenging certitudes deeply held by many of his readers.
After Donald retired from the Monthly Record, I asked him if he would consider writing a column for the West Highland Free Press.
There he found a natural second home; a literate forum, addressing a mainly Gaelic, island audience with complete freedom to write about whatever he chose, which he did for 24 years with style and wisdom.
When he wrote on matters of theology, it was not necessary to be a subscriber in order to be challenged by his train of thought or educated by the well of learning from which he drew.
Aside from his journalism, Donald Macleod's work as an author will prove less ephemeral to theological learning.
There was no danger of his last major book, published as recently as 2020, – Therefore the Truth I Speak; Scottish Theology 1500-1700 – becoming a bestseller but it will surely remain the standard work for as long as the subject is studied.
In all, he wrote 14 books, lectured in many countries and, in retirement, remained in constant demand as a preacher.
In 2011, he was accorded the rare honour – certainly in Free Church of Scotland circles – of being the subject of a Festschrift in which tributes were paid to his theology, his intellect, his humanity and even, by myself, his journalism. Its title, "The People's Theologian", confirmed his soubriquet thereafter.
The funeral service, which was very largely attended, was held in Stornoway Free Church and burial followed in Habost Cemetery, Ness, close to his place of birth. Donald Macleod is survived by his wife Mary and sons John, Murdo and Angus.
If you would like to submit an obituary (800-1000 words preferred, with jpeg image), or have a suggestion for a subject, contact [email protected]