Scotsman Obituaries: Prof John Radford, dental lecturer at University of Dundee
John Radford, Professor of Restorative Dentistry. Born October 1953 in Birmingham. Died: November 2022, aged 69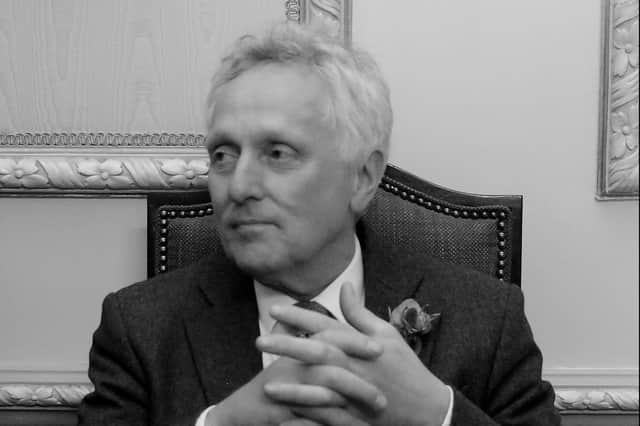 John Radford died suddenly after enjoying his last game of golf and on his way to go "Castle Bagging" in his new-found locality of Cardiff.
John was a superb dentist and dental educator, working with all members of the dental team, but he was so much more than that. He was an inspirational motivator who lived the experiences of his students and he truly loved his involvement with all. He rejoiced in his students' success and the development of staff, but most importantly he had a great skill and the empathy to remotivate and encourage after setbacks.
John was born in Birmingham in 1953 and after moving to Brighton in 1956 attended Brighton, Hove and Sussex Grammar School where he displayed his early leadership and motivational skills as captain of the 1st football team.
Having trained at Guys Dental Hospital, University of London (BDS, 1976), he gained prestigious house jobs in the Department of Periodontology and Preventative Dentistry, and Oral Surgery at St Bartholomew's Hospital, London, returning to Guys as a Registrar in Conservative Dentistry. John was a meticulous dentist and skilful clinician who put his patients at the centre of their care, working with them to make the right decisions with them about their teeth and mouth. However, he was always drawn to teaching, having the ability to break down difficult concepts.
He gained his PhD in 1987 for his research work and thesis on the development of the microbiota in dental plaque over time, carried out at the Royal College of Surgeons research unit in Downe. Following several lecturer positions, he was appointed to a Senior Clinical Lectureship with Consultant Status in Dundee Dental School in 1992, promoted to Clinical Reader in 2018 and gained a personal Chair in Cardiff University, School of Dentistry in 2021.
Despite undertaking such a conventional academic route and traditional roles, in an educational area and profession which likes "right" or "wrong", John was unafraid of embracing controversy and uncertainty. In his own words, relating to his development of Structured Clinical Reasoning examinations, "I set many SCRs based on patient journeys… Some questions I set had no correct answers, with the aim of exploring the process of decision making recruiting the qualities of managing uncertainty and ambiguity." This drive to develop the profession through critical thinking was at the heart of his teaching and the way he supported people.
In October 2021, John embarked on an exciting new challenge, relocating to Wales to join Cardiff University's School of Dentistry. He joined some much-loved former colleagues with whom he had worked at the University of Dundee, and met a wealth of new colleagues and students whom he would inspire with his infectious energy and enthusiasm. Very soon John became an esteemed member of the team, and a good friend and mentor to many. He embraced his job, his role as a leader, and felt he had made a new home in Wales.
Supporting undergraduate and postgraduate learning, John taught across the restorative dentistry subdisciplines, healthcare law, and professionalism. His outstanding collaborative teaching abilities, his extensive expertise in restorative dentistry and his deeply empathic care of patients have left a mark on the hundreds of students he taught, the nursing staff he worked with and the patients he cared for.
His innovative teaching, with the Socratic method at its heart, has inspired generations of dental professionals over the years to not just accept what they read and hear but to think about information they are presented with and make their own judgements.
John was Honorary Tutor at the University of Ghana Dental School in Accra, Ghana, over the years, giving time and expertise to support the growth and development of dentists and dentistry there.
He also contributed to the UK dental profession more widely, serving for ten years as a Fitness to Practice Panel Member for the General Dental Council and was considered wise counsel, bringing empathy and insight to the difficulties of dentistry and consequences for patients. His help and advice were sought by colleagues not only from around the UK but from further abroad and his unreserved support was always given. For more than nine years he edited the British Dental Journal's "Other Journals in Brief" synthesising, evaluating and abstracting over 800 papers, giving them his unique spin. Through this he made wider evidence and information on oral and dental health accessible for dentists in topics they otherwise would not have come across, let alone read about. This also made John one of the most widely read people in the world of dentistry.
John lived life to the full, putting 100 per cent into everything he did, be it gardening – particularly his treasured lawn – running, extensive (and extreme) cooking, bread baking, minimalist music and, of course, golf. As a connoisseur of many fields, an eccentric bon vivant, John extended so much hospitality to his friends, colleagues and students who enjoyed his sincere conviviality and generosity. John was a great family man and leaves behind his wife Frances, his children Daisy and Tom and grandchildren.
John touched the lives of so many in the course of his life, and leaves a legacy of zest for life, kindness and compassion.
If you would like to submit an obituary (800-1000 words preferred, with jpeg image), or have a suggestion for a subject, contact [email protected]