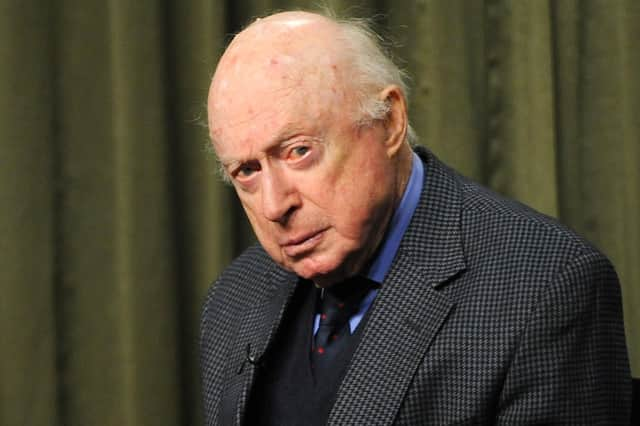 Norman Lloyd was not too impressed with director Peter Weir when Weir asked him to audition for the role of the headmaster in Dead Poets Society in 1988. After all, he had been working in showbusiness for around 65 years by then and was one of the stars of hit series St Elsewhere.
But Weir was Australian and had never seen the US hospital drama. Lloyd, who was in his seventies, did audition and he got the part of the stern principal at the stuffy private school, alongside Robin Williams's liberal English teacher, but only after Lloyd had made sure that the try-out was not going to clash with his twice-daily tennis schedule.
Lloyd was very keen on his tennis. His regular opponents and partners came straight off the Hollywood Walk of Fame and included Charlie Chaplin, Spencer Tracy and Joseph Cotton. "With the application and time I have devoted to it, I should have been a reigning world champion," he said in 2000. He was still juggling tennis and acting regularly in his nineties.
Lloyd started off in vaudeville in the first half of the 1920s when he was about nine. He went on to work with Chaplin, with Alfred Hitchcock – he was the saboteur in Saboteur – and with Orson Welles. Lloyd regretted that he moved on to other projects after various drama productions with Welles and the disappointment of an abortive attempt to film Conrad's Heart of Darkness, and that he did not stick around for the next project – Citizen Kane.
Lloyd ended up reaching a whole new generation on St Elsewhere and working with Judd Apatow and Amy Schumer on the romcom Trainwreck in 2014, the year in which he turned 100. He played a lecherous old man in a care home.
In between times, Lloyd also worked as a director and producer, in theatre and television. He was producer on Alfred Hitchcock's TV shows and later, in the 1980s, on Roald Dahl's Tales of the Unexpected when some episodes of the popular series were shot in the US.
He was born Norman Perlmutter in 1914 in Jersey City, New Jersey, where his father was manager of a furniture store. His mother was an amateur singer who encouraged his interest in performing. He briefly attended New York University, but dropped out to pursue his stage career.
As a stage actor Lloyd worked with directors Elia Kazan and Joseph Losey and on the Federal Theatre's "Living Newspaper" presentations, which dramatised events from the news. Subsequently he joined Orson Welles's famous Mercury Theatre company and appeared in the company's inaugural 1937 production of Julius Caesar.
It was done in modern dress, with an anti-fascist message for the times. Lloyd played the poet Cinna. In the original, Cinna is murdered by the mob, but in the Welles production he is killed by the secret police. It turned out to be a literal showstopper because of audience applause. "It showed the audience what fascism was," said Lloyd.
A long association with Alfred Hitchcock began when the legendary director cast Lloyd in the title role in the 1942 thriller Saboteur, at the end of which his character falls to his death from the hand of the Statue of Liberty. Robert Cummings attempts to save him, but the stitching on Lloyd's character's jacket comes undone, prompting Hollywood writer Ben Hecht to comment: "He should have had a better tailor." Lloyd and Hitchcock became close friends and Lloyd played one of the patients in Spellbound, Hitchcock's famous mixture of Freud and Dali, with Ingrid Bergman and Gregory Peck.
Lloyd was also a personal friend and tennis partner of Charlie Chaplin, with whom he appeared in the rather melancholy Limelight. "It was really about a man who could no longer make people laugh, and Charlie really felt that he had lost that ability," Lloyd said.
At the time of the notorious anti-communist witch-hunts and red paranoia, Lloyd was tainted by his association with Chaplin and others who were deemed politically undesirable. Acting offers dried up and Lloyd turned to directing in television and theatre.
He directed episodes of the western series The Adventures of Kit Carson and renewed his association with Hitchcock as a producer and occasional director on about 250 episodes of Alfred Hitchcock Presents and The Alfred Hitchcock Hour in the second half of the 1950s and first half of the 1960s.
Occasionally he acted in episodes too; otherwise his acting appearances during the 1960s and 1970s were pretty sparse. There was a guest appearance in Kojak in 1975 and he had a supporting role in the very silly secret agent comedy The Nude Bomb, with Emmanuelle star Sylvia Kristel, in 1980.
A conversation at a party with Bruce Paltrow led Paltrow to offer him the role of veteran doctor Daniel Auschlander in a new medical drama called St Elsewhere, on which Paltrow was a producer.
Originally his character was meant to appear in only four episodes, but he proved so popular that his tenure extended to 132 episodes, and all six series, between 1982 and 1988.
It brought Lloyd a level of celebrity that had previously eluded him – he said he was suddenly recognised at airports and waved through without queueing.
And there was also a mini-revival in his film career, with appearances in Dead Poets Society, Martin Scorsese's The Age of Innocence and Trainwreck.
Lloyd met his wife Peggy during his early days in the theatre and they were married for 75 years. She died in 2011. They had two children. Their daughter Josie Lloyd was an actress in the 1960s. She died last year, by which time she was in her eighties.
He is survived by a son, Michael.
If you would like to submit an obituary, or have a suggestion for a subject, contact [email protected]
A message from the Editor
Thank you for reading this article. We're more reliant on your support than ever as the shift in consumer habits brought about by coronavirus impacts our advertisers. If you haven't already, please consider supporting our trusted, fact-checked journalism by taking out a digital subscription.