Scotsman Obituaries: Molly Forbes, ordinary Scot who stood up to Donald Trump
Molly Forbes, smallholder and Trump-opposer. Born 20 April 1924, Whitecairns. Died 11 April 2021, Aberdeen, aged 96.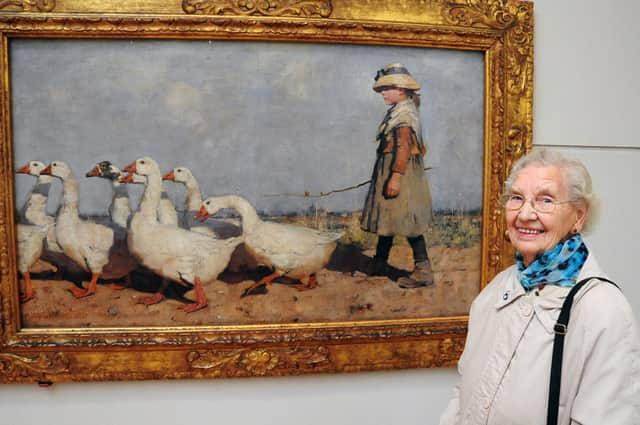 Molly Forbes would not have expected her obituary to appear in a national newspaper. A retired caterer, a mother, grandmother and great-grandmother, she enjoyed living quietly on her son's land in Aberdeenshire – until their way of life came under threat from one of the most powerful men in the world.
Molly and her neighbours found themselves cast as the unlikely opponents of Donald Trump when he tried to have them evicted from their land at Menie, north of Aberdeen, to make room for his luxury golf resort. During the development, Trump had a wall built around their property so that visitors to the resort would not have to see them, and Molly and her family lived for five years without a reliable water supply.
As events at Menie attracted international news coverage, Molly's quiet determination and dignity shone out, reminding the world that they never intended to be activists but were simply people who wanted to be treated with respect and left in peace. In retrospect, the Menie folk were among the first to experience bullying tactics the rest of the world would come to recognise.
Mary Buchan Lamb was born on a farm at Whitecairns, a few miles from Menie, in 1924, the daughter of James Lamb, a crofter, contractor and ploughman, and Annie, his wife. She had two sisters, Nancy and Annie. She treasured grainy black and white film footage of her father working his plough, playing his fiddle and singing traditional ballads.
Educated at Craigie School, Whitecairns, she worked as a land girl during the Second World War. She would later tell filmmaker Anthony Baxter, maker of the award-winning You've Been Trumped (2011) and the sequel You've Been Trumped Too (2016), about looking after a dairy herd of 30 cows and singing to them as they were milked.
In 1948, she wed Walter Forbes – Wattie – who spent much of his life at sea, first as a salmon fisherman, then working on a fisheries research boat. They had seven children: Walter, Noreen, Evelyn, Lorna, Michael, Sylvia and Shereen.
After working for a time as a hospital cleaner in Aberdeen, Molly became a waitress in the canteen at Grampian Television, and liked to tell stories about serving meals for the station's stars. She later worked in catering, including at the Beechgrove Garden where the popular TV show was made.
After Walter's death in 1999, when she felt the area of Aberdeen in which she lived was changing for the worse, she moved to a chalet on the smallholding of her son Mike at Menie, where she enjoyed the rural environment, keeping hens and geese. She called her home Paradise, and loved to welcome guests, including her numerous grandchildren and great grandchildren.
Everything changed in 2006 when Donald Trump, then best known as a New York property developer and the host of US version of The Apprentice, bought the 1,400-acre Menie estate, boasting that he would build "the world's best golf course", along with a 450-room luxury hotel, 36 golf villas, 950 holiday homes and 500 houses, and would bring 6,000 jobs to the area.
The proposal was rejected by an Aberdeenshire Council planning committee, partly because ancient sand dunes on the site were a recognised Site of Special Scientific Interest (SSSI), but this was overturned by an inquiry ordered by the Scottish Government in 2008. The following year, the Trump Organization asked Aberdeenshire Council to use its powers of compulsory purchase to acquire additional land, including that of Molly's family and her neighbours, something he later denied. This led to the Tripping Up Trump campaign, which drew many supporters and activists to the area and gave the Menie cause nationwide publicity.
When work began on the site, contractors building a road damaged a pipe carrying water from a spring on Trump land to supply the Forbes' homes. For much the next five years, their water supply was cut off or contaminated, leaving Molly, then in her late 80s, using a wheelbarrow and paint pots to carry water from a stream for her livestock and garden, and needing bottled water to drink and cook with.
Trump hurled insults at the Forbes, describing their home as "a pigsty". However, diginity and common sense to the fore, Molly described Trump as "a bairn who has never grown up". The golf course and a 19-room hotel opened in 2012; it still has fewer than 100 employees. The 4,000-year-old sand dunes have been partially destroyed and lost their SSSI status last year.
Molly said: "All this attention makes me feel like a celebrity and I'm nae. I'm just an ordinary person. I live in Paradise, my home in Menie, but it's feeling less like Paradise these days." When Trump told media that Molly reminded him of his own mother, she said she hoped he had treated his own mother better than he treated her. She received letters of support from all over the world, all of which she tried to answer personally.
In the early days of the development, photographer Alicia Bruce created a series of portraits of the residents, "Menie: Trumped", each inspired by a classic painting. Offered a selection of paintings to choose from, Molly opted for James Guthrie's To Pastures New, a painting of a young girl herding geese which she felt chimed with her optimistic outlook.
The photograph, which took some hours to create, and was even interrupted by a visit from the police after the Trump organisation reported "unusual activity" at the smallholding, is now in the collection of the Scottish National Portrait Gallery. It also hung in Molly's living room for the rest of her life at Menie, and went with her to the care home where she spent her final months.
Alicia Bruce said: "Molly was just remarkable. She was such a warm, kind person, but she wasn't someone Trump could mess with. Molly had a tenacious streak, she was really independent. She enjoyed what she had, looking after her animals, tending her plants and watching them flourish. She knew Trump would never understand that. I think she pitied him more than hated him, his lack of understanding of the world."Her funeral took place on April 20, which would have been her 97th birthday.
If you would like to submit an obituary, or have a suggestion for a subject, contact [email protected]
A message from the Editor
Thank you for reading this article. We're more reliant on your support than ever as the shift in consumer habits brought about by coronavirus impacts our advertisers.
If you haven't already, please consider supporting our trusted, fact-checked journalism by taking out a digital subscription.