Scotsman Obituaries: May Storrie CBE, businesswoman and tireless charity worker
May Storrie CBE​, businesswoman. Born: 11 November 1944 in Lanarkshire. Died: 21 May 2023 in Glasgow, aged 78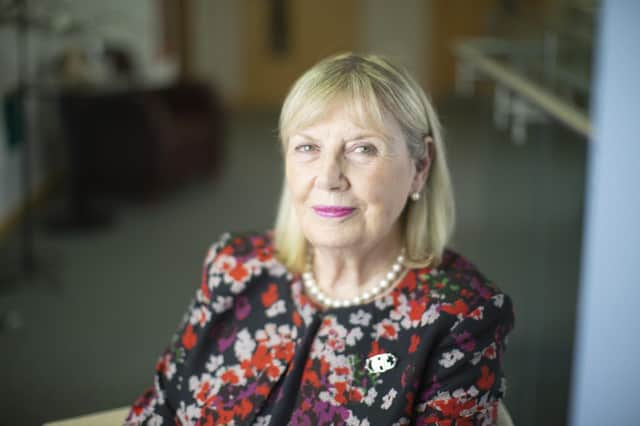 One of Scotland's leading ladies in business and philanthropy has passed away peacefully, leaving an indelible mark of service to her community and a legacy of support to local charities.
May Storrie CBE, 78, died peacefully with her family beside her on 21 May 2023 at Glasgow's Marie Curie Hospice – an outstanding centre that she, alongside her late husband Donald, helped establish. The couple helped raise £16 million through the Big Build Appeal to ensure the vision for the hospice – which now supports thousands of patients and families facing terminal illnesses – became a reality.
Marie Curie Chief Executive Matthew Reed said: "Not only was May a caring and compassionate individual, her two decades' worth of commitment to our Glasgow hospice and nursing service saw her raise hundreds of thousands of pounds in donations. Donald and May's legacy lives on in the very fabric of our Glasgow hospice building and we are privileged to have been able to care for both of them at the end of their lives."
Respected and admired widely across a diverse range of business communities and charities for her keen mind, intelligence, resilience, hard work and dedication to great community causes, May leaves a legacy from her dedication to work and service which will benefit many in her home region of Lanarkshire for years to come. It was a proud day for May and her family when she received a CBE in 2015 in the Queen's Honours for her outstanding work in both business and philanthropy.
A formidable businesswoman and effective advocate for charity in and around Glasgow for many decades, after six years serving as a director, May was elected Lord Dean of Guild at The Merchants House, Glasgow and second citizen of Glasgow in 2021. She was the first female Lord Dean to be appointed for over 400 years. She undertook many civic roles including at COP26, welcoming visitors to the City, leading tributes to the late Queen Elizabeth II and being part of the team that welcomed the Princess Royal to Glasgow after her mother's passing.
She was strong on governance and committed to ensuring the fabric of The Merchants House building was fit for purpose. She was an ex-officio member of Glasgow City Council and attended Remembrance services both in George Square and at Knightswood Cross.
She passionately believed that those people who have been fortunate in life and work should "give something back". May was keen to strengthen The Merchants House as a modern and relevant charity continuing to support those in real need, with grants awarded to food banks, mental health charities and youth and community groups. As Lord Dean, May established a Legacy and Philanthropy Committee which has already raised significant funds.
Alasdair Ronald, May's predecessor in the role, said: "May was the best person for the role, she was a tower of strength, always supportive, always willing to listen to issues and give a view. Even when she was ill, May was still the driving force in so many areas."
May Storrie was born in 1944 in Lanarkshire. She was the only daughter, with two brothers Robert and Tom, of Margaret and Thomas Samson. She left school at 16 to help her mother in the family business after the sudden death of her father. May attended secretarial college and with hard work and a commitment to evening classes, progressed quickly.
After meeting her husband Donald, a police officer, the couple spent a spell in Slough, near London, while her husband served with Thames Valley Police, before returning to their beloved Scotland, buying a small office and starting their own estate agency business near Hamilton.
From humble beginnings the success story began, with the couple working tirelessly to expand to a network of 32 estate agency offices across Scotland. The business was bought by Nationwide in 1987 in a multi-million pound deal.
Donald and May's partnership of 49 years in business and life was a meeting of minds, spirits and values. They were seldom apart and looked after each other, with May – the lady of detail – dotting every "i" and crossing every "t". Her success and respect in business was shown when May was elected the third female President of the National Association of Estate Agents. An independent spirit, May got things done with a clarity of thought, decisiveness and work ethic so many admired. She said from an early age that she learnt a valuable lesson – "to believe in myself".
Always immaculately turned-out, May had a keen sense of style and was passionate about art. She brought her interests together for the benefit of charities with great success including a fashion show at The Merchants House which raised over £10,000 for Say Women and in 2014 and she organised Art for Care, an exhibition and sale of Scottish art, which raised more than £30,000 for Marie Curie.
To relax and reflect she loved travelling around the world – cruises, visits to Spain, Majorca, Barbados, South Africa and many more memorable trips were shared with friends who have talked of her laughter, sense of fun, generosity and warm hospitality at her home.
With courage and a stoic "I'm fine" attitude, she fought cancer over the past 17 months with the same positive, forward-looking and determined will she demonstrated throughout her life. May never complained in times of adversity but sought solutions rather than problems.
May Storrie will be deeply missed by her loving family; her two sons Stuart and Grahame, her grandsons Jack and Bruce, her daughter-in-law Kathryn, and her wider family and multiple groups of close friends and trusted colleagues.
A celebration of May's life will be held at 11am on Saturday 3 June at Orchardhill Parish Church, Giffnock and all are welcome. Any donations in memory of May Storrie can be made to Marie Curie, visit www.mariecurie.org.uk
If you would like to submit an obituary (800-1000 words preferred, with jpeg image), or have a suggestion for a subject, contact [email protected]