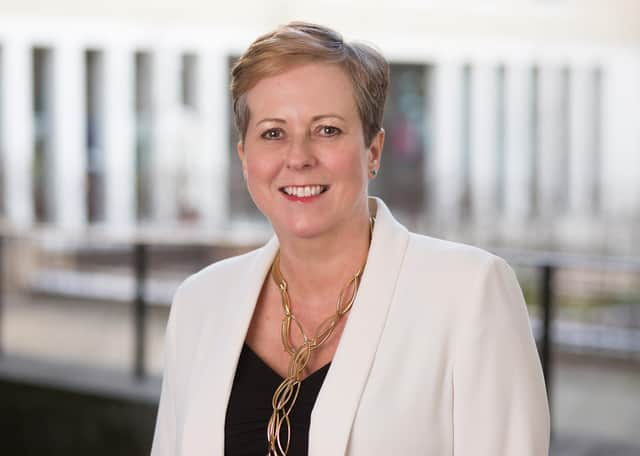 Just two years ago Lori Houlihan was a dynamic woman in full flight as a mum, wife and trailblazing academic officer at one of the world's leading universities. Overnight life turned upside down and within a week she learned she had the most aggressive, and incurable, form of brain cancer. Writing of that tumultuous time, she quoted Confucius: "We all have two lives. The second one starts when we realise we only have one."
She had already achieved so much in the first, before that dreadful watershed in 2019 – she was vice-provost of University College London (UCL), leading its £600 million It's All Academic philanthropic campaign, having previously led Aberdeen University's transformative Sixth Century Campaign and worked in NHS health promotion. Then, in life beyond diagnosis, she embraced opportunities with her trademark zest, positivity and can-do attitude, setting up her own fund to raise money for research and to increase awareness of glioblastoma. Meanwhile, she continued to live with style, holidaying on the Orient Express.
Born in Aberdeen, she was educated at the city's Grammar School and gained a BA in Business Studies from Robert Gordon University. After working in the NHS where she became director of marketing for Health Promotions, she spent 12 years at Aberdeen University. Joining in 1999 as director of student recruitment and admissions, two years later she became the institution's first director of marketing and then director of development and external affairs.
While there she was at the forefront of one of Scotland's most successful university fundraising campaigns, marking its sixth century of existence, which saw the development of the Sir Duncan Rice Library, the Suttie Centre for Teaching and Learning in Healthcare, and helped partners with funding for Aberdeen Sports Village. Raising £20m for the £60m library initiative was one of the things of which she was most proud, having been involved from the start when it was, as she said, "just an impossible dream".
When she first moved to UCL in 2011 she commuted weekly from Scotland until fully re-locating and soaking up the London environment and culture. Passionate about jazz, she treated her team to lunch at Ronnie Scott's Jazz Club every Christmas.
Initially executive director of development and alumni relations, in 2016 she was promoted to vice-provost (development) and, two years later, became vice-provost (advancement). One of her crowning achievements at UCL was to devise and lead the It's All Academic campaign. Launched publicly in September 2016, theambitious campaign aimed to raise £600m and 250,000 volunteering hours to support the university's research and teaching, expand scholarships and other provision for students, and build up an engaged and involved global alumni community. The campaign was one of the biggest undertaken by a European university and hit its targets in 2020, one year ahead of schedule. Her portfolio also included the communications and marketing function for UCL and the university's London Strategy.
As well as leading UCL's philanthropy and engagement activities, she was a proactive champion of equity and inclusion as a member of UCL's LGBTQ+ advisory group and Friend of [email protected] She was the university's first Interfaith Champion, a role she established to improve understanding and awareness of faith on campus.
In 2015 she completed the Advanced Management Programme at Columbia University and in 2018 was elected Fellow of the Chartered Institute of Marketing. The next year she received the prestigious Council for Advancement and Support of Education (CASE) Europe Distinguished Service Award, in recognition of leaders who have made a significant and lasting impact in the advancement field. She was a Trustee-at-Large of CASE (Washington DC), past Chair of the Ross Group (UK), member of the Standards Committee of the Fundraising Regulator, trustee of the Film and Television Charity, board member of the Higher Education Working Group of the 30% Club. She was also a Burgess of the City of Aberdeen.
Exceedingly well connected, she had contacts spanning North America, Europe and Asia and was respected across and beyond the sector for her commitment, energy and vibrancy. Unsurprisingly the ripple effect of her diagnosis was extensive.
Her diagnosis began one day with spells of déjà vu and by that evening she had had a seizure. Days later glioblastoma was diagnosed. Surgery, radiotherapy, chemotherapy and immunotherapy followed. But she was struck by how little change there had been to treatment for her type of cancer over the last 20 years. The drugs she was on were in clinical trials when she was at primary school and no novel treatments had been developed – mostly through lack of research funding.
She established the UCL Lori Houlihan Glioblastoma Fund and wrote: "I have always known that philanthropic giving to UCL saves and extends lives. I now know how deeply important it feels when it is your life that is being extended thanks to the research and translation that philanthropy has enabled. For the sake of future patients, I hope this fund will support the kind of advances in understanding and treating glioblastoma similar to those we have seen in other cancers, where research and translation – driven by philanthropy – have made such a sizeable difference to outcomes."
Forced to retire through ill health in March 2020, she was awarded an honorary doctorate by UCL last December in recognition of her exceptional and dedicated service to the university and the wider sector.
A force of nature who gave everything 150% She once wrote of her illness: "People often ask how I cope with knowing this is not curable. I reply, some people say you only live once, but I disagree. You only die once, you live every day and that's what I am doing."
She is survived by her husband Dominic, emeritus professor at Aberdeen University, daughter Poppy, parents Laura and Tom, sister Ali and step-children Anthony, Catherine and Michael.
If you would like to submit an obituary, or have a suggestion for a subject, contact [email protected]
A message from the Editor
Thank you for reading this article. We're more reliant on your support than ever as the shift in consumer habits brought about by coronavirus impacts our advertisers.
If you haven't already, please consider supporting our trusted, fact-checked journalism by taking out a digital subscription.