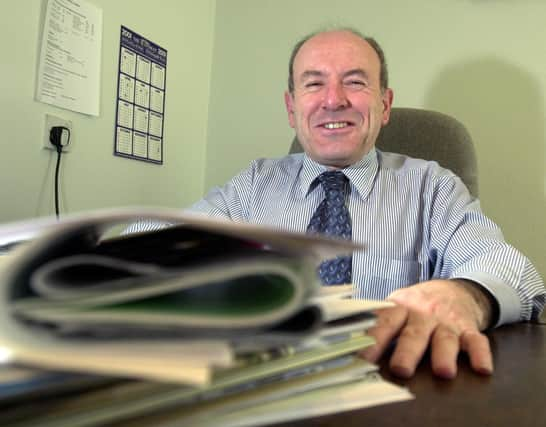 Leslie Deans was born in Edinburgh and, like parents George and Marlene, stayed there. His horizons were, however, not dominated by the city: he was fluent in French and Spanish, had a command of Italian and travelled widely in Europe. He was a regular at the Edinburgh Festival, the Jazz Festival and the Fringe.
At six Leslie developed a limp. He found it increasingly difficult to walk and became used to plaster casts due to bone fractures. The limp developed into a shuffle and he was often helped by two girls to move around the school. He recently tracked them down and they enjoyed a lunch together, going down memory lane. At age 17 he was diagnosed with brittle bone disease; it had affected his growth and mobility. From being the tallest in his Clermiston Primary School class, he grew to be someone who would be called "a 5ft giant of a man".
George and Marlene decided not to send Leslie to a special school and chose George Watson's for his secondary education. One of the reasons was that their buildings were accessible for someone with Leslie's physical disability. He excelled academically, but it was at school that his passion for sport was nurtured. He kept the score for the cricket XI and was known as a fearless goalie. He played golf, tennis, badminton and squash, all with a tenacity which was evident in other areas of his life. He later developed an interest in cycling and went on cycling holidays to France and England. He was a font of knowledge on the Tour de France, the Giro d'Italia and the Vuelta a España.
His father, who had served on the Royal Navy Atlantic Convoys during the Second World War, was a lifelong Hearts supporter, a Jambo to the core. He took Leslie to all the home matches. As Leslie found it difficult to stand for 90 minutes, his mum approached the manager, Tommy Walker, asking if there was somewhere Leslie could sit to watch the games. Mr Walker responded by allowing him to sit on the subs bench – they did not know then that he would later sit on the Board.
Leslie stayed in Edinburgh to study law. He formed the Law Soc football team from a group of talented law, computing and mathematics students. Much later, when Chairman of Hearts, Leslie was able to tell Jim Jeffries and Billy Brown, his Manager and Assistant Manager, that his own record as manager was unrivalled – Law Soc won every game for three years.
After graduating, Leslie served an apprenticeship with Shepherd and Wedderburn and subsequently was employed by various firms in conveyancing and court work. He met Carole Wilson in 1979 and, in 1986, they set up Leslie Deans & Co. The business thrived and, having started with five people, some 20 years later numbers had reached 35 – partners and staff – with offices in St Patrick Street and South Queensferry. Leslie was Senior Partner.
In the early Nineties, Leslie entered into negotiations with Wallace Mercer, the owner of Hearts, to buy the club. Success led to him becoming Chairman. He held that position in 1998 when Hearts won the Scottish Cup. George, having watched the previous victory in 1956, was this time able to attend with his son as Chairman.
The Hearts connection led to an enduring friendship with ex-Chairman George, Lord Foulkes of Cumnock. Leslie, Carole and George shared a table in the Heritage Lounge for the home games. At the reception in Tynecastle's Gorgie Suite after Leslie's funeral, Lord Foulkes, Jim Jeffries and Derek Pyle, the current Sheriff Principal of Grampian, Highland and Islands, each gave an address. Lord Foulkes reminded those present that Leslie was instrumental in blocking the proposal to sell Hearts' Tynecastle ground to property developers.
In 2007 Leslie was asked by Professor John W Cairns to join the committee to celebrate the tercentenary of the founding of the Regius Chair in Law by Queen Anne; and with it, Edinburgh University's School of Law. This culminated in Leslie and Carole's attendance at the Chancellor's dinner at Holyrood Palace hosted by Prince Philip, Duke of Edinburgh.
Leslie developed a business relationship with his younger brother Jeffrey and sister-in-law Mary, who had founded the firm of Save and Invest in Glasgow. The relationship was consolidated when Save and Invest moved into the St Patrick Street premises in Edinburgh in 2008 to add to their operations in Glasgow; later, Jeffrey's son Andrew also joined the firm.
On occasions Leslie was known to be grumpy, but few of us would deny him that privilege. He had a rare generosity of spirit in matters sporting and political. He was a Jambo, a "one nation" Tory and a committed unionist, but counted a Hibs fan, a lifelong Labour supporter and a nationalist among his close friends. What Leslie achieved in life, though impressive, was secondary to what he was: a man of integrity and loyalty in both personal and professional matters.
Leslie died after a very short illness. He had survived pneumonia and had caught Covid twice, the second time last October after he and Carole returned from a holiday in Corsica. He spent his last few days in the excellent care of Edinburgh Royal Infirmary's High Dependency Unit. During the spells when he was awake, he remained his usual self – loquacious and witty.
While he was sad to leave us, his principal emotion was gratitude. He wanted to thank all the people who had made his life so wonderful: parents George and Marlene, Jeffrey and Mary; his enormously supportive, patient friends – the entire McClements family, as well as Bob, Jim, Gordon, Frank and Michael – and, of course, Carole. He left us as he wished, with dignity; and, fittingly for a wine connoisseur, a glass of Champagne.
Leslie is survived by Carole, Marlene, Jeffrey, Mary and five nephews and nieces.
If you would like to submit an obituary (800-1000 words preferred, with jpeg image), or have a suggestion for a subject, contact [email protected]