Scotsman Obituaries: Jim Stobo, Scottish farmer, businessman and livestock judge
James Stobo CBE, DL, FRAgS, farmer and stock judge. Born: 9 December 1934 in Lanarkshire. Died: 2 August 2023 in Paxton, Berwickshire aged 89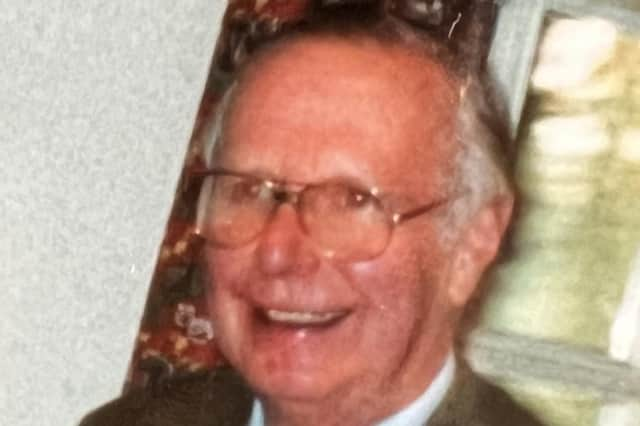 Jim Stobo's remarkable life is a mirror which reflects the changes in the world of agriculture over the past 80 years.
He was born to Mary and Alexander Stobo in 1934. There was never any doubt Jim would be a farmer, having been born into farming families on both sides. At the age of four he made his "farm" in the stockyard of his parents' farm at South Garngour, just north of Lesmahagow. In 1942 he and his parents moved to farm Fishwick and Fishwick Mains in the lower Tweed valley. On the 1,000 acres of fertile Berwickshire land they raised stock and grew grain.
In October 1944 Jim was sent to Edinburgh Academy as a boarder. Here he started to gain a vast knowledge of people by mixing with the sons of Edinburgh professionals – In his own words, he saw himself very much as "a country bumpkin"!
While not the greatest of academics, Jim learnt the skills of reading, writing and debating and impressed his tutors with his powers of reasoning. On hearing that one of Jim's tutors thought that his son would make a great architect, his father, whose health was failing, decided that he should stay at home and start to manage the farm. Jim argued that he had a good chance of making the first fifteen rugby team – definitely the wrong argument to use, his father would hear no more of his plans to return to Edinburgh!
As the head shepherd had recently retired, Jim, his Landrover and a dog set out to learn the art of shepherding. His love of the Border Leicester sheep grew and developed. By introducing new bloodlines into his stock he was soon winning championship prizes at the Royal Highland Show and England's Royal Show. His presence at shows became the norm and Jim made many connections in the farming community. With the assistance of his new shepherd, Fishwick became home to a flock of South Country Cheviots. A herd of Aberdeen Angus cattle and modern mechanisation with tractors increased the productivity of the farm.
As consignments of cattle were sent to John Swan & Sons at Gorgie Market, Jim developed a strong connection with his butcher customers and identified what features they were looking for in a beast. He showed his stock at both local shows and the late autumn fat stock shows (primarily the Scottish Fatstock Show and Smithfield) where success led to the establishment of his pedigree Angus herd specialising in the production of high quality bulls.
Jim was a strong proponent of the Young Farmers movement, having joined the Ednam branch as soon as he could drive. This developed his "tertiary education" and honed his skills as a stock judge which resulted in him judging the champion at the Royal Smithfield Show in London by the age of 34. He represented the Scottish Association of Young Farmers Clubs at County Association, Area and National level, affording him the opportunity to negotiate annual grant aid and price reviews with the Department of Agriculture. After this Jim progressed to being President of the NFU and was heavily involved in accession to the European Economic Community. During his presidency of the NFU he was presented with the OBE – an honour of which he was immensely proud.
In the 1970s, the need for farmers to promote the sales of their produce, particularly meat, became apparent. Jim became the founding Chairman of SQBLA, which eventually led to QMS. Negotiations with both Westminster and Scottish MPs resulted in the reputation of the Scottish product being firmly established.
Jim was also proud of his contacts with the Royal Family over many years through stock-judging and then as President of the Royal Smithfield Club and had photos in his office recording his meetings with the late Queen Elizabeth II and the Princess Royal.
Princess Anne was also Patron of the Moredun Research Institute where Jim was a key figure for 32 years. During this time the Institute moved to its new premises at Pentland Science Park and very important research was carried out at the request of farmers to minimise the effects of disease on livestock production and equine illness.
In 1996 Jim was invited to become one of the four first trustees of the Queen Elizabeth the Queen Mother Castle of Mey Trust. This was a role he thoroughly enjoyed, encompassing discussions about the herd of Angus cattle and the management of the Castle. He continued to serve in this position to the Prince of Wales before he became King.
After serving as a non-executive director of John Hogarth Ltd, Kelso Mills for 23 years, Jim chaired the board right up until his death – a rather remarkable two months shy of 40 years in office. During this time his input added stability, with a progressive influence to a thriving local business.
Jim was instrumental in setting up Longridge Towers School just outside Berwick in 1984 after the nuns of St Mary's Convent ceased to teach. He went on to become Chairman of the Governors until he retired in 2000. He maintained a strong interest in the school throughout his life and did much to encourage youngsters to develop their talents.
Jim was invested with the CBE in 1995 for services to agriculture. He was a fellow of the Royal Agricultural Society and a life member of the RHASS.
He was married to his late wife Pam for 40 years and they had three children – Laurna, Carolyn and Herriot. He was Grandpa to Henry, Angus and Charlie.
Jim's contribution to all he became involved with was to make things better, upgrade the standards and to help his "fellow men". All of this he did with grace, kindness, modesty and honesty. As an old quote on one of the rafters at Fishwick goes: "An honest man is the noblest work of God" – perhaps he read this as a young boy!
If you would like to submit an obituary (800-1000 words preferred, with jpeg image), or have a suggestion for a subject, contact [email protected]