Although he was born in London, Hugh Hudson had ancestral links to Scotland and for better or worse Scotland played a huge role in his film career. His directorial debut Chariots of Fire was partly set in Scotland and became the first film shot in Scotland to win the Oscar for best picture.
Hudson, the disinherited son of a wealthy family who honed his visual skills in the advertising industry, got the chance to direct a big-budget epic with Revolution, about the American War of Independence, and decided it was a good idea to make Al Pacino's character Glaswegian.
It was a spectacular flop and he made only four more features after that, including My Life So Far, a more modest film which was set in Scotland, had an epic journey from production to dustbin, and cost the taxpayer a small fortune via the National Lottery.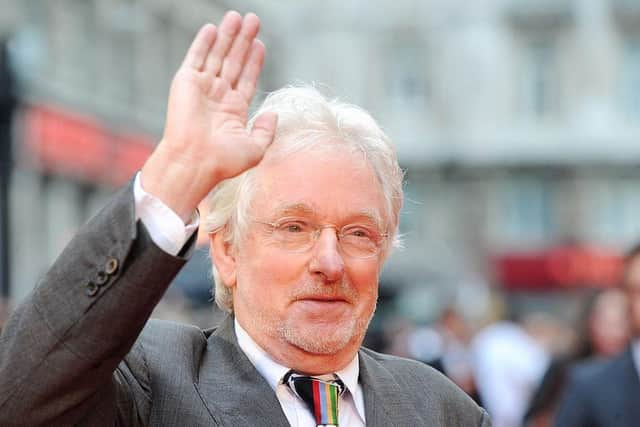 Chariots of Fire, the true story of Scots athlete and missionary Eric Liddell and Harold Abrahams, an Englishman with Lithuanian-Jewish antecedents, remains Hudson's greatest achievement.
The film cost £3 million, grossed more than ten times that on its initial North American cinema release and prompted Oscar-winning writer Colin Welland to famously, pompously, declare "The British are coming"; though Hudson himself lost out to Warren Beatty for his direction of the self-important historical drama Reds.
And after Revolution Welland's declaration might be regarded more as a warning than anything else.
Chariots of Fire came out in 1981, was voted the 19th greatest British film of all time in 1999, and despite (or maybe because of) its rather jingoistic theme of British triumphs at the 1924 Olympics, it has worn well and remains a genuine classic.
Although much of the film is set in Scotland, its single most famous scene – that of barefoot athletes running through the surf in slo-mo to the music of Greek composer Vangelis was actually meant to be Broadstairs in Kent, though it was shot at St Andrews West Sands.
Born in London in 1936, Hudson was from a wealthy family that had made a fortune from importing Madeira wine. However, his father had effectively been disinherited as part of the fallout from a scandal in which Hudson's grandfather had a sexual relationship with Hudson's father's first wife – before and after the marriage.
The grandfather thought going public with the details was a greater sin than sleeping with his daughter-in-law. Hudson later referred to it as a "typical upper middle-class family".
There was still enough money to pack Hudson off to boarding school at seven and later to Eton College, which he loathed. After National Service in the Tank Regiment and a few years editing documentaries in Paris, he carved out a successful career in the developing field of television advertising.
He worked with Ridley Scott and Alan Parker and directed some of the most memorable adverts of the 1970s, including Cinzano adverts, with Leonard Rossiter and Joan Collins, Guinness adverts with Rutger Hauer, and commercials for Fiat cars "hand-built by robots" to a soundtrack from The Barber of Seville. Ironically perhaps, to get into the Turin car plant Hudson had to cross picket lines with workers protesting against increased automation.
Hudson reckoned he directed around 1,500 adverts, he won a cabinet-full of industry awards and later in the late 1980s made a celebrated campaign film for the Labour Party showing Neil Kinnock and his wife Glenys on a Welsh clifftop that became known as Chariots of Kinnock, though Kinnock did actually lose the next election.
Hudson worked uncredited as a second unit director on Alan Parker's 1978 Turkish prison drama Midnight Express and made several shorts before producer David Puttnam gave him the chance to direct a feature film with Chariots of Fire.
He returned to Scotland for his next film Greystoke: The Legend of Tarzan, with Christopher Lambert as Tarzan and Floors Castle, near Kelso, as his ancestral home.
It was a critical and commercial success, though Robert Towne was so upset with the treatment of his script that he assigned the onscreen credit to his dog PH Vazak, who became the only dog ever nominated for a screenplay Oscar.
Then came Revolution. Pacino's character says he is from Glasgow. Hudson said he imagined his parents had been involved in the 1745 Jacobite Rising and he had been shipped off to America as an indentured servant as a boy. "For Al Pacino's accent we developed a strange kind of Irish-Scottish-Cockney," he said. He was right, it did sound strange, even if such hotchpotches did exist.
Hudson re-edited the film in the 2000s, adding a narration by Pacino, and the esteemed critic Philip French hailed the new version as a masterpiece. But the damage had been done years previously.
Hudson struggled to get his career back on track, though he managed to secure £5m from Harvey Weinstein's Miramax company and £1m of lottery money for My Life So Far. It was a distinctly odd affair, based on the early life of Denis Forman, television executive and ex-chairman of the Scottish Film Production Fund – the body that put it forward for lottery money.
Bill Forsyth alleged the system was open to charges of "cronyism", while the public remained largely indifferent.
Hudson later made a television documentary Rupture: A Matter of Life or Death, about his wife actress Maryam d'Abo's recovery from a brain haemorrhage, he directed an opera based on Arthur Miller's play The Crucible and he co-produced a stage version of Chariots of Fire.
He is survived by d'Abo, and by a son from a previous marriage that ended in divorce.
If you would like to submit an obituary (800-1000 words preferred, with jpeg image), or have a suggestion for a subject, contact [email protected]