Scotsman Obituaries: Haydn Gwynne, award-winning stage actress best-known to TV viewers for Drop the Dead Donkey
Haydn Gwynne, actress. Born: 21 March 1957 in Hurstpierpoint, Sussex. Died: 20 October 2023 in London, aged 66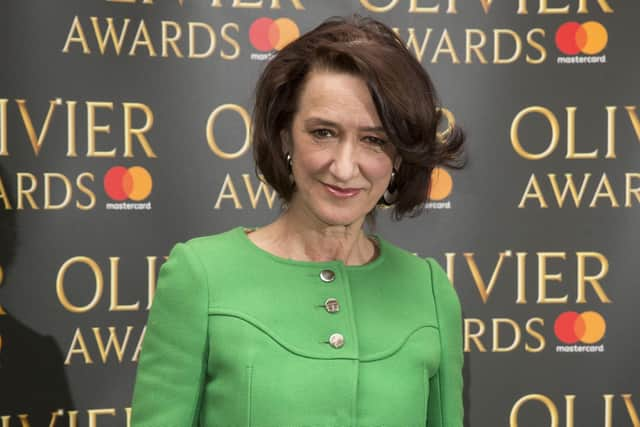 Haydn Gwynne wanted to be a tennis player when she was young and played for Sussex as a junior. But life took her in a different direction and she spent five years teaching English as a foreign language in Rome. Then on holiday in the United States she suddenly realised what it was that she really wanted to do.
She went to a couple of Broadway shows and while watching the musical Nine she decided that she would much rather be up there on the stage than sitting in the stalls.
"I'd done some amateur acting in Sussex, where I grew up, and been in student productions at the Edinburgh Fringe, but I'd never considered it as a career" she said. "That day it hit me like a bolt of lightning."
There were a lot of rejection letters before she finally persuaded Alan Ayckbourn to give her a chance in a revival of the musical His Monkey Wife at the Stephen Joseph Theatre in Scarborough, where he was artistic director.
By that time Gwynne was in the second half of her twenties, but her career took off from there both in theatre and television. She reached a wider audience as the hard-nosed news editor on the sitcom Drop the Dead Donkey. She was the scheming Camilla, more like Lady Macbeth than the real Camilla, opposite Harry Enfield's dim-witted Prince Charles in The Windsors. And – just to show she could still play it straight – was Lady Susan Hussey, part of the Royal Household, in The Crown.
Gwynne was born in Hurstpierpoint in West Sussex in 1957. Her father's surname was actually Hayden-Gwynne. He ran a successful printing business and Gwynne went to Burgess Hill, a fee-paying, girls-only school, and then on to Nottingham University, where she took a degree in Sociology.
With a helping hand from Alan Ayckbourn and a professional debut behind her, she went on to a string of leading roles in provincial theatre productions throughout England.
She could act, she could sing, she could dance, she could play comedy and serious drama and she found herself in great demand, landing the role of Broadway producer Flo Ziegfeld's wife in a lavish musical entitled Ziegfeld at the London Palladium in 1988. It was big-budget stuff – her costume alone cost £10,000.
It was a critical and commercial disaster, one of the biggest flops in London theatre history. Gwynne described it as a nightmare and cried herself to sleep every night of its seven-month run. When the show finally closed it had run up a loss of £3 million, the production company was in liquidation and Gwynne took herself off for a lengthy, therapeutic, solo road trip in the United States.
However, the following year she bounced back as the lascivious university lecturer Dr Robyn Penrose, romping naked with Warren Clarke, in a BBC adaptation of David Lodge's comic novel Nice Work and in 1990 she made her first appearance as journalist Alex Pates in Drop the Dead Donkey.
Set in the offices of the fictional GlobeLink News, it was a big hit for Channel 4 and ran for six series, though buoyed by its initial success Gwynne moved on to other projects after the first two series, including a season with the Royal Shakespeare Company.
Her biggest stage hit was as the dance teacher Mrs Wilkinson in Billy Elliot The Musical, an adaptation of the movie, with songs by Elton John and Lee Hall, who had written the original film. It opened in the London West End in 2005, Gwynne reprised her role in the Broadway production three years later and earned glowing reviews, nightly ovations and awards on both sides of the Atlantic.
She played Dr Joanna Graham in three series of the soap opera Peak Practice, before being killed off in a shooting in 2000, as happens fairly regularly on these sort of things, and she starred as Superintendent Susan Blake in the first series of Merseybeat.
She admitted that well-paid recurring TV roles became a more attractive proposition after she had children to factor into her life and finances, though her two boys attended the local state school in London rather than a fee-paying school, as she had done.
On stage she was Queen Elizabeth to Kevin Spacey's Richard III at London's Old Vic in 2011 and Margaret Thatcher to Helen Mirren's Queen Elizabeth in Peter Morgan's The Audience at the Gielgud Theatre in London in 2013.
There was much discussion before deciding the play should go ahead on the day Thatcher died. "The audience were absolutely petrified about how they should react," she said. "There was a huge build-up before my entrance and when I walked on with Mrs Thatcher's distinctive gait, there was always laughter. That night, there was absolute silence.
"The anxious feeling in the auditorium was so palpable and overwhelming that for a moment there was a real danger that we would be infected. I took a mental deep breath and Helen did too, and we seized control and the audience relaxed and came with us."
In between Richard III and The Audience Gwynne toured the south of England with Duet for One, a play about an acclaimed violinist struck by multiple sclerosis.
"At exactly the same time in the previous year, I was on the world tour of Richard III... It amused me to compare and contrast the two experiences, week by week, while tucking into my Tesco Metro egg and cress sandwich and packet of crisps in a lonely B&B post-show, my favourite juxtaposition being Istanbul-Bromley."
And then, of course, there was the remarkable double of playing royalty in The Windsors for laughs and then returning to the same subject, albeit a different role, in the straight drama The Crown on Netflix just last year.
She is survived by the two children she had with her former partner Jason Phipps, a psychoanalyst.
If you would like to submit an obituary (800-1000 words preferred, with jpeg image), or have a suggestion for a subject, contact [email protected]