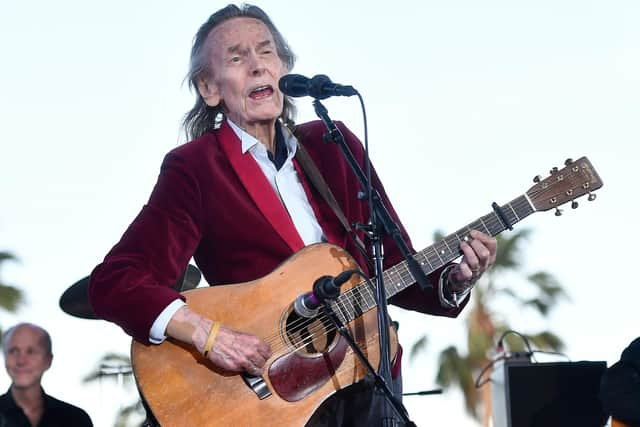 Gordon Lightfoot had a way with words and with melody that was precise and yet at times poetic and elusive, almost magical or mystical, transporting his listeners off to that big lake that the Chippewa Indians called Gitche Gumee in his famous story song The Wreck of the Edmund Fitzgerald. "The lake, it is said, never gives up her dead."
A national treasure in his native Canada, he explored personal feelings in Rainy Day People and the emotionally complex If You Could Read My Mind, which comic Dom Joly took to a new audience with its repeated use on his show Trigger Happy TV in the 2000s. Lightfoot was in the middle of a marriage breakdown when he wrote: "I don't know where we went wrong, But the feeling's gone and I just can't get it back."
He was also a great teller of less personal stories too, his fine sense of time and place never better exhibited than on The Wreck of the Edmund Fitzgerald. "The legend lives on from the Chippewa on down," he begins. And many people thought his heritage must be First Nations. But actually it was Scottish.
"I'm Scottish all the way," he told the Los Angeles Times. "That's my ancestry. Someone told me that every Indian in the United States thinks I'm half Chippewa, but I'm Scottish."
While he was not as famous internationally as his contemporaries and compatriots Neil Young and Joni Mitchell, he was highly regarded in the music business. Johnny Cash, Barbra Streisand and Glen Campbell all recorded versions of If You Could Read My Mind.
Elvis Presley and Bob Dylan had a go at Early Morning Rain. Dylan called Lightfoot a "mentor", though there was little difference in their ages and Dylan was famous by the time Lightfoot released his first album, entitled Lightfoot!, in 1966. But Lightfoot's influence can be detected in Dylan's own development, the elusive nature of some lyrics and a shift towards narrative.
He was born Gordon Meredith Lightfoot in 1938 in Orillia, in the province of Ontario, where his father owned a laundry business. He was singing in his church choir and in local productions and competitions from an early age and learned to play guitar, piano and drums in his teens. Tall and rugged, he was also good at sports.
He studied music at college in California, returned to Canada and worked in a bank while writing songs and performing in coffee houses. He began recording and enjoyed some local success in the early 1960s. Even these early songs would later attract interest from other artists. One of his earliest numbers (Remember Me) I'm the One was recorded by Val Doonican. A year in Europe included a stint as host of BBC TV's Country and Western Show.
Back in North America, Early Morning Rain was recorded by Peter, Paul and Mary and Lightfoot signed up with their manager Albert Grossman, who also managed Dylan. The album Lightfoot! came out in 1966, but it was If You Could Read My Mind, from his second album Sit Down Young Stranger, that propelled him into the public consciousness in the US.
It was not necessary to understand every single phrase to appreciate the melody, the poetry or the passion in the song. I think I finally worked out what he meant when he said that the ending was too hard to take and he would walk away "like a movie star who gets burned in a three-way script". But would he? Perhaps that was just bravado anyway.
Whatever, the American public loved it. It reached No 1 in Canada in 1970 and No 5 in the US, though it peaked at 30 in the UK. He topped the US charts with Sundown in 1974 and reached No 2 with The Wreck of the Edmund Fitzgerald two years later.
Unlike Dylan and Young, however, he failed to build on the successes of the 1970s. He recorded only four studio albums in the last 30 years, saying he felt that he had said everything he wanted to say.
Like many other stars who emerged in that period he struggled with personal issues.
He got married in 1963, but given the temptations of life on the road as a singer he ultimately found it impossible to maintain the relationship. "I had a good wife and two great kids, but the business just ate me up," he said. "The women ate me up." He had another two children by two other women before marrying for the second time. In the early 1970s he had a romantic relationship with Cathy Smith, a volatile backing singer who inspired Sundown and Rainy Day People and later acquired notoriety and a prison sentence as the woman who injected actor John Belushi with the drugs that killed him.
His second marriage produced two further children and also ended in divorce. He is survived by his third wife and six children. He told Uncut magazine in 2015: "I've been married three times and soothed it with alcohol and it all came out in the songs."
In recent times he had suffered from ill health. He was diagnosed with Bell's palsy as early as 1972. In 2002 he was rushed to hospital after suffering a ruptured aortic aneurysm and spent six weeks in a coma and in 2006 he had a stroke. In a 2012 interview he said he was living on "borrowed time". He put together a final compilation album of live recordings, which he imagined would be a posthumous release, though as it turned out he had a while to go yet.
The once-handsome athlete was a gaunt shadow of his former self. His songs, though, remain as fresh as the days on which they were recorded.
If you would like to submit an obituary (800-1000 words preferred, with jpeg image), or have a suggestion for a subject, contact [email protected]