There can be no better proof of a job well done than when dozens of ex-pupils turn up to your funeral, describing you as a brilliant teacher with the ability to impart information so that it is absorbed with the ease of osmosis. They also remembered "epic bollockings" if they stepped out of line but said these ensured they had the utmost respect for their revered Breadalbane Academy Science teacher, Gilbert Price.
Gilbert was a polymath who left an indelible mark on the Highland Perthshire community of Aberfeldy – a man who remained true to his staunch values throughout a life punctuated with adventure. The son of Congregational minister Morton Price and his wife Marie, he was born in Kirkcaldy and grew up in Perth. At Perth Academy, his love of sports, especially hockey, led to him regularly representing the Perth First Eleven. At Perth Hockey Club, he was nicknamed "Flymo". When quizzed on the matter, he proudly replied, "I used to take my hockey stick round my opponents' ankles to mow them down". Gilbert was also proud to be a Queen's Scout.
Gilbert studied maths and physics at the University of St Andrews before undertaking teacher training at Dundee. Always eager to grab adventurous opportunities, his first post was in a secondary school at Songea in Tanzania, where he stayed for two years. Africa entered his soul. On returning home, he met art teacher Anna Hepburn from Kirkcaldy. Gilbert's marriage proposal was blunt: "How do you fancy living in Africa?" In 1967 his father married the happy couple, and after the wedding they moved to Africa, where he taught at a secondary school in Swaziland.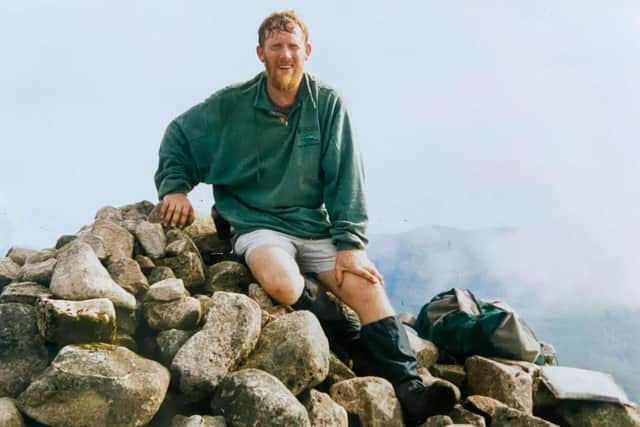 After four years, Gilbert, Anna and their son, Calum returned to Scotland – and Gilbert took a job at Breadalbane Academy in Aberfeldy to teach Science. He swiftly became a lynchpin,running the Dun Alluin Hostel for school pupils who travelled from afar. Later he became Head of Guidance and was involved in TVEI, a project to bring computers into schools.
Anna resurrected the Aberfeldy Drama Club, where both she and Gilbert regularly performed on stage. Later, she would become a professional actress. However, Gilbert's calling was as a director. He was instrumental in Aberfeldy winning the first of numerous coveted awards with a full-length production of Dick Whittington. Gilbert adored the annual Scottish Community Drama Association Festival (SCDA), where Aberfeldy Drama Club's plays became notoriously hard to beat. He was on the Perthshire District committee, latterly as Honorary President, and chaired the Northern Division, and together he and Anna and their team travelled all over Scotland to compete.
Entering the Festival for the first time in 1980, he guided Aberfeldy to the Scottish Final, and over the next 40 years, they would reach eight more.
Gilbert believed that anyone who wanted to perform should have the chance, and his love of Scots prose drew him to plays by authors including Joe Corrie and George Mackay Brown. He relished stretching himself, and his casts, and had an uncanny knack for ferreting out potential actors and remarkable powers of persuasion if he thought you were right for a role. Saying "no" was never an option. Nurturing young people was paramount to Gilbert – he was an avid supporter of the SCDA Youth Festival, and numerous Breadalbane Academy pupils benefited, with many forging a career in the dramatic arts.
Technically gifted, he was the lighting guru for the Perthshire District Festival and operated tech for Anna when she toured Scotland with Splinter Productions with actors John Shedden and Finlay McLean. His set designs were innovative and transporting them involved borrowing ramshackle trailers (and their drivers). Many of the venues were remote. Madcap escapades and the eccentric characters they met provided fuel for Anna's playwriting.
Despite his religious background, Gilbert remained sceptical about the divine and was unimpressed by dignitaries, including the Royal Family. However, as he was also a renowned philatelist, he was asked to present a first-day cover stamp to Princess Margaret when she visited Pitlochry as part of the 60th anniversary celebrations of Scottish Community Drama.
When the Princess asked to speak with him, Gilbert, dapper in full kilt regalia, handed over the first-day cover and commented, "I believe your sister collects stamps".
Gilbert climbed numerous Munros, while expeditions abroad took him and Anna from Cambodia to Canada, Alaska to Antarctica. He was a knowledgeable birdwatcher, historian, creative cook and home brewer. A capacious beer sphere sat in the kitchen, and visitors sampling his concoctions often found their walk home circuitous.
After retirement, Gilbert returned to Kenya to teach for one last year. Later he took a part-time job at the Tourist Office in Aberfeldy. Incapacitated by arthritis, he continued to put his love of nature, knowledge of the Munros, the area and its history to good use. When a review was published of Scotland's Tourist Offices, Aberfeldy's read, "Every question was answered with another pearl of wisdom; diamonds were coming out of every drawer. Every tourist office should have a Gilbert."
A continuous drive to learn, dedication to his local community and those he worked with during his time in Africa, plus a desire to share knowledge with others were the vital principles that remained with Gilbert Price to the end of his days.
He is survived by his wife, Anna, and children, Calum, Shonagh and Gavin.
If you would like to submit an obituary (800-1000 words preferred, with jpeg image), or have a suggestion for a subject, contact [email protected]