Scotsman Obituaries: Fred Banning, communications man and cancer campaigner
Frederick Banning, campaigner and communications professional. Born: 3 September 1982 in Northumberland. Died: 19 May 2023, aged 40​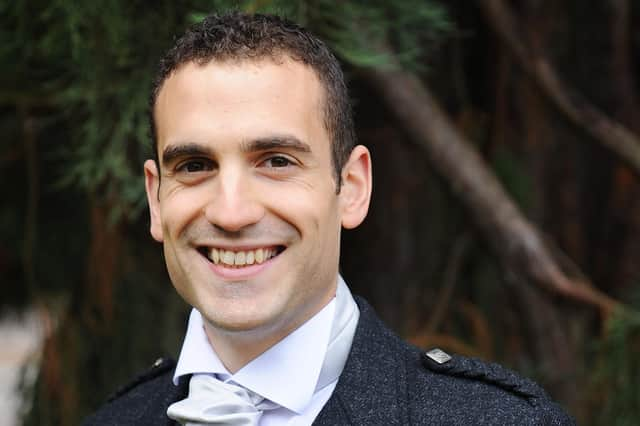 Fred Banning, campaigner and communications professional, died on 19 May following a lengthy battle with illness. He was 40.
Formerly head of communications at Pinsent Masons, Banning was diagnosed with stage four bowel cancer shortly before lockdown. Despite being told his diagnosis was terminal, with a life expectancy of nine months without urgent medical intervention, he survived more than three years, thanks to treatment from NHS Scotland, which time he used incredibly productively in the service of others.
Born in Northumberland in 1982, the youngest of three boys, Fred displayed charm, wit and drive in equal measure, seizing the opportunities life gave him. Brought up in north east England and on the west coast of Scotland, Fred's schooling saw him make friends wherever he went, including during periods of study abroad in Switzerland and Germany, giving him an appreciation of the best of what both Scotland and England had to offer, as well as an international outlook on life.
He studied history at Reading University at both undergraduate and postgraduate levels, obtaining a First and distinction, where he made up any deficiencies in his schooling caused by a peripatetic education with his characteristic diligence and insight. He was well-liked at Reading, where he was a keen footballer and amateur musician.
He began his career at the communications agency Kysen, where he swiftly emerged as a highly promising public relations professional. Agency life exposed him to the realities of a fast-growing legal sector, where his maturity, good humour and integrity stood out during rapid expansion in the legal trade press. Testament to his popularity among the legal media was the warm and generous tributes paid to Fred at his passing by many legal and business journalists across the UK.
He moved in-house to join a London law firm, Lovells, now Hogan Lovells, where he made a positive impression at a formative time for the firm, specialising in dispute resolution, one of the firm's flagship business areas, especially in international banking, property, insurance and corporate disputes, where the senior management team appreciated his shrewd insights. He quickly established himself as a valued team member, including during the firm's May 2010 merger with Hogan & Hartson, described by The Lawyer as the "transatlantic merger that set the standard for others to achieve".
Fred met Lesley, his wife, when he was best man at his brother's wedding in Strathpeffer. In his eulogy – written before his death, for he was ever one to want to shape a message – he spoke sincerely about his love for her, one of the main factors which drew him back to Scotland and Glasgow, which she called home.
Joining McGrigors as a communications manager, his work was inextricably linked with the firm's development; he then helped steer that firm's merger with Pinsent Masons in 2012 and its later expansion nationally and internationally, being promoted, first to head of PR, then later, director of communications. Banning and Pinsent Masons flourished together. In many ways, his story was the firm's story, one he made and told, shaping it alongside crucial staff and partners. The success of the merger, subsequent growth, innovation and expansion was a fusion of team, lawyers and partners coming together, bringing his skills as a trusted adviser to the fore.
Fred's ability to refine the firm's thinking, guide senior management and energise junior staff was exceptional. A statement from the firm said: "Fred played an integral role in developing Pinsent Masons' communications function, pioneering the use of brand and reputation as a strategic driver of change, and reimagining our digital strategy culminating in a progressive new website. Successive leadership teams considered him a trusted adviser, and his expertise was regularly sought on matters far beyond reputation."
The diagnosis of terminal bowel cancer in 2020 was a spur for him to live his life to the fullest, despite regular bouts of demanding chemotherapy, about which he never complained; his thoughts were as much for others as himself.
His was a purpose-driven life. His strong social conscience had seen him seek out, before diagnosis, a non-executive role with a cancer charity – a fact he commented on wryly in his eulogy. He used the time left to enjoy many family moments in East Renfrewshire, where he and Lesley settled after starting a family. He wanted to share all that Scotland had to offer a young and happy family with Lesley and their two boys.
Cancer, however, spurred Fred to use his skills to benefit others with terminal illnesses during the pandemic. He spearheaded a campaign to prioritise Covid vaccination for those undergoing palliative care to maximise their time with loved ones. That campaign showed him at the height of his powers, garnering widespread media coverage and significant political lobbying. Appearances on the Today programme and TV spots on STV followed, as did motions being raised in Scottish and UK Parliaments. Ministers and opposition leaders listened.
Afterwards, he founded Fifth Day, a charity that allows business services professionals working in the law to support pro bono and volunteering projects as quickly as lawyers currently do via their bodies.
Fred saw that their work was equal to that of the lawyers. He assembled a strong board and supporters to see his vision made real, harnessing the skills of an estimated 75,000 business operations professionals working in IT, business development and marketing, finance, HR, facilities and secretarial services at the top 100 UK law firms. His legacy flowed from a life of service and was respected as such at his funeral, attended by his family and many friends, at Hurlet Crematorium on 5 June.
Fred Banning is survived by his wife, Lesley, sons Ollie and Charlie, brothers Robin and Alex, and parents Helen and Jeff.
If you would like to submit an obituary (800-1000 words preferred, with jpeg image), or have a suggestion for a subject, contact [email protected]