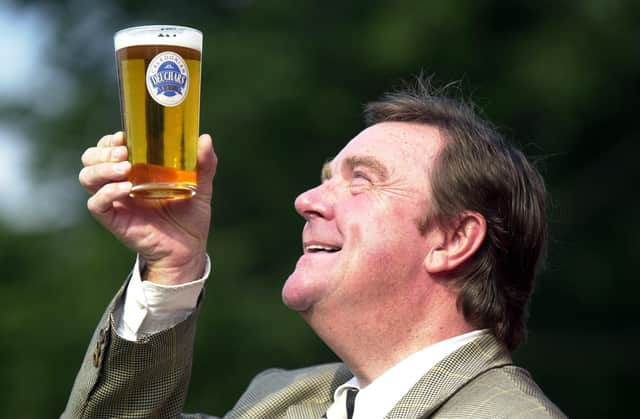 An incandescent light in Edinburgh has been extinguished; with the passing of Russell Sharp, Edinburgh is now a slightly dimmer city. Husband to Myra, father to Dougal, Neil and the late Catherine, and grandfather. our thoughts are with them all.
Born in Tillicoultry, educated at Strathclyde University, but a resident in Edinburgh for most of his life, Russell was a brewer, distiller, mountaineer – he once climbed 14 Munros in one day for charity – bon viveur... a man of strong opinions on every subject, impatient to share them with every person he came into contact with.
I first met him in 1987 when, as Head Brewer, he led – encouraged by Myra – a management/employee buy-out of Slateford's Caledonian Brewery following its closure by Usher Vaux. The old-fashioned brewery produced Lorimer's beer and transported it to the North East of England, where it was a popular choice. A business that had trundled along for years was immediately brought back to life, becoming a centre of activity with beer festivals and social evenings – it even became a venue for the Edinburgh Jazz and Bues Festival. Those of us who remember Tam White, Paul Jones, Acker Bilk and the Mick Taylor Blues Band will recall these and many other occasions fondly
Caledonian beers, 80/-, 70/-, Golden Promise, the first organic beer and the first low alcohol beer in the UK, Deuchars, Caledonian Porter Merman and others appeared in Edinburgh's best pubs to satisfy the thirst of the most discerning aficionado of real ale drinkers. Award followed award and a revolution in brewing tastes was underway in Auld Reekie.
There are many memories I could share, too numerous to mention, but I hold two that are special. One I did not personally witness but a second I certainly did.
Years after Russell had established himself with Canadian Brewer Seagram as a young man, he was chief chemist for Chivas Regal Scotch whisky and was invited by the company to visit New York. A programme was put in place that involved varied events in Manhattan but Russell was somewhat bored and wanted to visit the recently re-established Cotton Club in Harlem, the original having closed in 1940. It was famed because White people gathered there to listen to Black musicians. Russell asked if he could visit the club only to be told that the taxis were unlikely to take him there. Undeterred, Russell sought out a taxi driver himself and said: "I'm from Scotland, my favourite record is Benny Goodman playing Sing Sing Sing at the Cotton Club, all my life I've wanted to go there, will you not take me there?" The taxi driver shot back: "Listen Scottie, this is a taxi, this is not a time machine."
The cabbie was eventually prevailed upon to drive Russell to Harlem. On entering the club, Russell, with his pale complexion, was somewhat conspicious, but his gregarious nature meant he quickly engaged with the gentlemen at the bar. He was delighted that so many of them enjoyed Chivas Regal. "Cool guys don't drink cheap hooch," he was told. "We like Chivas Regal, but we've heard there are plans to invest in apartheid South Africa, is that true? If it is, we'll organise a Black boycott of your product."
Russell explained that he knew nothing of such plans, but telephoned Seagram chief Charles Bronfman. "I work for you, I'm at the Cotton Club in Harlem, they tell me that you're planning investment in South Africa. Is it true? If it is, they will boycott your product." Bronfman confirmed that such a move was under consideration, but the proposal never reached fruition.
Once I attended a dinner with the late Duke of Edinburgh at the Palace of Holyroodhouse, fine wines were flowing, but the Duke confided to me and my wife Janis that he did not care much for fine wines, he preferred a glass of beer and his favourite was Caledonian Breweries' Deuchars. It amused me no end as at that time the promotion was "You're due a Deuchars". I shared that story with Russell.
Some time later a terrible fire occured at the brewery and threatened its future. A significant sum of money was raised, allowing the brewery not only to be reopened but refurbished with modern techniques to bring the old brewery into the computer age. Russell, remembering my conversation with the Duke, asked if it would it be possible for him to reopen the brewery. I inquired and it was agreed that during Royal Week the Duke would indeed officially reopen the brewery.
Russell and his then chairman, Alastair Mowat and myself escorted the Duke around the brewery, introducing him to staff. Everything was going well until at the climax of the tour, the Duke was confronted with an enormous computer screen when he was invited to start the new process, with fresh water pumped through the brewery. He viewed the huge screen and was mystified as to which lever or button he was to pull or press and whispered to Russell, "What do I do?" Russell said: "I don't know, I'm a chemist, I'm a brewer, I'm not a [redacted] computer operator." The Duke threw his head back, laughing, and asked: "Do you have a sample room here, lead me to it."
The Duke immediately took off his jacket and took his place behind the bar, pouring foaming glasses of Deuchars ale for the entire company.
R ussell Sharp was a unique, intelligent and extraordinary man, an individual spirit who will always be remembered by those like myself who knew him and loved him. His legacy is the success of the Innis and Gunn beer brand which is now led by his two sons, Dougal and Neil. Edinburgh owes a great debt to Russell Sharp, one of the capital's great characters.
If you would like to submit an obituary (800-1000 words preferred, with jpeg image), or have a suggestion for a subject, contact [email protected]