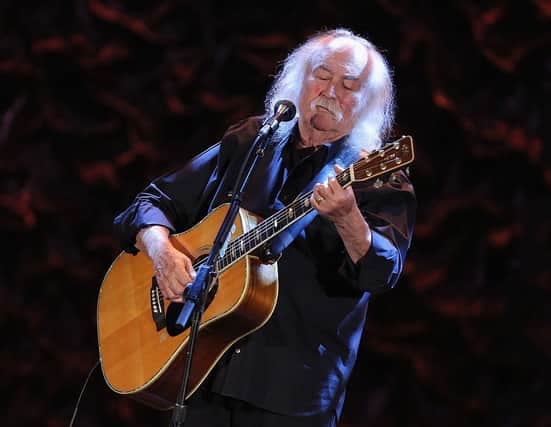 David Crosby knew all about harmony – and disharmony. The founding member of The Byrds and Crosby, Stills, Nash and, intermittently, Young, who has died aged 81, was a giant of the fabled Laurel Canyon scene in Los Angeles, a big character with a tender tenor voice who had a natural gift for creating intoxicating harmonies, and for ructions with his bandmates.
​The Byrds landed with impact in 1965, taking Bob Dylan's Mr Tambourine Man to the top of the charts on both sides of the Atlantic. Their chiming, transformative rendition seamlessly blended folk melody with the lysergic properties of rock'n'roll. They influenced their beat contemporaries to grow their hair and fly their freak flag and resonated with subsequent generations of jangling indie bands, including those on another west coast halfway round the world where Glaswegian trailblazers Orange Juice and Primal Scream openly courted the derision of their punk peers by embracing the hippy harmonies, bowl cuts and buckskin of their Californian forebears.
In the first of many professional dust-ups, Crosby was fired from The Byrds in 1967 but went on to great commercial heights in harmony supergroup Crosby, Stills & Nash. Crosby was always happy to own that while Nash was the melody man and Stills the guitar ace, he was the weirdo of the group, and wore it as a badge of honour when he wrote countercultural anthem Almost Cut My Hair. With his long, untamed locks, bushy moustache and frontiersman fringes, he became a style icon for the Woodstock generation – and a thorn in multiple sides with his outspoken, sometimes maverick social and political views.
This two-time Rock and Roll Hall of Famer had numerous brushes with the law for firearms possession, and sailed close to the wind with his drugs advocacy work – in that he advocated people take drugs. He was a lifelong marijuana user, even planning to launch his own brand, Mighty Croz, in recent years. Heavier substance abuse led to serious health issues. In 1994, his old chum Phil Collins paid for his liver transplant but he was nevertheless considered a suitable sperm donor by singer Melissa Etheridge and film director Julie Cypher, fathering their two children, plus four of his own from different relationships. By the time of his death, relations with his old sparring partners had mellowed sufficiently for Nash to hail "the deep friendship we shared over all these many long years" and Stills to declare, "I shall miss him beyond measure".
David Van Cortlandt Crosby was born into talent and privilege in Los Angeles. His father Floyd Crosby won an Academy Award for his cinematography on FW Murnau's 1931 silent film Tabu and a Golden Globe for High Noon, while his mother Aliph Van Cortlandt Whitehead was a descendent of the influential Van Cortlandt dynasty.
The teenage Crosby was an educational dropout, sticking around long enough in school to dabble in musicals and drama before heading east to New York, Chicago and Florida where he played with folk contemporary Terry Callier. But his native California called, and he hooked up with songwriter Gene Clark and 12-string guitarist Roger McGuinn to create psychedelic folk rock magic. Crosby rarely sang lead vocals; instead he provided the special sauce which made The Byrds stand out – the curveball jazz-influenced phrasing and harmonies of Renaissance Fair, Everybody's Been Burned and Lady Friend, his only Byrds A-side. He was a prime mover in the first five Byrds albums, released across an incredibly fertile two-and-a-half year period before the proverbial creative and personal differences took their toll in late 1967.
By this point, Crosby had found a kindred spirit in ex-Buffalo Springfield guitarist Stephen Stills. The pair were joined at their Laurel Canyon jam sessions by Hollies guitarist Graham Nash, who was straining at his band's prim pop leash. The vocal chemistry was instantaneous. Crosby, Stills & Nash's eponymous debut album, featuring Crosby classics Guinnevere, Long Time Gone and Wooden Ships, and their subsequent live appearance at the Woodstock festival captured the countercultural mood of the late Sixties. Neil Young joined the party for the even more successful Déjà Vu but Crosby, devastated by the death of his girlfriend Christine Hinton in a car accident, hit the substances and the "prevailing sense of harmony" didn't last.
Crosby's wryly named cult classic solo debut If I Could Only Remember My Name, with contributions from San Francisco luminaries Jefferson Airplane, Grateful Dead and Santana, was poorly received on release but he remained in demand for his vocal abilities.
CSN&Y existed on a knife edge in the Seventies. An album project, Human Highway, was stymied and shelved in 1973, while their fractious 1974 tour – dubbed the Doom Tour by Crosby – led to a splintering of the ways, with Crosby and Nash on one side, Stills and Young on the other.
Crosby spiralled in the early Eighties, culminating in a brief imprisonment – he was out on appeal bond when CSN&Y came together for Live Aid in 1985. Crosby, Stills & Nash managed a less sporadic career and various iterations toured and recorded until the mid-2010s when it seemed that Crosby had finally burned his bridges with his erstwhile amigos. This was the cue for a prolific run of albums made with younger musicians, including his son James Raymond, who had been given up for adoption in the early Sixties and traced his birth parents in the mid-Nineties.
​Crosby's final studio album, For Free, was released in July 2021. Honouring his roots to the end, the title track was a cover of a Joni Mitchell song while the artwork was by Joan Baez.
​Crosby is survived by his wife Jan Dance and five of his six children. He never did cut his hair.
If you would like to submit an obituary (800-1000 words preferred, with jpeg image), or have a suggestion for a subject, contact [email protected]