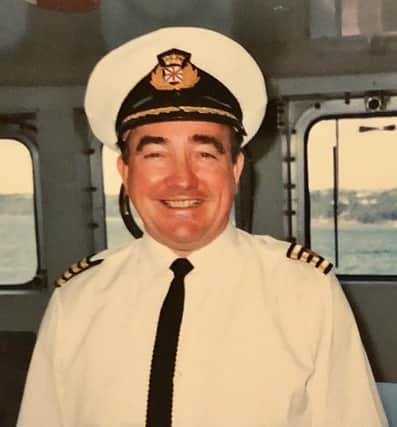 Captain Peter Ramsay, who has died aged 88, navigated every major seaway in the world so often that he reckoned he could sail through the Panama and Suez canals blindfolded. He would joke that he had passed by Egypt so many times that he knew the name of every camel on the way.
The mafia threatened him in New York because he refused to carry some dubious cargo, while he was fired upon as he left port in South America after he refused to pay a bribe.
In the summer of 1967, he was ordered to transport a secret cargo from the UK to New Zealand. Only on arrival did he discover that the hundreds of sealed crates contained millions of New Zealand dollars which had been printed in London to replace the New Zealand pound. A total of 120 million dollars was distributed to 600 banks around the country. Apparently, not one cent went missing.
He came from a family of sea captains, having followed his brother, father and grandfather to become the Port Line's youngest master at the age of 29. But he was marked for distinction at an even earlier age because of his ability as an athlete. Selected to take part in a national schoolboy sprint against the reigning Olympic gold medallist Fanny Blankers-Koen, the Dutch "flying housewife" and winner of the women's 100 and 200 metres at the 1948 London Olympics, he came first. His victory allowed him to quip, when he was challenged anytime in later life: "Ah… but could you beat Fanny Blankers-Koen?"
Peter Robin Reid Ramsay was born in Dundee to David and Euphemia Ramsay and brought up near Monifieth before he moved with his mother to Broughty Ferry after his parents separated. He was educated at Grove Academy where he excelled in athletics, swimming and football.
He swam the breadth of the Tay estuary and won the school sports championship, but it was the lure of a life at sea that dominated his ambitions​
His older brother David and his father were both Merchant Navy captains while his grandfather had served as a Royal Navy captain in the First World War. When Peter joined the merchant service in 1951, and became a junior officer on board The City of Dundee, it was the start of a career which would take him around the globe more times than he could remember.
Back on dry land, he met Patricia Manion at a dance hall in Dundee and the couple married in St Teresa's RC Church in the city on 10 May 1958. They were to be married for 50 years. (Patricia had lived in the same Dundee street as the Cox family, also from Irish descent, and was friendly with three sisters who had to bring up their younger brother Brian. Years later, she would recall how young Brian, now the Hollywood actor, was continually told by his sisters: "Blaw yer nose Brian!")
The couple moved into Claypotts Road, Broughty Ferry, where Patricia brought up their three children.
Now a senior master with Cunard, he captained various refrigerated vessels known as reefers. On Port Huon he carried apples out of Tasmania while Port Alfred was often bound for South Africa. He would also take charge of bulk carriers such as the Cunard Campaigner and the Cunard Chieftain.
Stowaways were a common problem. While transporting goods from Nova Scotia to Australia, he discovered that a young woman had been hiding below decks and, without his knowledge, was being fed by members of the crew. Company policy was to put stowaways ashore at the first opportunity.
He would be at sea for months at a time and then arrive home on leave for several weeks armed with exotic gifts and souvenirs. On one occasion, he transported a vintage limousine from South America, hardly a common sight on the streets of Dundee.
After their children left home for work or university, Patricia forged her own career and became an office administrator working for Dundee Football Club and then Barnardo's while her husband was at sea.
The couple bought a three-acre plot in Tayport, on the Fife side of the River Tay, and designed and built a five-bedroomed house which overlooked the estuary. It was the perfect spot for a sea captain as ships passed by only a few hundred yards from the end of his garden.
By the 1990s, telescopes, Morse code, sextants, compasses and navigation by the stars were well outdated. Old salts were faced with retiring or putting their reputation on the line by qualifying for a new sea masters' certificate. The hugely experienced Captain Ramsay had to choose between hanging up his uniform or going back to school. He chose the latter and, alongside much younger aspiring recruits, studied at Leith Nautical College in Edinburgh. He was relieved to pass with flying colours. It was the start of a new chapter in his career.
He helped train Royal Navy officers and worked out of Aberdeen as captain of the scientific trawler Scotia which monitors and evaluates fish stocks using acoustic and specialised sampling in all weather conditions in the seas around Scotland; a far cry from sailing the warm waters in the south seas.
After he finally retired, he played golf at Tayport and scoured antique shops and auctions for interesting furniture and paintings. He was a hoarder and when the couple downsized and moved back to Broughty Ferry, all the stuff moved with them. The garage and a bedroom became no-go areas full off cardboard boxes.
The family was struck a heavy blow when Patricia was diagnosed with cancer and died in 2008. Until his own life began fading in January 2022, he visited her grave in Barnhill Cemetery, Monifieth, every day. His last wish was to be interred beside her.
Captain Ramsay is survived by his sons Philip and Kevin, daughter Karen and grandchildren Patrick, Chloe and Josh.
If you would like to submit an obituary (800-1000 words preferred, with jpeg image), or have a suggestion for a subject, contact [email protected]