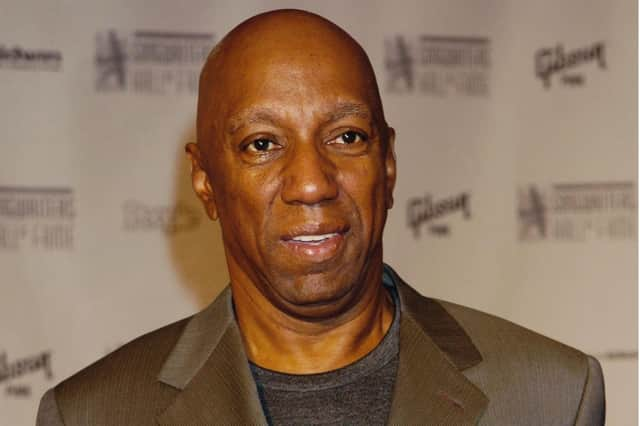 If ever a record label understood how to make commerce out of art, it was Motown Records in its heyday. In order to produce an enduring quality product with mass appeal, label boss Berry Gordy looked to the automobile factory production lines of his native Detroit.
Making hit records was a meticulous process, involving many moving parts and dedicated workers. Singer and songwriter Barrett Strong, who has died aged 81, was a key cog in the Motown machine, fronting the company's first hit single, Money (That's What I Want), before heading behind the scenes to co-write many of the label's indelible classics, from I Heard It Through the Grapevine to a string of socially conscious hits for The Temptations which helped Motown move with the times.
Strong was a gifted teenage piano player from a gospel background when he first connected with Gordy. His love of Ray Charles played a role in the writing of Money (That's What I Want), though the song's origins and, consequently, the payment of royalties were disputed. Gordy claims that Strong gatecrashed his songwriting session with Janie Bradford and sang so well that he was chosen to record the track.
Strong remembers that he was riffing on Charles' What I'd Say when he came up with the opening piano hook. The rest is songwriting history, as this rocking R&B number was subsequently covered by The Beatles, The Rolling Stones, The Doors and, most idiosyncratically, by New Wave one hit wonders The Flying Lizards. Money certainly was an issue in the ensuing tussle over royalties, with Strong's name excised then restored, then excised again from the credits.
Strong's follow-up singles were not hits but this modest man was ultimately happier behind the scenes, crafting the magic which would turn other artists into stars when he teamed up with ace producer Norman Whitfield to write Wherever I Lay My Hat (That's My Home) and Too Busy Thinking About My Baby for Marvin Gaye and the stomping anti-Vietnam cry War for Edwin Starr, before unleashing a fertile run of psychedelic soul songs for The Temptations, including I Can't Get Next To You, Ball of Confusion, Just My Imagination (Running Away With Me), and Papa Was A Rollin' Stone, for which he won a Grammy Award.
Strong leaves a catalogue of around 300 songs. By his self-deprecating reckoning, around 12 were good. The National Association of Songwriters felt otherwise, awarding him their Lifetime Achievement Award in 1990. He was inducted into the Songwriters Hall of Fame in 2004.
On hearing of Strong's passing, Gordy paid tribute to his and Whitfield's "incredible body of work... their hit songs were revolutionary in sound and captured the spirit of the times. Barrett is an original member of the Motown Family and will be missed by all of us."
Barrett Strong Jr was born in West Point, Mississippi but his family moved to the west side of Detroit when he was four. Gravitating to piano from a young age, he grew up to accompany his sisters, who toured the gospel circuit as The Strong Sisters alongside the likes of Sam Cooke and Jackie Wilson, who first introduced Gordy to the family.
Gordy spotted the talent in their teenage son which he would showcase when he founded Tamla Records in 1959. Money (That's What I Want), licensed to Anna Records, reached No.2 in the US R&B charts a year later, and landed just outside the pop Top 20, providing Gordy with the capital to expand his nascent Motown Records.
Strong, meanwhile, took his vocal custom elsewhere, even working for a time on the Chrysler production line, but he returned to Motown – the only show in town – when he heard The Temptations' My Girl. He already had the kernel of I Heard It Through the Grapevine, and teamed with Whitfield to finish the song, which was initially rejected by Motown's rigorous quality control committee for a perceived lack of commercial appeal.
The song was passed around, recorded first by the Miracles, then Marvin Gaye. Gladys Knight & the Pips were the first to hit the charts with their pumped-up version, but when Chicago DJ E Rodney Jones played Gaye's moodier version he said "the phones lit up". Once again, a Strong song had an interesting afterlife with covers by artists as diverse as Creedence Clearwater Revival and The Slits.
Strong said he was most proud of writing Grapevine, Papa Was A Rollin' stone and The Temptations' album Solid Rock but he parted ways with Motown when the label relocated from Detroit to Los Angeles in 1972 and relaunched his own singing career, signing with Epic but moving to Capitol to release two solo albums, Stronghold and Live & Love in the mid-Seventies. His single Man Up In the Sky and other solo Strong recordings remain cult favourites among Northern Soul collectors but Strong effectively retired from the recording industry until he released the digital only album Stronghold II in 2008. The following year he suffered a stroke and public appearances were rare.
Strong was well liked by his peers and colleagues, with Temptations founder Otis Williams describing him as "a beloved brother".
Contrary to his signature song, Strong said life as a musician "means more than money. Money has its place. But you've got to do more than just have money," he told the Detroit Free Press in 2019.
"I never liked the business side, I loved the art. I feel good about it. I did my part, what I was put on this earth to do. I made people smile. I made people have babies. I made people do a lot of things. So I contributed something to my being here."
If you would like to submit an obituary (800-1000 words preferred, with jpeg image), or have a suggestion for a subject, contact [email protected]