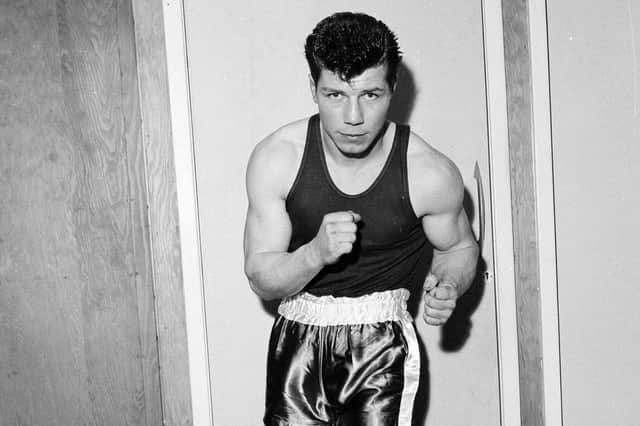 Andy Wyper was a hugely exciting boxer whose all-action style and ferocious punching power earned accolades such as "Scotland's K.O. King" and "Scotland's pocket Rocky Marciano".
Small in stature at about 5ft 6in tall but with a powerful physique and fierce fighting spirit, it was difficult at times for him to find opponents as his reputation for finishing fights early preceded him. At light middleweight he enjoyed a very successful amateur career whose highlights included representing Scotland more than 30 times and only losing once, winning the Scottish title several times and the British (A.B.A.) title once and claiming a European Championships silver medal in Moscow – presented by Yuri Gagarin – against defending champion Boris Lagutin of Russia, later a double Olympic gold medallist and recognised as one of the world's best boxers. In addition Andy won the prestigious National Coal Board title over five consecutive years.
As a professional he fought at welter weight to minimise height disadvantage and although he won the Scottish title, perhaps did not fulfil his potential for several reasons – not the least being a troublesome eye injury that eventually led to partial sight loss. That said, his record was highly respectable – of 20 pro bouts he won 15, drew 1 and lost 4, with many wins coming by knockout. While a formidable "fighting machine" in the ring, outside it Andy was completely different, a quiet, modest and companionable gent.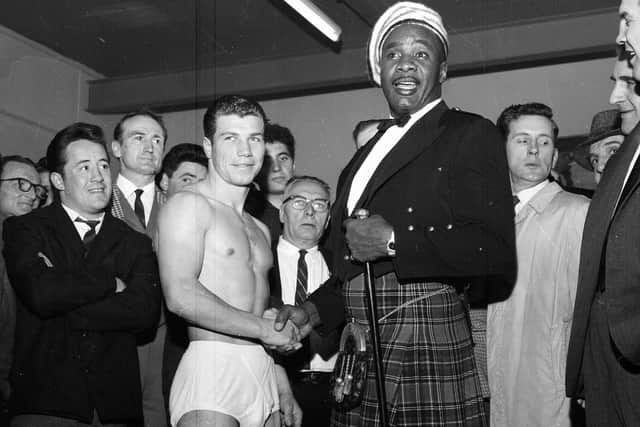 Andrew McCallum Wyper was born in Newmilns, Ayrshire to parents James and Lilias, the third of seven children. His father was a coal miner, as Andy would become. Initially he attended St Sophia's Primary School, Galston, walking the four-mile return journey along the banks of the River Irvine, and he went on to St Joseph's Academy, Kilmarnock.
Because he suffered bullying as a youngster through being small and overweight, his mother decided boxing was the answer and began training him at home with the aid of a book she obtained from America, "The Book of Boxing and Bodybuilding," by, appropriately, Rocky Marciano, the undefeated world heavyweight champion.
With the help of the book, some boxing equipment and back green sparring with older brother Jimmy, Andy began showing potential, and aged 14 his mother took him to Witchknowe Boxing Club in Kilmarnock where he came under the expert eye of trainer Alec Mabon of Stewarton. Within months he had won the West District and Scottish age group Championships and his career was well and truly launched.
Andy left school at 14 to work underground at Lochlea pit where he was a "stripper", wielding a boring machine at shoulder height to strip coal from the seam, a demanding task that helped develop his physique. As part of his training regime he ran ten miles each way to and from work before training at night. Now eligible for N.C.B. Championships which covered Britain, Andy soon made his mark, winning the first of five consecutive titles at different weights and representing Scotland in international matches as he accumulated Scottish and Western District titles. He boxed all over Europe, in France, Germany, Denmark, Sweden, Czechoslovakia, Italy, Poland and Turkey.
Domestically his highpoint was securing the A.B.A. title in 1963 in London against former champion Stuart Pearson, a bout reported as "The most thrilling of the evening, three rounds of throbbing excitement."
Internationally, Andy's highpoint was his silver medal later that year in Moscow where his gutsy display had Russian fans booing the referee's decision to stop the final with a minute remaining and applauding Andy when he received his medal. He was visibly upset when the bout was ended as he hadn't been knocked down or felt under pressure and thought Lagutin was tiring, while he recognised his class. Of the 20 British boxers competing, Andy was the only one to medal.
On his return home he was told he had lost his job at Lochlea because he had gone to Moscow without leave, but after working initially at Sorn mine he was reinstated as no replacement could be found for him. He was accorded a Civic Dinner by Newmilns in honour of his achievement and gifted an inscribed gold watch.
In 2002 the Russian Boxing Federation invited him back as guest of honour at the European Championships there, where he was reunited with Lagutin and invited to a dinner to celebrate President Putin's birthday with Putin present, a memorable trip.
Shortly after Moscow he turned pro, making a blistering start knocking out several opponents before his first title bout against Don McMillan for the Scottish welterweight belt. To call it hard fought would be a gross understatement. Andy said: "I've never seen blood like it" after the referee stopped it in his favour, before having 24 stitches inserted, mostly for an eye injury which latterly would bedevil his career, bringing it to an end in 1967.
Although professional, purses were small and Andy still had to work, he struggled to make the weight, often fights had to be taken at short notice and on occasion he was let down by managers.
In November 1963 he married Elizabeth Macdonald at Galston Old Parish Church with whom he enjoyed over 56 years happy marriage, living in Galston. The couple had two sons, Gordon and Kenneth. After being made redundant from Killoch pit in his mid-50's, Andy bought a caravan in Silloth where he and Elizabeth enjoyed spending time. With a friend he began a boxing club in Hurlford which he helped run for many years, while other interests included gardening and watching Celtic.
A highly respected, well-liked figure in his community, Andy's name will endure in Scottish boxing history. He is survived by son Kenneth, grandson Andrew and siblings Jimmy, Anna and Joe.
If you would like to submit an obituary (800-1000 words preferred, with jpeg image), or have a suggestion for a subject, contact [email protected]