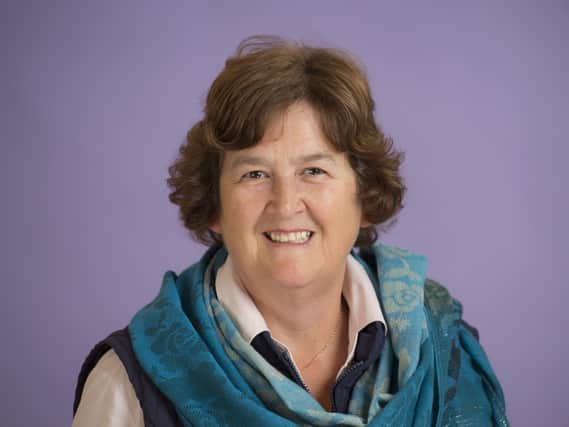 Alison McCleery died in February, aged 69, peacefully with her family around her following a long illness. In her daily life she demonstrated strong professional values imbued with a wicked sense of humour that transcended boundaries. Always leading by example and showing genuine care, her knowledge and experience facilitated the development of others, both students and colleagues.
Born and brought up in Edinburgh, Alison was the daughter of Margaret and George Bruce. The latter was not only a distinguished teacher of French and German but a keen amateur singer and musician, lifelong enthusiasms he passed onto her. As a schoolgirl, she played the French Horn in an orchestra conducted by Donald Runnicles (then a pupil at George Watsons College) and when she moved to St Andrews University in 1972, she played in the University Orchestra and sang in the Chapel Choir.
It was also in St Andrews in her first year that she met her future husband, Alistair; their mutual attraction was immediate, but they had to disguise their relationship in order to apply for and win exchange scholarships to Poland's Jagiellonian University in 1974. They married in 1978.
After graduating from St Andrews in 1976 with a first-class Honours degree in Geography (and the Royal Scottish Geographical Society gold medal), Alison moved to Glasgow University for her PhD on Highland development. Her first post was as a Senior Researcher in the Central Research Unit of the then Scottish Development Department where she managed several significant social and economic projects. She then joined Edinburgh Napier University, where she was to remain for 40 years, as a Senior Lecturer, then Professor, with a particular remit to enhance its research reputation.
Fluent in both French and German, Alison was seconded during her Napier career to both the Council of Europe in Strasbourg and INSEAD in Paris. She was elected a Fellow of the Royal Geographical Society; she served as Editor of the Scottish Geographical Journal; and she undertook the role of Visiting Professor at the Institut National d'Études Démographiques, Paris. She served on the Population Group of the Institute of British Geographers, acting for many years as its secretary, and on the Peripheral Regions Commission of the International Geographical Union, in which capacity she visited areas from the Falkland Islands to remote regions of China.
Close working relationships were established with the Smithsonian Institution and the Library of Congress in Washington. She was a member of the Scientific Committee of the Greenlines Institute based in Portugal and was an active participant in its annual conferences.
Closer to home, Alison was for many years chair of the Edinburgh branch of the RSGS and enjoyed giving public talks there based on her overseas research. She published extensively in the broad area of economic, social, and cultural development of the North Atlantic periphery and was a recognised expert in these fields, undertaking major research projects both individually and through funded research partnerships. Her last publication will appear posthumously later in 2023.
This academic career was balanced with a vibrant family life, bringing up four children with the same love of singing and orchestral music that had inspired her. For 22 years they spent every summer holiday in the same village in Normandy so that they would grow up with the same language fluency and love of France as their parents.
When the children flew the nest, a new summer destination, and language, was found in Kato Zakros in Crete. In addition to her singing and French horn, Alison also took up a new hobby, drawing and painting scenes of Cretan life. She played in a number of Edinburgh's amateur orchestras and chamber groups as well as singing in its choirs. One light-hearted boast was to have sung with José Carreras, when the latter received an honorary degree and gave a performance with the Napier Chamber Choir.
Alison was well recognised across the UK social sciences sector, and she was at the forefront of subject developments through her leadership of various research bodies. She chaired the research training sub-committee of Universities Scotland and sat on the research and innovation committee of the Scottish Funding Council. She led the Research and Enterprise Network for Universities (RENU), a UK-wide organisation for the development of capacities in research, enterprise, and innovation. Higher education policy was greatly impacted by the work of RENU under Alison's stewardship.
She was awarded for her skills in developing innovative approaches to doctoral education, and in supporting the career development of doctoral and early career researchers, by winning the Times Higher Award for UK Research Training in 2010.
From 2016-2018 Alison acted as Director of the UK Economic and Social Research Council's Doctoral Training Centre for Scotland, based at the University of Edinburgh.
She extended her governance interests, becoming a member of the University of Highlands and Islands Outer Hebrides Board of Management. She sat as a public interest member on the governing body of the Institute of Chartered Accountants Scotland and served as a School Governor at Glenalmond College where she also chaired its education committee.
Alison is survived by her husband Alistair, and her children, Catriona, Roderick, Neil, and Alexander, and her three grandsons, Angus, Archie, and Max.
If you would like to submit an obituary (800-1000 words preferred, with jpeg image), or have a suggestion for a subject, contact [email protected]