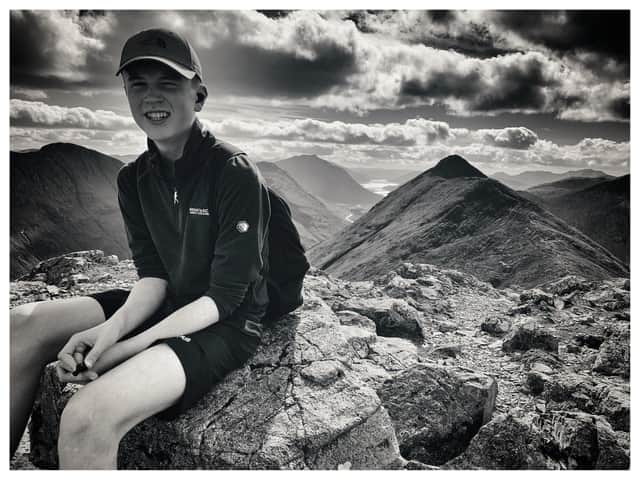 Harris Carberry who has made a photobook of images he took during lockdown walks to raise money for charity.
With lockdown putting a stop on sponsored 10ks and outdoor events, the 15-year-old, from Cumbernauld, had to be creative in ways he could fundraise for Maggie's, an organisation which has supported his family after his mother, Geraldine, was diagnosed with breast cancer.
And creativity is certainly something Harris has shown.
The Our Ladies High pupil has compiled a book of 20 photographs of dramatic landscapes that he discovered on long lockdown walks over the last few months to sell and raise money for the charity.
After getting a bit of cabin fever six months into the pandemic, Harris and his dad, John, ventured out into the hills and mountains that make up Scotland's wilderness.
Just using his phone, the amateur photographer snapped some stunning shots of his surroundings and with a bit of editing, printed them in several photobooks.
Despite his initial plan of just printing one for his mum and a few for family friends, demand for his work has burgeoned.
"At first I thought we would print about ten copies to give to people I know," Harris said.
"But we have now sold about 70 books so far, it's honestly amazing."
Harris's mum, Geraldine, was diagnosed with breast cancer in 2007.
The keen photographer showed initiative to support charity from a young age after her diagnosis when aged eight, he climbed Ben Nevis for the first time to raise money for breast cancer research.
With fundraising events being heavily restricted in lockdown, the teenager decided to put his creative streak to use to raise money for Maggie's as it continues to provide crucial support to many during the pandemic.
"I was really young when I found out my mum had cancer," Harris said.
"Maggie's really helped her and supported me and my family, so I want to give back a bit.
"Mum did photography so she can appreciate the creative side of things that I have done with this photobook, and it's a way I can raise funds safely during the pandemic."
Harris's photo collection covers walks he and his dad completed together from the Trossachs to Ben Nevis during lockdown last year.
The photos are black and white to add more of a dramatic effect and cost £10 each plus postage.
Speaking about her son's project Geraldine said: "Harris knows how much Maggie's means to me and just wanted to help support the charity.
"We could not be more proud of him and his fundraising efforts.
"He is such a kind hearted young man and hopes to continue his fundraising in the future."
She added: "Maggies Lanarkshire has been a huge support to me over the past 13 years.
"It can be a total lifeline for people going through cancer treatment.
"Not only do they support cancer patients but friends and family who may also be struggling. "I have used many of the services over the years from one-to-one support to financial advice to relaxation/meditation."
Heather McArthur, centre fundraising manager for Maggie's Lanarkshire, said: "We are so pleased that Harris is supporting Maggie's with his wonderful Mountain 20 photobook. People with cancer need Maggie's more than ever at this time."
To order a book, message Harris via his instagram page @h.carberry.
A message from the Editor:
Thank you for reading this article. We're more reliant on your support than ever as the shift in consumer habits brought about by Coronavirus impacts our advertisers.
If you haven't already, please consider supporting our trusted, fact-checked journalism by taking out a digital subscription.