The Scots screenwriter who ran the route of the Orient Express
Gavin Boyter embarked on an epic run along the original Orient Express route from Paris to Istanbul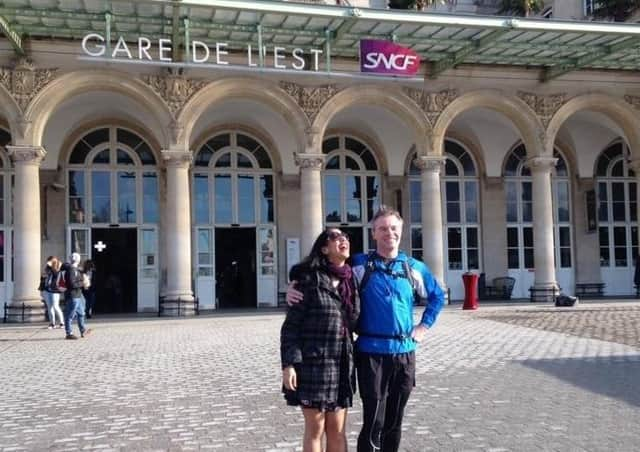 Gavin Boyter on his epic trek
'T here are no foreign lands. It is the traveller only who is foreign." 
– Robert Louis Stevenson
In autumn 2017, finding myself in one of my periodic funks, in desperate need of another adventure, I found myself contemplating Britain's imminent (and in my view, catastrophic) withdrawal from Europe. My girlfriend Aradhna and I had been considering potential follow-ups to my 2015 run from John O'Groats to Land's End but she, understandably, did not fancy tagging along while I assayed 2,200 miles of the Appalachian Trail. Neither would she watch me slowly fall apart while attempting the world's longest footrace (the Sri Chinmoy Self-Transcendence Race: 3,100 miles around a single block in Queens, New York). Neither seemed sufficiently glamorous. As I queued for a book signing with legendary US ultrarunner Dean Karnazes, Aradhna formulated a plan. Couldn't I run across the whole of Europe, from west to east, following the route of the 1883 Orient Express?
This celebrated journey, the first transcontinental passenger service linking the Christian and secular west to the Muslim east, would take me from Paris via Strasbourg, Munich, Vienna, Budapest, Bucharest, and Istanbul. How could I resist such an itinerary? Within days we were route-planning and working through the logistics of a 4,000km pan-European jaunt.
Gavin Boyter during the challenge
I'm an ordinary runner in the sense that, if I'm not training for a race or long-distance challenge, I rarely run more than 30 miles in a week. If we wanted to complete our adventure in a reasonable timeframe and return to our working lives (me as an NHS administrator, Aradhna as a freelance event producer), I'd have to cover at least 20 miles a day. Could I sustain this for three to four months?
Furthermore, our finances wouldn't allow us to stay in hotels – or even campsites – as we crossed the continent. Serendipity smiled on us in the form of a Mazda Bongo eight-seater my sister was keen to sell. Within 48 hours we owned a van. Learning DIY carpentry, electric and plumbing skills from YouTube videos, we set about converting a family runaround to a motorhome and project base. A professional joiner, my grandad would have been aghast at the wobbly lines and crude improvisation of my cabinet-making, although our vehicle's interior was sturdy, and certainly functional. We named her Roxy after the first CD played in her – Roxy Music.
Then came the thorny problem of route-mapping. Aradhna was a little more travelled than me; I'd only been to France out of the eight countries we'd pass through. We would be following very few official trails. Instead we'd piece together "best guesses" from Google and a fistful of paper maps bought at Stanford's travel bookshop in a fit of early enthusiasm. They would be of little help. As I soon discovered, nobody at all runs in rural Romania and post-Soviet Bulgarian highways leave much to be desired.
On 11 March we set off from Paris Gare de l'Est station, where the Orient Express's well-heeled Victorians embarked upon their Grand Tour. Cheered on by our parents, I headed along the Marne out of Paris, and was soon bogged down in the deep forests of Lorraine and the expansive farmlands between Paris and Alsace. Aradhna and I settled into a routine as I (literally) found my feet in the still-frozen soil of rural France. I'd set off, not at the crack of dawn as Aradhna might have preferred, but generally following a civilised breakfast of as many calories as I could force down. Aradhna would work through her checklist: replenishing our supplies, finding water, hanging up wet washing, meeting me at lunch to force-feed me yet more carbs, refuelling Roxy and locating a safe wild-camping spot for the night. Our shower was a bucket of hot water and a sponge in a pop-up tent. Our lavatory was a trowel, a torch and a roll of loo-paper. The Orient Express this was not.
Our first challenge came when the "Beast from the East" from Siberia hit rural France in mid-March, plunging the temperatures to sub-zero and bringing snow and hail. One morning we discovered a layer of ice on the inside of Roxy's windows, created from frosted breath. It was five degrees below zero and the olive oil had congealed into jelly (admittedly a rather middle-class adventurer's problem). I jogged in a surreal void of featureless white through the forests north-west of Pompey.
Running through Germany, with Aradhna at a low ebb, we met Cornelia and Winfried, two bohemian fiftysomethings who loved Hawaiian music and massage and who subjected me to painful but restorative physiotherapy (a series of stout thwacks across the back of my knees). Taking a wrong-turn in the Austrian Alps, we encountered the Sonnleitners, a nine-strong farming family who invited us to bake bread and sing songs around their campfire. Julie Andrews would have cherished the bucolic scene. So far, so idyllic, I thought.
Things became more challenging in Hungary when the heat of summer began to bake the Great Plain and dust, exhaustion and unvarying landscapes took their toll. Our domestic life suffered, inevitably, from protracted proximity in a small metal box. When I failed to show the requisite sympathy for Aradhna stubbing her toe, my other half hurled a bottle of water at me and drove off (I'd petulantly pointed out how thirsty I was). We made up, of course, and Budapest's many charms helped paper over the cracks, but Romania couldn't come too soon.
As well as the potential for bears and wolves in the Carpathians, I had to contend with packs of feral dogs (one day I experienced a dozen separate attacks) and my elderly father Ian, who covered for Aradhna when she returned to London temporarily to look after her grandmother. A suspected bear attack turned out to be Boyter Sr snoring. The following morning we discovered Roxy's batteries had run flat and she wouldn't start. Worn out by misadventure, Roxy required a spell in a local garage. Oddly enough, I suffered no injuries whatsoever.
My most worrisome moment came when, on the day of the Turkish presidential election, I inadvertently ran into a military base in the hills north of Vize, surprising two young, and armed, soldiers standing guard over (they thought) little more than deer and hares. Apologising profusely for ignoring signs and collapsed fences, I was taken to meet their captain, who spoke little English and who demanded my ID. While I rooted around my phone for a Turkish e-Visa, a lieutenant offered me "chai?" Like any good Brit, I immediately relaxed. Surely nobody offers you tea if they plan to lock you up or shoot you?
Several near-calamities later, Aradhna and I arrived in Istanbul, with me reduced to five per cent body fat and my partner desperate for a proper holiday. In humid sunshine I trotted into Sirkeci station, where the Orient Express's passengers once disembarked in the then Constantinople. We had reached our endpoint, an adventure completed; a Europe traversed and, we hoped, celebrated as a continent to which we will forever belong.
Running The Orient by Gavin Boyter will be published by Great Northern Books on August 14. Paperback and Kindle. Available for advance order at www.gnbooks.co.uk or call 01274 735056.
Want to join the conversation? Please or to comment on this article.