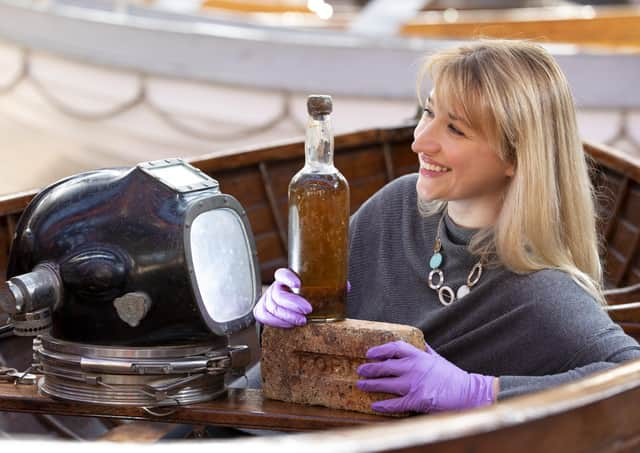 The unlabelled bottle of blended whisky from the 1923 SS Politician, which ran aground off Eriskay in 1941, was bought by the Scottish Maritime Museum with the support of the National Fund for Acquisitions for £9,200 at the Grand Whisky Auction.
The rare find will become part of the museum's nationally recognised collection of maritime heritage which is housed in a former Victorian shipyard engine shed in Irvine, Ayrshire, and on the site of the William Denny Shipyard in Dumbarton.
The whisky, which is believed to be undrinkable and was one of 264,000 bottles stowed on the wartime cargo vessel, was recovered from the shipwreck by George Currie of Orkney in June 1987.
The North Sea diver and his colleagues went looking for the wreck after completing a subsea cable repair between South Uist and Eriskay and the bottle was in his possession until now.
Laden with goods to be sold to raise funds for the war effort, the 800-tonne SS Politician set sail from Liverpool on 3 February 1941. Bound for Kingston, Jamaica, and New Orleans, it was brimming with cars, bicycles, cotton, medicines, tobacco and about £145,000 in Jamaican bank notes.
It was, however, the fate of the contents of Hold Number 5, some 22,000 cases of the finest malt whisky from bonded warehouses in Leith and Glasgow, which inspired Compton Mackenzie's 1947 novel Whisky Galore!
Two years later, Mackenzie's romantic comedy featuring the SS Cabinet Minister and the islanders of Great and Little Todday was made into the enduringly popular Ealing comedy starring Gordon Jackson, Joan Greenwood and Basil Radford.
The lot acquired by the Scottish Maritime Museum also includes a diving helmet worn by Mr Currie, two bricks being carried as cargo on the ill-fated vessel and a poster from the 2016 remake of Whisky Galore! which featured Eddie Izzard, Gregor Fisher and James Cosmo.
Museum director David Mann said: "The bottle complements our nationally recognised collection of Scottish shipbuilding, boatbuilding, engineering and design perfectly. It will play a leading role in helping us tell the stories behind the collection and exploring our social and cultural relationship with the sea with visitors."