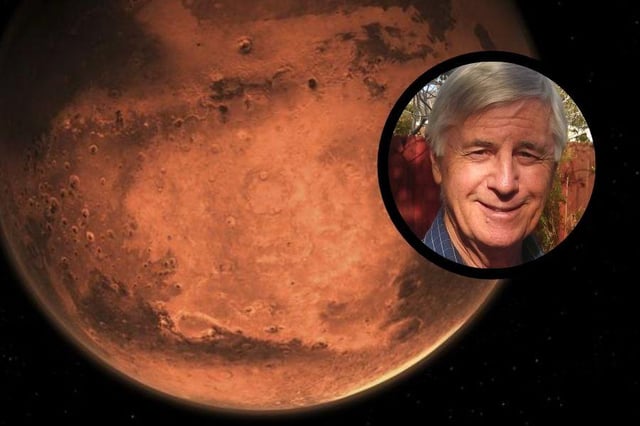 Alex Nicolson worked on the Mars Curiosity Rover which landed on the planet in 2012.
As he watched NASA's latest rover, Perseverance, successfully land on Mars this week, Mr Nicolson, 77, was reminded of his own time at the space agency and what it was like in those final moments before Curiosity landed, when anything could have gone wrong.
Speaking to the Scotsman, Mr Nicolson said: "It was such a great relief, we knew that unexpected forces and energies could have caused major problems so we all cheered when it made it, we'd been continuously worried throughout its whole journey."
Curiosity was launched from Cape Canaveral, Florida, in November, 2011 and landed on Mars in August, 2012.
Alex Nicolson was part of a team of engineers in NASA's Jet Propulsion Lab in Pasadena who worked on the Mars Curiosity Rover.
It has been operating ever since.
Mr Nicolson started his engineering career in Canada after gaining a Masters Degree in Mechanical Engineering at Strathclyde University in Glasgow.
He grew up in a house his own father built in Portree, Skye, and attended Portree High School until 1961 before moving to the city to study his passion.
When he arrived in Canada, he began working for Pratt & Whitney, a Montreal based company, as an engineer.
Alex Nicolson and his wife, Ilka.
He worked for the "wonderful" company for ten years, specialising in the design, manufacturing, testing and marketing of aircraft gas turbine engines and parts.
After growing tired of Montreal winters, Mr Nicolson moved to California, where he still lives, and continued his career there.
It was in California, in 2005, that he saw an advert from NASA JPL looking for engineers.
After successfully securing the job, he went on to work on various satellites and space projects over his six years with the company, including the Mars Curiosity Rover.
Alex Nicolson meeting Princes Charles when he was a member of the St Andrew's Society of Los Angeles.
Mr Nicolson was part of a team of engineers in NASA's Jet Propulsion Lab in Pasadena that undertook the "enormous" task of testing the equipment to ensure it could withhold the forces it would meet in flight and during the landing.
He said: "The amount of testing was incredible, we often even had to retest the equipment that was used to test components and assemblies of the Rover.
"The biggest challenge on something like this is working out what the worst conditions the rover might have to overcome will be, in terms of the temperatures and forces it is likely to meet.
"They are such big projects though, overall it takes roughly 2,000 staff, hundreds of supplier companies and many thousands of tests in chambers designed to represent the conditions in space."
The latest rover, Perseverance, has joined the Curiosity Rover on Mars, after a seven-month journey from Earth.
Its mission is to search for signs of ancient life, and explore and collect samples for future return to Earth from diverse environments on Mars.
Mr Nicolson knows how special it is to have worked on a project like the Mars Curiosity Rover, especially having grown up in such a remote place where opportunities are hard to come by.
He said that no-one in Scotland should feel deterred and these things are possible if you "follow your dreams and build a career to make it happen".
A message from the Editor:Thank you for reading this article. We're more reliant on your support than ever as the shift in consumer habits brought about by coronavirus impacts our advertisers.
If you haven't already, please consider supporting our trusted, fact-checked journalism by taking out a digital subscription.