Scot tells of life on Covid-free Antarctica - where residents live lockdown-free existence
A Scot working in Antarctica - the only continent to be untouched by Coronavirus - has told how he is enjoying more freedom and social contact in one of the more remote places in the world than his friends and family have back home.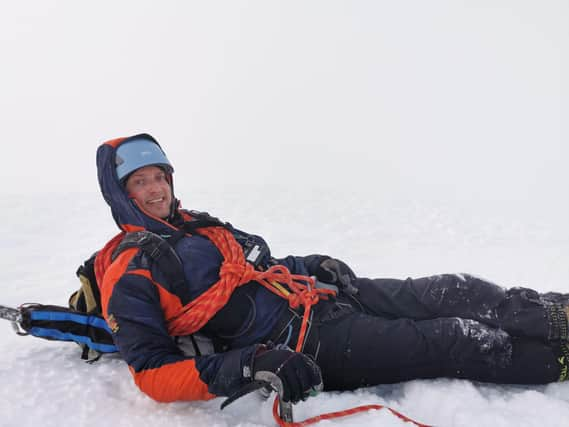 Rob Taylor, who has been living in Antarctica since October, says he can freely enjoy drinks and meals with his co-workers and watch films together in a small cinema room.
Taylor, from Dingwall, is a field guide in the remote region, setting up camps and assisting researchers carrying out field work for the British Antarctic Survey (BAS)'s Rothera Research Station.
He lives in a group of 27 people in the base, which boasts a gym, cinema room, music room complete with shared instruments and communalcanteen - all of which are able to stay open while similar facilities across the world are closed.
The only concession to Coronavirus protocol was by a small group who had been working on an island and had travelled back on a ship with an external crew. They were forced to self isolate for two weeks to ensure they had not picked up the virus on board the ship, but were given a clean bill of health.
Taylor said: "When all of us came south, we all committed to 15 to 18 months contracts working down here. We committed that we wouldn't seefriends and family in that time, no holidays and so on. And obviously we know now that had we stayed at home, we wouldn't have had those things anyway.
"Quite a few of us possibly would have had no jobs. So to be down here, where we have a nice gym, we have a nice music room, we can ski, we can go running, is amazing. To have all that sort of stuff is quite pleasant and we're socialising here much as we did before.
"There will always be something organised, playing music together or something organised at the gym. It's just like it was beforehand. We've got some nice touring skis, so you can just go out and do some skiing."
Interaction with fellow workers is integral to the tiny society continuing to function, with the group eating dinner together every night and meeting in groups for a cooked breakfast. Taylor, a keen amateur mountaineer, who professionally worked as a chief officer on ships in the oil industry in the North Sea, based out of Aberdeen, before taking the job in Antarctica, said: "There's a microcosm of regular society here: we have plumbers; joiners; mechanics and an HR person. We have a really good chef and everything to keep a little society functioning."
Taylor's mother, a teacher and his grandmother live in Scotland - but his expectations of missing friends and family took on an entirely different perspective when Coronavirus hit.
He said: "In some ways, that's the weird thing. Whether I live 20 minutes from them 200 miles or if I'm here, it's still going to be the same deal – it's all online contact or by Facebook messenger. The only person I would be concerned for is my grandmother, she's quite old. But she's been self isolating for a while now and she's fine."
He added: "It seemed very strange when everyone started to lock down. It wasn't until the lockdown really hit the UK I realised just how big it was. We all consider ourselves quite lucky to have dodged this one."
Looking to April, when he is due to return home, Taylor has no idea what life will be like in a post-lockdown Scotland.
He said: "I don't know enough about [what it is going to be like at home] to even extrapolate. It will be interesting to see whatever it is I come back to."