Russian boat 'crashes' into Burntisland Harbour and smashes lighthouse
An investigation has been launched after a vessel collided with a harbour and damaged a lighthouse in Fife.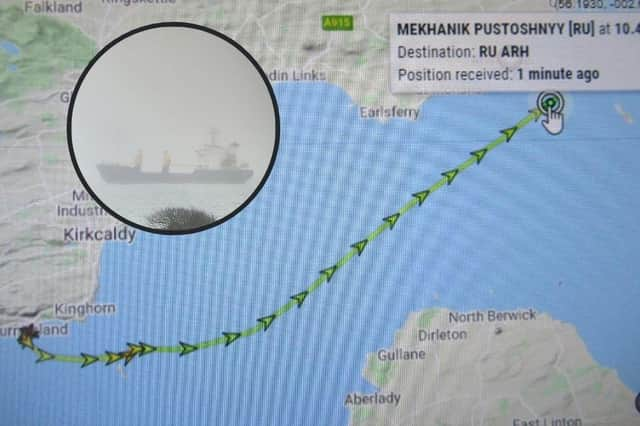 The vessel was leaving Burntisland Harbour when it hit the lighthouse, knocking off the lantern room and causing damage to the outer breakwater fenders in the harbour.
The incident occurred on Thursday at 1.55pm and has attracted attention on social media as residents speculated on what caused the lighthouse damage.
Local artist Leo du Feu has a studio on the platform at Burntisland station and watched with his toddler as the boat left the harbour.
He said: "We had a brilliant view of the boat while it was docked.
"We watched them unloading and things and then watched as they untied all their ropes preparing to leave."
Mr du Feu said that he had been using his binoculars to watch the harbour from his window and was "pretty sure" that the lighthouse looked as it always had before the boat started to sail away.
He continued: "I couldn't see the lighthouse, but I saw the boat going out of the harbour past where the lighthouse is and once it had gone I thought 'the top of the lighthouse isn't on, and I'm sure it was on moments before'.
"But then I thought, 'there's no way that boat could have done that', I decided I must have been wrong and the top must have already been missing and I hadn't noticed."
Mr Feu then said that when he woke up this morning, he saw lots of comments on Facebook about the boat knocking the top of the lighthouse off and he realised he wasn't wrong at all. A spokesperson for Forth Ports, owners of Burntisland Harbour, said: "The cargo vessel, the Mekhanik Pustoshnyy, is reported to have made contact with the outer breakwater and
the lighthouse as it left Burntisland Harbour on Thursday afternoon, January, 28, 2021.
"From our initial survey, the lighthouse lantern room has been removed and the outer breakwater fenders of the harbour have sustained damage.
"The incident was reported to Forth & Tay Navigation Service (FTNS) by the ship's crew and an on-board damage survey was carried out which confirmed the vessel was safe to proceed with its onward passage to its next port.
"We are currently undertaking a full investigation into this incident."
A message from the Editor:Thank you for reading this article. We're more reliant on your support than ever as the shift in consumer habits brought about by coronavirus impacts our advertisers.
If you haven't already, please consider supporting our trusted, fact-checked journalism by taking out a digital subscription.