RuPaul's Drag Race US: Greenock born drag act Rosé looking to be crowned Queen of Scots
Graham Falk catches up with the Scottish star of RuPaul's Drag Race USA and finds out how Rosé went from the streets of Greenock to global stardom on popular Netflix series.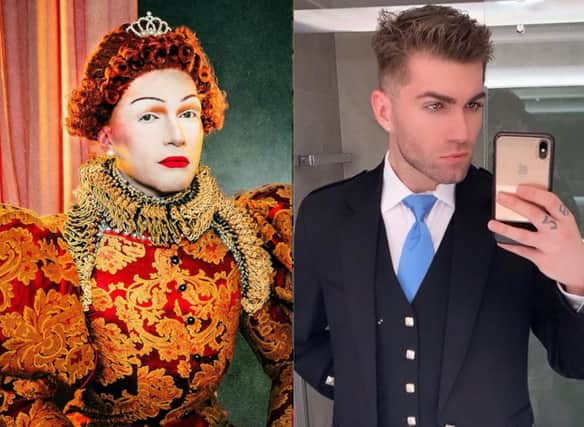 Worldwide pandemic aside, it's been quite a good year to be Scottish.
However, across the pond another Queen of Scots, drag star Rosé, is in line to win the most recent season of RuPaul's Drag Race USA after dazzling audiences across the globe with striking runway looks and hilarious portrayals of Scottish icons.
Behind the bright pink lipstick and distinct tartan outfits is Ross McCorkell, a 31-year-old Greenock born performer that is winning hearts worldwide as Rosé - a pretty, witty, razor-tongued comedian, songstress and one of the favourites to bring home the crown on the popular Netflix show.
"I was born in Greenock, but I grew up in Aberdeen.
"I lived in Scotland until I was about 10-years-old and that's when we moved, so while my immediate family live in the States, the rest of my family are still based around Glasgow, Greenock and Largs" he tells us in a distinctive accent that dives from enthusiastic American to a warm Scottish lilt in an instant.
"My accent is a little watered down now. Obviously, I had a strong Scottish accent was I young, but I really felt the need to fit in when I was at school, so I picked up the American accent, but I didn't want my mum and dad to know, so I'd go to school and speak like an American then walk home from school and speak in Scottish and it never really changed.
"My family home is like a little Scottish island where we all speak with really strong Scottish accents" he laughs.
Despite spending two decades in the US, the popular Drag Queen's heart is still in Scotland, as the self proclaimed ambassador to the colour pink admits the time spent on Drag Race is an opportunity to "make Scotland proud".
And since an awe-inspiring bagpipe themed runway look revealed those Scottish roots to a global audience, that ambition is fast becoming a reality, with an army of adoring Scots giving Rosé with their support, hoping to say 'condraguations' to another Scottish queen in the coming weeks.
For the popular Drag Race contestant, it's music to the ears, with McCorkell admitting the support received from Scotland has been "overwhelmingly positive".
"When I first came out in that bagpipes look, the response from people from Greenock, and Scottish people in general, was really, really supportive. In fact, there's not been one negative comment, so it's a really, really nice feeling.
"I went into Drag Race wanting to represent Scotland, so it's great that people really love it and have been gracious and supportive of me. All of my parents friends from back home have been going wild."
It's clear throughout our conversation that the inclusion of Scotland in Rosé's look is not just meaningful, it's necessary – Scotland is in the very make up of McCorkell.
"As an entertainer, and in my personal life, it's always been something that has set me apart. It's not just my heritage, it's me, it's my family – it's who I am" he explains with true Scottish vigour.
"It's something I want to bring to my art, you know, because Scottish art, architecture and fashion has a really distinguished look about it and I want to represent, embrace and add to it forever."
And while the bagpipes look cemented Rosé's place in Scottish hearts, it was a hilarious portrayal of Mary Queen of Scots during the show's iconic 'snatch game' episode that pushed her to the forefront of show for her fellow Scots.
"I've been sitting on that for a couple of years (the Mary Queen of Scots look).
"When I came up with Mary, I knew it would be gold, but I wanted to sit on it so I could really surprise my audience."
The popularity of the Mary Queen of Scots look even led to a YouTube series, but which other Scottish icons could be next on the list for Rosé? "I think Billy Connolly would be a great one to do" comes the instant reply.
"There's just that iconic look, he has that sound to his voice too, lots of famous lines and that cheeky demeanour. I think that would be a good one to try."
Performing with other Scottish Drag Queens
And with Scotland already firmly planting its flag on drag race soil this year, with three adored contestants across two shows, the 31-year-old can't disguise the excitement at the fact the saltire is flying high for the first time since the appearance of Loch Lomond born drag queen Morgan McMichaels.
"Morgan is a similar story to myself, as she was born in Scotland, but she is LA based, she's great too, but it's been years since we've had a Scottish queen on the show.
"I was gagged when they announced the UK season had not only a Glaswegian queen, but two Scottish queens on the season. It was great to see how amazing they both did being in the top four too. I think it's been fantastic that we have such representation on both the American and UK shows.
"I think with Lawrence, it was when she first came out during episode one on the meet and greets – Lawrence really came out with a bang and it was like 'oh my God'.
And the success of Lawrence Chaney and Ellie Diamond on UK drag race has led many fans of the show wondering if we'll see the trio link up when lockdown restrictions are eased and thankfully, the glamorous Rosé should be returning to home soil when lockdown restrictions ease – at least if she has anything to with it.
"I don't know Lawrence Chaney and Ellie Diamond very well, but I have spoken to both of them and I do really think it would be a great idea (the three of them performing together) because I think people would just die."
And when Rosé and the gang can eventually perform, we'll be at the very front of that queue for tickets, though we suspect we won't be alone.
Comments
 0 comments
Want to join the conversation? Please or to comment on this article.