Run Balmoral celebrates 25th anniversary
Run Balmoral is preparing to celebrate its 25th anniversary next April when close to 5,000 people of all ages are expected to take part in an exciting series of races held over two days.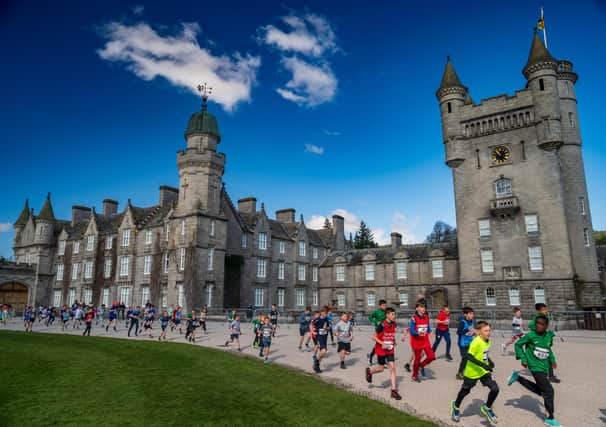 The event is held in the beautiful surroundings of the Balmoral Estate with the famous Castle providing a spectacular backdrop.
All races are held on traffic-free roads and trails, offering stunning views of the Deeside countryside and the Cairngorm mountains.
Run Balmoral Chair James Knowles is busy working behind the scenes with the small management team which pulls it all together.
He said: "Organising Run Balmoral is a 12-month operation. As soon as one event is finished, we are getting ready for the next one.
"In fact, although the 2024 races are obviously our priority at the moment, we are also exploring some interesting new ideas for 2025.
"There are a huge number of tasks to be seen to, whether its liaising with our sponsors and charities, maintaining our online entry system, updating our website and social media platforms; designing and ordering medals and t-shirts; sourcing portaloos, marquees, generators and race timing suppliers; or arranging medical support, recruiting marshals and providing catering.
"And that's not the end of it.
"It's a major operation and I'm grateful to everyone who contributes to making this such a special and successful occasion.
"It's a fantastic community effort with the event being supported by hundreds of volunteers and backed by a number of prominent north east businesses.
"We also have at least five or six nominated local charities who raise tens of thousands of pounds for worthy causes."
Run Balmoral was first held in 1998 and from then until 2004 it was organised by former Great Britain distance running star Brendan Foster CBE.
At that time it brought numerous Olympic champions and world record holders to Deeside, including legendary British performers Kelly Holmes, Paula Radcliffe and Liz McColgan, as well as the likes of Kenya's Paul Tergat, Morocco's Khalid Skah and Ireland's Sonia O'Sullivan.
When Foster's company withdrew, there was a very strong possibility of the event falling by the wayside.
However, a group led by the then CEO of Aberdeenshire Council, Alan Campbell, and local event manager Alastair Simpson, came up with a plan to save it.
That led to the formation of Balmoral Road Raced Limited, a not-for-profit company which took over the reins.
Apart from 2020 and 2021 when the pandemic forced cancellations, the event has thrived over subsequent years.
Mr Knowles continued: "Run Balmoral has gone from strength to strength since 2005.
"We no longer have large numbers of top Olympic athletes taking part as we don't have a budget for that, but we still attract some Great Britain and Scotland internationals.
"Jamie Crowe, who has represented GB in the European cross country championships, showed his class by winning the Harbour Energy 5k, Stena Drilling 10k and the Bristow 15 mile trail race at Balmoral earlier this year, while Meryl Cooper, a GB ultra trail running international won our women's 15 mile trail race.
"It's great to have runners of that calibre taking part, but we pride ourselves in giving an equally warm welcome to all runners.
"I really enjoy watching the excitement on the faces of the youngsters running in the MPH primary schools and the NFU Mutual secondary schools races.
"Some of those who have taken part in these races in the past have gone on to become Scotland internationals – and not just as athletes.
"Ex-Don Calvin Ramsay, now with Liverpool, was among the leading finishers on a couple of occasions.
"But, the most important thing is to see these young people enjoying themselves."
Run Balmoral also provides hardened competitors with the ultimate test, offered by the John Clark Motor Group Devil of Deeside Challenge.
Mr Knowles said: "I'm amazed at how popular this has become. Competitors tackle the Harbour Energy 5k and the Stena Drilling 10k on the Saturday, then the Apollo 27k duathlon and the Bristow 15 mile trail race on the Sunday.
"The man and woman with the lowest cumulative times are the winners. It's gruelling stuff.
"At the other end of the scale we have the Bristow 3 mile trail race which provides a shorter introduction to off-road racing.
"Finishers in every race receive a commemorative t-shirt and medal. We are currently holding a competition for youngsters to design the t-shirts for the schools races. Entries close on 30th November.
"This year's medal features Crathie Kirk and it's the fourth in a series of five depicting well-known landmarks in and around the Balmoral estate.
"All finishers in the Devil of Deeside receive an additional special medal in recognition of their efforts.
"So, there really is something for everyone. And, in addition to the races, we put together a vibrant Event Village which offers a range of locally-based quality catering outlets and numerous fun activities for children.
"It all makes for a great family day out."
The event takes place over the weekend of 27-28 April 2024 and entries can be made now at www.runbalmoral.com