Royals Scotland: William and Kate, Prince and Princess of Wales, test out mountain bike skills during Scotland visit
The Prince and Princess of Wales were greeted by well-wishers as they arrived for an official engagement in Scotland.
They bear one of Scotland's most noble titles – and the Duke and Duchess of Rothesay were more than willing to embrace the nation's love for adventure during a high-profile visit to Moray.
Excited crowds cheered William and Kate, the Duke and Duchess of Rothesay, on as they donned crash helmets and rode bikes around a series of ramps and other obstacles laid out in community gardens during a visit to Burghead, Moray yesterday.
The couple were visiting the town to learn more about the work of charity Outfit Moray, which arranges outdoor learning and adventure activity programmes such as mountain biking for young people to boost their confidence and self-esteem.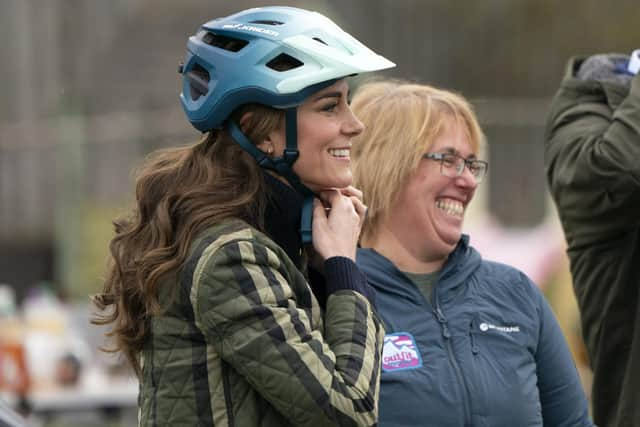 They spoke to the chief executive of the charity and a group of schoolchildren before boarding their bikes, with William asking children questions including what sports they enjoy and what football teams they support.
He was later overhead to say he found a see-saw on a bike "tricky". But both he and Kate managed to complete the circuit unscathed, encouraged by shouts of "go on, William" from well-wishers.
Hundreds of people lined the town's main street to catch a glimpse and take pictures of the couple as they then made their way to Burghead Primary School, where they watched bike feats performed by children in the playground.
William answered questions put to him by pupils, including one who asked if he had brought any of the King's Guards with him. Kate volunteered to time a bike race between a few of the other children.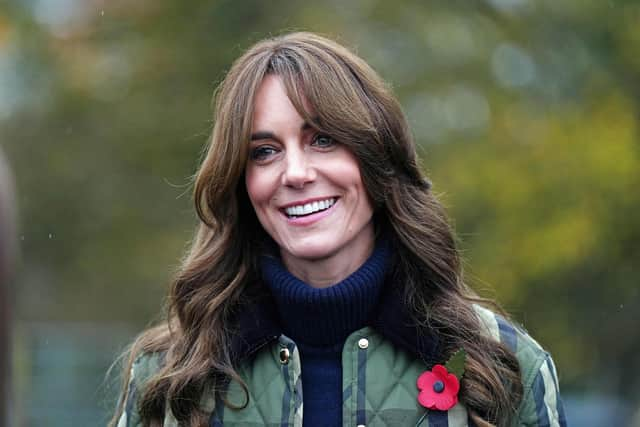 Another child cheekily asked William how old he was, and when the prince asked back what age the pupils thought he was, he acted shocked when they replied 57, and said: "I'm not that old."
The royal couple came dressed for traditional Scottish weather, with Kate wearing a padded jacket and jeans and William in a wax jacket and chinos as the sky threatened rain.
However, the rain held off long enough for the pair to finish their conversations ahead of the school bell going off, which they took as their signal to leave.
Outfit Moray chief executive Tony Brown said after their departure: "It's our 20th anniversary this year and what a great way to celebrate that milestone and look forward to another 20 years.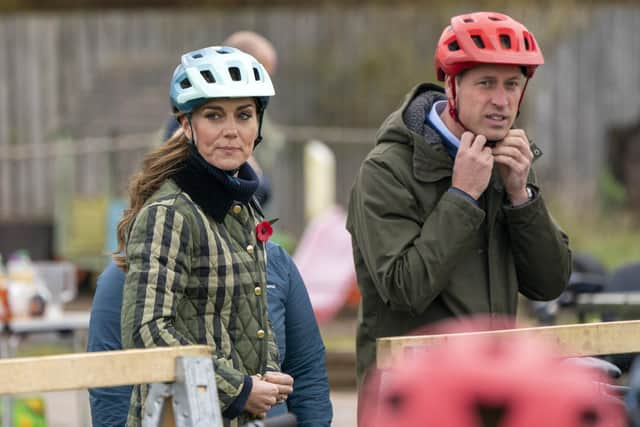 "Since the Covid pandemic we've seen a significant rise in mental health issues with young people, particularly around anxiety and loss of confidence. Being outdoors in nature and doing physical things is really good for mental health."
Moray Council leader Kathleen Robertson said meeting William and Kate was something the schoolchildren would remember fondly for the rest of their lives.
"I think it's a real delight for the kids and a real treat for them to meet royalty in real life," she said. I remember the Silver Jubilee in 1977 and King Charles coming to Quarrier's Village in Renfrewshire.
"I saw him when I was five in a crowd like you see here today and that has lived with me my whole life."
Comments
 0 comments
Want to join the conversation? Please or to comment on this article.