Red Shed to close doors
Boddam's 'Red Shed' Post Office is to close at the end of the month following the resignaton of the postmaster and the withdrawal of the premises for Post Office use.
The Post Office is currently investigating the options available which will enable it to reinstate the service to the local community.
In exploring this, the Post Office says it is important that any future service is sustainable for the person operating the service, and for Post Office Limited.
In a letter sent out last week, it states: "Future provision will reflect customer numbers and usage and we may take the opportunity to establish an alternative type of service.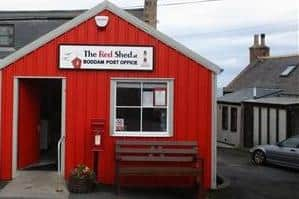 "This may be a local style branch which runs alongside an established retail shop in newly refurbished premises and creates a more modern and convenient experience for customers.
"We would like to apologise for the inconvenience the temporary closure may cause. We hope that our customers will continue to use Post Office services."
The nearest branches for Boddam residents are in Peterhead – four miles away – at Clerkhill or in Prince Street.
Banff and Buchan MP David Duguid said: "The closure of Boddam Post Office at the Red Shed is a hammer blow to the local community who rely on this valuable resource on a day-to-day basis.
"It's extremely concerning that the village will now be left without a post office during these challenging times.
"Post offices are a lifeline for places like Boddam, especially for elderly or vulnerable residents who struggle to travel and now face a ten-mile round trip to Peterhead."