Record breaking base jumper comes to Banchory
Is it possible to BASE jump from the highest mountain in South America? In his epic expedition, Tim Howell proved that it is.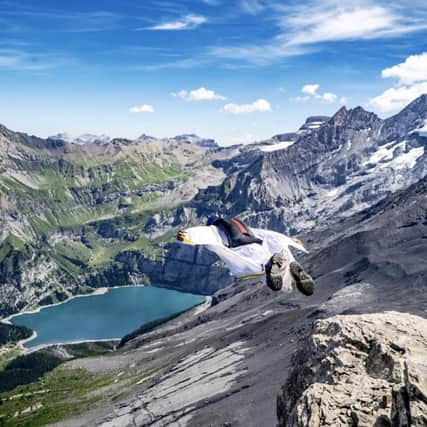 Tim was a Royal Marine Commando for eight years, and a member of the elite Mountain Leader Cadre.
Leaving the military to pursue a full-time career in the mountains, he joined the Jöttnar Pro Team, giving him the chance to pursue his ambitions for adventurous big wall climbs and alpine ascents in remote parts of the world - usually ending with a wingsuit descent.
Join Tim on stage for an unmissable evening as he talks about what it takes to be the first person to fly from Aconcagua, the highest mountain in South America, and what it takes to mitigate the risks of high altitude flights. Tim will also focus on his incredible seven year journey to become the first person to fly from the highest exit points on the Eiger, Cima Grande di Lavaredo, Pizzo Badile, Petit Dru, the Matterhorn and the Grandes Jorasses.
Tim will share the highs and lows that are part of an adventurer's life at The Barn in Banchory on March 23.
The event, part of the Kendal Mountain Festival UK Tour, also features award winning adventure films from those creating waves in the worlds of cycling, skiing, mountaineering, swimming and running.
Steve Scott, director of Kendal Mountain Festival and Tour presenter said: "Kendal is all about adventure; stories of extreme human endurance, breathtaking environments and adrenaline-fuelled excitement. Our Tour events are mini-Festivals that distil this spirit of adventure and exploration into one unique evening."
Tickets are available via www.kendalmountaintour.com/tickets/