Ready2Go Around Inverurie bus service to be withdrawn
The Ready2Go Around Inverurie digital demand responsive transport (DDRT) pilot initiative operated by Aberdeenshire Council is to be withdrawn from April.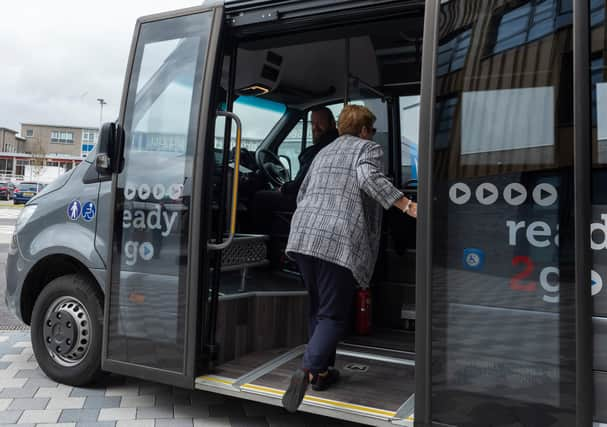 The Monday-Saturday service involves five minibuses operated by Watermill Coaches under contract to the council covering Inverurie and the surrounding area, including the communities of Insch, Rothienorman, Oldmeldrum, Kintore, Kemnay and Monymusk.
The DDRT appears to be performing well against policy objectives such as encouraging modal shift away from the car and supporting health and wellbeing objectives. People also like the Watermill Coaches vehicles and drivers.
However a number of issues have been impacting the service including high running costs, relatively low numbers of passengers travelling at the same time on each bus and passengers being unable to book a bus journey.
The recent Insch bus service survey indicated, on balance, a preference in that area for a timetabled service over Ready2Go with customers noting a deterioration in Ready2Go service reliability in more recent months as demand has increased across the service area.
Tenders will now be sought from bus operators for replacement timetabled journeys covering the previously withdrawn fixed routes between Insch and Inverurie and Rothienorman and Inverurie.
Although the Ready2Go Around Inverurie service will be withdrawn, given the positive aspects of its delivery, the pilot project will continue building on the lessons learnt to-date and a Rural Transport Project Officer is being recruited, part-funded by Nestrans, to evaluate the service and develop a strategy, including DDRT, for addressing transport connectivity issues in North East Scotland.
Ewan Wallace, Head of Environment and Sustainability at Aberdeenshire Council, explained that while it had been a difficult decision to withdraw the service, the wider project would continue to assess the future suitability of DDRT taking into account the evolving smart technology used to manage such services.
He said: "There have been many advantages demonstrated by the Ready2Go service in that it has enabled residents to travel directly between places previously unserved or requiring connecting transport. Within Inverurie, for example, there are Ready2Go virtual bus stops at locations not served by other bus services.
"We know that many customers who have had good experiences of Ready2Go will be disappointed by its withdrawal, however the high cost of running such an extensive service, covering long operating hours and a large geographical area, coupled with ongoing difficulties in accommodating passenger demand have been key factors in our decision."
The removal has been met with mixed reactions from Councillor Sam Payne: "Last year I called for the Ready2Go service to be withdrawn from the Insch area as it was clear the service was not popular, nor working as intended."
"I'm very pleased that this campaign was listened to and a tender is being sought for a timetabled Insch to Inverurie bus service, providing a more regular and reliable service for residents. Consultation with residents now needs to take place and the Ready2Go data analysed to ensure a timetabled service meets the needs of those who will use it."
"I sincerely hope that once the Ready2Go pilot ends, timetabled services between Kemnay, Kintore and Inverurie can be increased."