Rare diet book sheds light on 18th-century tastes at illustrious Scottish country house
It was once among Scotland's most illustrious country houses, rivalled only by the Palace of Holyroodhouse in terms of scale and grandeur.
Now, the discovery of a rare 18th-century diet book has shed light on the rarefied menu enjoyed by staff and guests alike at Leslie House, the palatial Restoration mansion frequented by the likes of Daniel Defoe.
The 1720s book was maintained by kitchen workers at the historic Fife property, which stood for centuries as the seat of the Rothes family.
It shows that it was not just the property's owners and their visitors who enjoyed fine food. Servants dined daily on red meat and white fish, washed down with home-brewed ale.
The diet book, which is being transcribed by a team of volunteers at Fife Cultural Trust, details a list of contemporary ingredients, including goose, veal, lobster, grouse and oysters, as well as spinach, asparagus and artichokes.
Such fare clearly made an impression on Defoe when he visited Leslie House in 1720. He later described the house as "the glory of the whole province of Fife".
The A-listed property, sited in woodland east of Glenrothes, has long fallen into disrepair after being ravaged by fire, but plans were approved last year to convert the ruins into dozens of luxury flats.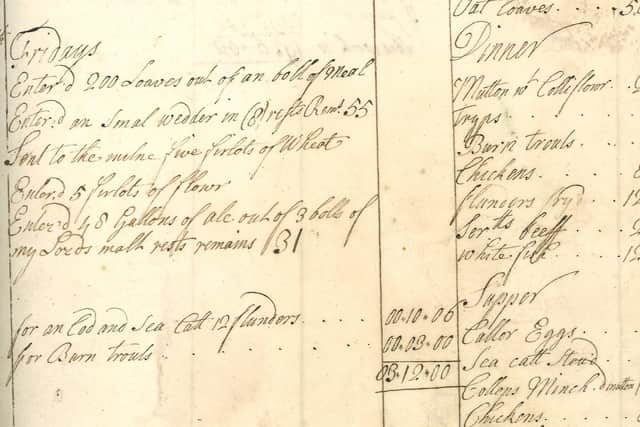 Experts at the trust hope the diet book can provide new insights into long lost Scots customs and terms.
One dessert on offer during Leslie House's heyday was tansy cake – a sweet, herbal and slightly toxic pancake traditionally served at Easter in order.
The pages transcribed so far reveal more than just dishes, however.
They include records of old weights and measures, and culinary words which have fallen out of favour, such as sea catt (Atlantic wolffish), lapster (lobster) and green goose (young geese).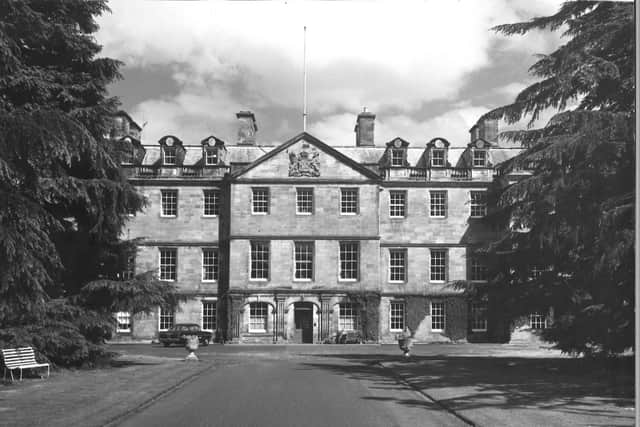 Andrew Dowsey, archivist at the trust, said the volunteers were looking to see exactly how the Rothes family and their staff dined, and how they sourced their food.
"The family, of course, enjoyed more variety than servants, but we're keen to find out exactly how it was better," he explained.
"Another key focus will be how the diet changed with the seasons. Volunteers have already spotted a proliferation of pigeon in January, which is a familiar Scottish trend."
The book, which spans the period from 1721 to 1723, includes a list of guests to Leslie House and how long they stayed for.
It also features a scattering of useful 18th-century household tips. One entry on December 28, 1721, for example, advises staff on how to make ale keep longer.
Once the volunteers have completed their transcription of the tome, they will scan another diet book from 1699 to analyse how tastes changed between the Stuart period and the early Georgian era.
There are also plans for an future 'Eat Like an Earl' food tasting event – Covid-19 and resources permitting – to allow people to sample some of the intricate Leslie House dishes of the period, such as fricassee and honey berry tart.
A message from the editor:
Thank you for reading this article. We're more reliant on your support than ever as the shift in consumer habits brought about by coronavirus impacts our advertisers. If you haven't already, please consider supporting our trusted, fact-checked journalism by taking out a digital subscription.
Comments
 0 comments
Want to join the conversation? Please or to comment on this article.