The Scot, who made history by becoming the first British driver to win the World Rally Championship, was behind the wheel of Subaru Impreza featuring the plate, P2 WRC, during his heyday.
McRae, renowned for his flamboyant and fearless approach, and whose motto was "if in doubt, flat out", used the car alongside his co-driver, Nicky Grist, at the Monte Carlo Rally in 1997. However, in keeping with his daredevil style, McRae suffered an accident mid-race after hitting a patch of ice. It caused him to skid into a tree, leaving him unable to finish the event.
The damage sustained by the Subaru in the crash was so extensive that the vehicle had to have its shell replaced, and it subsequently underwent further works, including a completely rebuilt engine and gearbox, and a professional conversion to right-hand drive.
It was subsequently used by other drivers in various races throughout Europe, and starred in a series of wins including two successive Hungarian championships in 1998 and 1999. In recent years it has been used mainly for automobile shows and events.
In a sign of the car's significance, the team overseeing the auction at a specialist retro and competition racing sale in Leamington Spa on 25 February have put a guide price on the vehicle of between £340,000 and £380,000. They said the car could either be used as sold, and driven in races or exhibitions, or converted back to its original specification with a "little time and effort".
Harry Whale, a classic car specialist at Silverstone Auctions, which is overseeing the sale, described it as a "showpiece of a significant period in motorsport", given it was originally driven by one of its "most respected drivers".
He said: "P2 WRC represents a fascinating piece of rallying history and we're honoured here at Silverstone Auctions to be asked to offer it to the open market. It is a well-known two-door Subaru WRC car and very desirable in its own right. It has certainly lived a busy and fascinating life and in our opinion is all the better for it.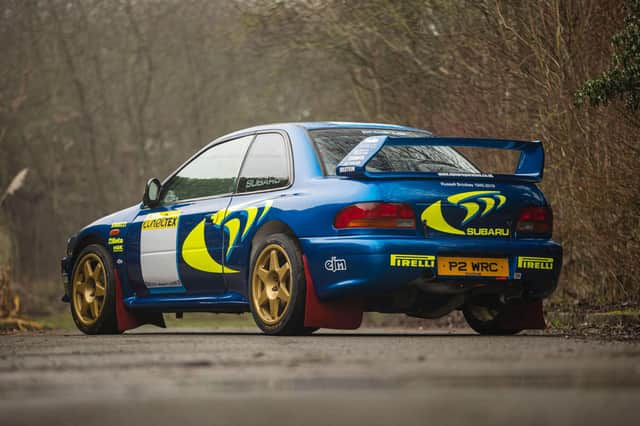 "It's been well cared for in private ownership for almost 20 years and combined with its links to the great Colin McRae, this really is a very rare opportunity to continue the fascinating story of P2 WRC."
McRae, who came from an acclaimed motorsport family, died in 2007 when a helicopter he was piloting crashed near his home in Lanark, South Lanarkshire. His five-year-old son, Johnny, was also killed, along with family friends, Ben Porcelli, six, and Graeme Duncan, 37.
Last year, a supercharged Ford Focus raced by McRae fetched a record price of more than £423,000 at auction. Like the Subaru, it was crashed by the Scot during a rally, but it was later restored to its former glory.